Visual & Performing Arts Career Panel - Thursday, January 30 @ 6:30 PM in Gym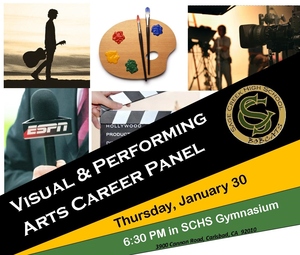 Don't miss this exciting
PTSA-sponsored
event which will showcase a panel of professional singers, actors, film makers, artists and broadcasters. These talented professionals will tell you all about what it takes to have a career in singing, acting, film, art, & broadcasting.
You'll also be dazzled with a
LIVE musical performance
by one of our presenters
Cody Lovaas
, and get to see the work of some of our other panelists too!
---
Treats for Teachers - Drop Off Thu, Jan 30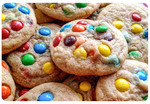 In recognition of the Great Kindness Challenge, Bobcat Families have an opportunity to show their gratitude and kindess toward our amazing SCHS Teachers and Staff!

How? With treats like cookies (or healthy snacks)!

Please drop off cookies, treats, or healthy snacks (e.g., granola bars, fruit) at the office on Thursday, January 30 or the morning of Friday, January 31st.

PTSA Volunteers will set up a lovely display of your kind treats for teachers and staff during their Jan 31st lunch hour. Thanks!
(Send questions to Lauren Joe ljoexx@gmail.com)
---
Parent Volunteer Opportunities
---
Great Kindness Challenge Jan 27-31


Pay it forward. Help someone. Smile. Show appreciation.
Students will help create a culture of kindness by wearing the following:
Mon, Jan 27: Kindness Always Wins - Wear your sports gear
Tue, Jan 28: Powered by Kindness - Show your superhero powers with superhero attire
Wed, Jan 29: Be PAWS-itive - Positive Attitude & positive shirt
Thu, Jan 30: Life is Bright - Have bright smile & colorful clothes
Fri, Jan 31: Dare to Be Great - Be Your Best & wear Bobcat gear
---
Mark your calendars for Hoopcoming Events Feb 3-8
Hoop-coming, from February 3-8, will be filled with many activities like
Spirit week, movie night, parade,
and will conclude with our Hoop-coming dance on Saturday, Feb 8. We will also have tailgate and half time show for our basketball match against La Costa Canyon on Wednesday, February 5th.
HOOP-COMING Parade
February 5 @ 4:30
HOOP-COMING Tailgate
February 5 @ 5:00 $10 for a Brazilian Plate
HOOP-COMING GAME
February 5 @7 $3 for Adults $2 w/o ASB
HOOP-COMING DANCE
FEBRUARY 8 @ 8 $10 with ASB $20 w/o
See
ASB's School Loop
page for details!
---
CPR Class - Thurs, Feb 27: 6-8 PM
Students, Parents, and Teachers are invited to l
earn or update your CPR skills for only $25! This is a great opportunity organized by your
PTSA
.
This 2-hour adult, child and infant CPR class is taught by a certified instructor, Sue Lockhardt of Lockhardt Training (
www.lockhart-training.com
), on Thurs, Feb 27 from 6-8 PM in the SCHS Cafeteria.
To attend, you must register and pay in advance. Space is limited to the first 25 that sign-up.
►
Click here to register and for payment information
.
---
Mandatory Spring Sports Meeting: Feb 6
SCHS Athletics will hold a MANDATORY Spring Sports Meeting on
Thurs, Feb 6 at 6:00 P.M.
in the SCHS Cafeteria. All students and their parent/guardian who are interested in playing a Spring sport MUST attend. We will hold a
make-up session on Saturday February 8th at 10 A.M.
for those who can not attend the meeting on Feb. 6th.
---
Bobcat Athletics Report
Basketball:
Boys beat Ramona 77-35 on 1/18/14
Girls beat Poway 54-26 on 1/18/14
Soccer:
All athletics details, players of the games, rosters and schedules can be found at:
www.maxpreps.com
---
Naviance Parent Workshops Until Feb 11
SCHS Counseling Department has parent workshops to introduce parents to Naviance, a premier, web-based college and career planning tool. Please sign up for these space-limited workshops below.
What: Naviance Parent Workshops
Where: Sage Creek Counseling Center
How Many: 7
Dates: Now – February 11th
Times: 7:45-8:45 a.m., 1:30-2:30 p.m., 6:30-7:30 p.m.
►►
To sign up for a workshop convenient for you,

click here.