Dear
BOBCAT
Nation,
I am seeking input from our parent community about the Sage Creek High School experience. Your feedback will not only be used to guide our preparation for 2016-17, but it is also a critical part of our school's accreditation process that is scheduled to take place during the summer of 2017.
This online survey is confidential and I request that you be honest in your assessment.
CLICK HERE
to begin the survey.
Thank you in advance for taking the tie to make us a better school,
Principal, Sage Creek High School

Career Chat on Teaching: Thur June 2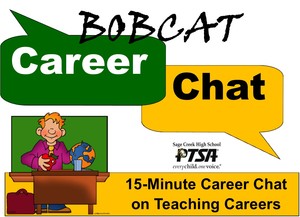 Students - Sign-up for our awesome lunchtime Career Chat on Teaching Careers on Thursday, June 2nd at 11:25 AM in the Counseling Center. Free pizza and drinks! Must sign-up to attend this cool event (maximum of 40 students).

Sign-up & more info at ptsa.sagecreekhs.com!
Stretching & Stress Reduction Fri. 6/10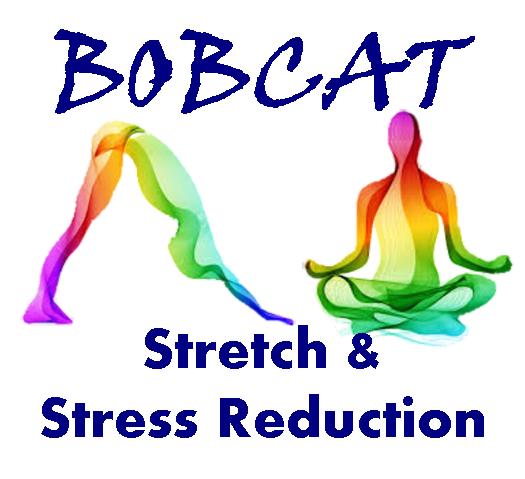 Students can get ready to relax and chill at the last PTSA-sponsored Stretching and Stress Reduction session during lunch the week before finals on Friday, June 10 at 11:25 AM. With FREE Food!

Must RSVP to attend. Sign-up at ptsa.sagecreekhs.com!
Library Announcement
All Textbooks are Due during finals week - June 14 and 15.

Turn them in before the last day of finals, and you'll find that lines are shorter!
Want to Promote Creativity at SCHS?
You can help promote creativity by volunteering
for the PTSA position of Reflections Art Program Chairperson 2016-17!
Student Volunteers Needed for Camps
The Carlsbad Educational Foundation is looking for high school student volunteers for summer enrichment camps. Help kids learn to paint, build robotics, code and much more!
You can apply to volunteer all summer long even the day of the camp. Camps start June 20 and run through August 13.
Email Lisa@CarlsbadEd.org for more information.
Save the Dates for August 2016
Making your summer plans? Remember these imporant August Dates:

8/1 Athletic Clearance in Library 10 AM-12 PM
8/9-11 Fast Pass Residency Verification 12-3 pm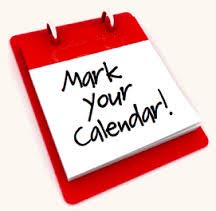 8/15-18 Senior Portraits 11 AM-6 PM
8/22 12th Gr Registration 8 AM-12 PM
8/23 11th Gr Registration 8 AM-12 PM
8/24 10th Gr Registration 8 AM-12 PM
8/25 9th Gr Registration 8 AM-12 PM
8/29 Freshman Orientation 8 - 11:45 AM
8/30 1st Day Of School
8/30 Senior Sunrise Hike
Your Business Can Sponsor Directory!
Do you want to help Sponsor the SCHS School Directory?

2016-2017 will be a landmark year with the first-ever School Directory containing all four Bobcat classes! Your business can get its name out to the entire Bobcat community by being in it—simply go to:
sagecreekhs.carlsbadusd.net/schooldirectory to see how!

One of last year's proud School Directory Sponsors said,

"I was so happy to support the Bobcat PTSA and at the same time get my name out there for potential new clients. Sponsoring the School Directory was a great opportunity!"

~ Roderick Dargie of Realty Executives.
June Lunch Menu
Summer HS Classess Available
Want to get ahead?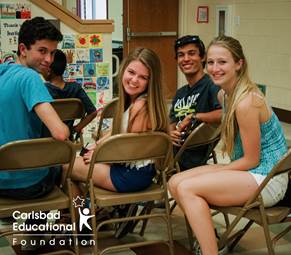 Register for CEF's High School Summer Academy and earn summer credits for more scheduling freedom during the school year!
Click
here
to learn more and register today to make more room in your schedule to take the classes you want!
www.Carlsbaded.org
---
Need Credit Recovery?
Carlsbad Unified School District will offer Summer School for credit recovery for CUSD high school students who earned
"F" or "D"
grades on their first or second semester report cards.
Click here for CUSD Summer School Form