North Cobb High School Band 2016-2017

8th Grade Night
Sep. 23rd

The Welcome Committee needs your help to make 8th Grade Night run smoothly this Friday. Please sign-up to help make it a success and help recruit more members for our awesome band!!
http://www.signupgenius.com/go/20F084BAFAE2DA46-nchs
Thanks so much for your help!!
----------------------------------------------------
2016 Show Shirts
Last Chance - One Final Order!!!
(Still need
12
more shirt orders to reach the minimum)
We will be taking one last set of pre-orders and payments for this year's show shirts. We must have a minimum of 24 shirts requested to submit an order. The shirts are $13 each for S-XL and $15 for 2XL or larger.
Please turn in your order to Tracey Wadley via email at spirit@nchsband.com & payment to the band box or via paypal on the band website by Friday, September 23rd.
Thanks so much for your support!!
---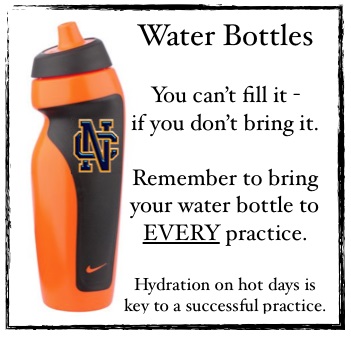 ---
Reminder:
Don't forget to sell those raffle tickets!!!
All ticket stubs and funds raised are due by October 4th. Good luck!
---
SENIORS!! WE NEED YOUR PICTURES FOR THE SLIDE SHOW
We are starting early in our quest to obtain pictures of each senior student in order to be properly represented in our year end video. We need three pictures of different ages of your student including one current photo.
You have three options of handing these photos in.
1) You can put the originals in a clearly labeled envelop with your student's name and place it in the photo drop box at the back of the band room. (Originals will be returned to you in the same condition you submitted them)
2) You can place the pictures on a DVD or CD also clearly labeled with your student's name and place that in the photo drop box
3) You can email the pictures directly to the Photography/Video committee at nchsbandseniors@gmail.com.
THANK YOU!!!
---
Request of Water Donation
Another marching band season is here and we are making plans for another great year! If you have not heard, we have 232 band members this year! To make sure we can provide for all of these students, we are asking that each student donate a flat of bottled water to be used for the students at games and competitions. We will be giving a due date for each section to bring the water since we have a storage issue. We are requesting:
• 16.9 FL oz. bottles
• A flat of 24 count or greater
• Any brand of bottled water
Thank you for supporting the North Cobb High School Marching Band!
Section: Date Due:
Flutes September 22nd
---
BAND/GUARD FEES
Fees for the season are due in full on October 1, 2016.
The most recent statements were sent out on September 14th. If you did not receive it or have questions about it, please contact the financial secretary at finance@nchsband.com.

Now that the season has started, there are 3 options for payments.
-Your student may place a payment in the secured lockbox at the back of the band room
-Mail payment to: NCHS Band Boosters P.O. Box 539, Acworth, GA 30101
-Via paypal through link on website nchsband.com
Please put your student's name on the check or envelope so we are sure we are giving credit to the right child.

---
2016 Fall Practice Schedule
September 20th 4:00 PM - 7:00 PM
September 22nd 4:00 PM - 7:00 PM
October 4th 4:00 PM - 7:00 PM
October 6th 4:00 PM - 7:00 PM
October 11th 4:00 PM - 7:00 PM
October 13th 4:00 PM - 7:00 PM
October 18th 4:00 PM - 7:00 PM
October 20th 4:00 PM - 7:00 PM
October 25th 4:00 PM - 7:00 PM
October 27th 4:00 PM - 7:00 PM
November 1st 4:00 PM - 7:00 PM
November 3rd 4:00 PM - 7:00 PM
---
GAME & COMPETITION DATES
September 23 - home vs Pebblebrook (8th Gr Night)

September 30 - open/bye week

October 7 - away vs McEachern

October 10th - Cobb County Exhibition @ McEachern

October 14 - home vs North Paulding (Homecoming)

October 21 - home vs Marietta (Senior Night)

October 22nd - JSU Competition (Jacksonville, AL)

October 28 - away vs Hillgrove

October 29th - Allatoona HS Competition

November 4 - away vs Kennesaw Mountain

November 5th - Newnan HS "Old South" Competition
* Senior night is very important. All seniors (with their parents) are recognized prior to the game.

---
Newsletter Information
All announcements should be emailed to the band secretary,
Tracey Wadley (tcwadley@gmail.com), by Fridays in order to be included in the weekly news.

Important information can always be found on the band website. Click on the image above to access the website or go to www.nchsband.com.