Dear Warrior Band Family,
What a wonderful and productive few weeks we have had since band camp! Sometimes I forget that it's still August! Thank you all for attending Family Day, it was a wonderful day for the kids and they were very proud of the performance. My hat goes off to the team of chaperones and boosters that made the day run smoothly!
Our first football game performance was a success!! I was THRILLED at how well the students performed and carried themselves while on the field. We performed the first two movements of a four-movement show. Music for the third movement has been learned and drill will be on within the next week. It will feature our "Smooth Criminal" colorguard and is sure to be a crowd pleaser!
Looking ahead to the next two weeks-
Tuesday (8.23) Open House: we will end rehearsal early to allow time for students to attend open house. There is a PTSA meeting in the theater at 6:00 that all parents are invited to, and you will get the chance to visit classrooms shortly thereafter.
Friday (8.26) – NC vs. Etowah: If you missed us this week, come out to see the band in full uniform! If your student hasn't picked up their marching shoes, be sure to do so ASAP!
Tuesday (8.30) – Picture Day: We will forgo a portion of rehearsal to take full band, leadership, section, & senior pictures.
Friday (9.2) – NC at Harrison
Tomorrow (Monday, 8.22) will be our final Monday rehearsal for the season. This cuts us down to two vital rehearsal days a week. While I understand life pulls us in a million different ways, please remember that every rehearsal is mandatory, and when we are absent even one student, every member suffers. Your child's participation is important for the development and success of the team! As a football team cannot function without its quarterback, we cannot function properly without your son or daughter! Utilize Mondays, Wednesdays, and non-rehearsal/competition Saturdays as days to schedule appointments, birthday events, work availability, etc.
Everyday I am here your students never cease to amaze me. They are bright, talented, and thirsty to achieve. Keep them encouraged and let us work together to help them balance essential time management and organization skills. I will continue to be transparent about upcoming dates and band expectations. Keep careful watch over their early assignments and be vigilant about homework and tutoring- even when they seem tired. Hard work and careful planning now will pay off later. Do not hesitate until it is too late; contact teachers to set up extra help and follow up with their progress. If you can't get an answer from the teacher, contact me and I will. While providing your child a worthwhile Music Education is my job, giving them the skills and opportunities to be a well-balanced scholar and successful member of society is my priority.
Thank you for all you continue to do for our wonderful band program.
All my best,
Sheldon Frazier
Director of Bands
North Cobb High School
---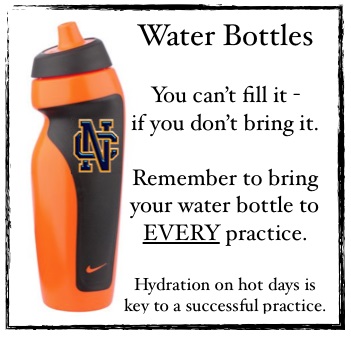 ---
SENIORS!! WE NEED YOUR PICTURES FOR THE SLIDE SHOW
We are starting early in our quest to obtain pictures of each senior student in order to be properly represented in our year end video. We need three pictures of different ages of your student including one current photo.
You have three options of handing these photos in.
1) You can put the originals in a clearly labeled envelop with your student's name and place it in the photo drop box at the back of the band room. (Originals will be returned to you in the same condition you submitted them)
2) You can place the pictures on a DVD or CD also clearly labeled with your student's name and place that in the photo drop box
3) You can email the pictures directly to the Photography/Video committee at nchsbandseniors@gmail.com.
THANK YOU!!!
---
Request of Water Donation
Another marching band season is here and we are making plans for another great year! If you have not heard, we have 232 band members this year! To make sure we can provide for all of these students, we are asking that each student donate a flat of bottled water to be used for the students at games and competitions. We will be giving a due date for each section to bring the water since we have a storage issue. We are requesting:
• 16.9 FL oz. bottles
• A flat of 24 count or greater
• Any brand of bottled water
Thank you for supporting the North Cobb High School Marching Band!
Section: Date Due:
Trombones August 25th
---
BAND/GUARD FEES
Fees for the season are due in full on October 1, 2016.
The most recent statements were sent out on August 14th. If you did not receive it or have questions about it, please contact the financial secretary at finance@nchsband.com.

Now that the season has started, there are 3 options for payments.
-Your student may place a payment in the secured lockbox at the back of the band room
-Mail payment to: NCHS Band Boosters P.O. Box 539, Acworth, GA 30101
-Via paypal through link on website nchsband.com
Please put your student's name on the check or envelope so we are sure we are giving credit to the right child.

---
2016 Fall Practice Schedule
August 22nd 4:00 PM - 6:00 PM
August 23rd 4:00 PM - 7:00 PM
August 25th 4:00 PM - 7:00 PM
August 30th 4:00 PM - 7:00 PM
September 1st 4:00 PM - 7:00 PM
September 6th 4:00 PM - 7:00 PM
September 8th 4:00 PM - 7:00 PM
September 13th 4:00 PM - 7:00 PM
September 15th 4:00 PM - 7:00 PM
September 17th Mandatory 12:00 PM - 9:00 PM
September 20th 4:00 PM - 7:00 PM
September 22nd 4:00 PM - 7:00 PM
October 4th 4:00 PM - 7:00 PM
October 6th 4:00 PM - 7:00 PM
October 11th 4:00 PM - 7:00 PM
October 13th 4:00 PM - 7:00 PM
October 18th 4:00 PM - 7:00 PM
October 20th 4:00 PM - 7:00 PM
October 25th 4:00 PM - 7:00 PM
October 27th 4:00 PM - 7:00 PM
November 1st 4:00 PM - 7:00 PM
November 3rd 4:00 PM - 7:00 PM
---
GAME & COMPETITION DATES
August 26 - home vs Etowah

September 2 - away vs Harrison

September 9 - open/bye week

September 16 - away vs East Coweta

September 23 - home vs Pebblebrook (8th Gr Night)

September 30 - open/bye week

October 7 - away vs McEachern

October 10th - Cobb County Exhibition @ McEachern

October 14 - home vs North Paulding (Homecoming)

October 21 - home vs Marietta (Senior Night)

October 22nd - JSU Competition (Jacksonville, AL)

October 28 - away vs Hillgrove

October 29th - Allatoona HS Competition

November 4 - away vs Kennesaw Mountain

November 5th - Newnan HS "Old South" Competition
* Senior night is very important. All seniors (with their parents) are recognized prior to the game.

---
Newsletter Information
All announcements should be emailed to the band secretary,
Tracey Wadley (tcwadley@gmail.com), by Fridays in order to be included in the weekly news.

Important information can always be found on the band website. Click on the image above to access the website or go to www.nchsband.com.