Colchester Land Trust News
Winter 2017
First Annual Winterbrau Fundraiser a Success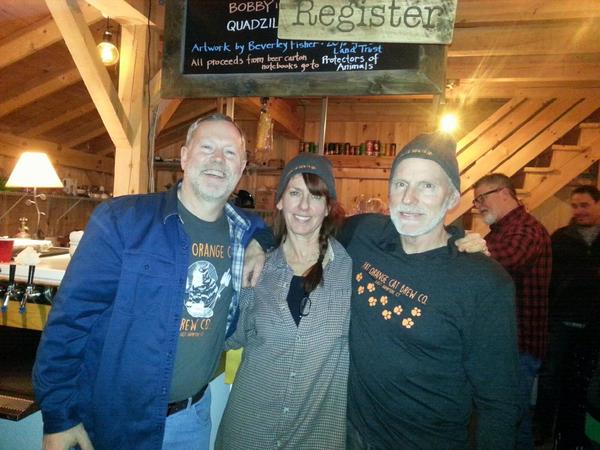 On Saturday, February 11th, the Colchester Land Trust held its first ever Winterbrau fundraiser at the Fat Orange Cat Brew Co. in East Hampton. The Fat Orange Cat is a small seasonal farm brewery and a partnership between Sheila Mullen, Mike Klucznik, and Scott Cross. They opened their doors this past August and have been busy keeping up with demand ever since! And CLT could not be more thankful for their generosity - not only did they open their brew barn to us at no charge, but they also donated 15 gallons of beer to our inaugural event, which sold out in less than 10 days after it was announced. In addition to the pulled pork, barbeque beef brisket, smoked salmon, and an assortment of appetizers, and desserts provided by CLT board members and friends, those who attended were treated to three different brews on tap: Maeve a 7.9% IPA, Bobby, a 7.7% IPA, and Quadzilla, the Fat Orange Cat's award-winning 10.5% Belgian Quad. By all accounts, the CLT's first "Winterbrau" event was a HUGE success and we hope to do it again next year! MANY THANKS to Sheila, Mike, Scott, and to all who came out to enjoy an amazing evening with us! And apologies to those who were unable to buy tickets due to the sellout. If you missed our event, we urge you to visit the Fat Orange Cat when they open for the season on April 1st. You will not be disappointed!
Membership Campaign Underway
Many, many thanks to all who have renewed their membership in the Colchester Land Trust or contributed to our 200 Acre campaign!! 2016 was an incredibly busy year for CLT and 2017 promises more of the same as we work to tie up loose ends left from last year and begin year two of our three year campaign to raise the funds needed to create a 130-acre community forest on Bulkeley Hill Road and purchase development rights on the 88-acre Tangletree Farm, ensuring it remains forever in agriculture. The good news is that we are nearly 70% of the way toward meeting our goal of $850,000, but the challenge for us this year and next is to maintain our momentum. Remember: your m
embership contributions not only help to cover our operating costs, but more importantly, they enable us to approach foundations for funding major land conservation projects, like the two we are currently working on, by showing a broad base of support.
If you've ever thought about joining the Colchester Land Trust but haven't yet done so, there is no time like the present! And you can do so securely at our web site: www.colchesterlandtrust.org or by mailing your donation to P. O. Box 93, Colchester, CT
This year, all of us here at the Colchester Land Trust are working especially hard to better engage with you as members. We have upped the ante on our outdoor outing offerings and we believe we have some great events planned (see below). The entire rest of this issue is devoted to informing you on all we've got on tap this year.
Upcoming Hikes, Excursions and Events...
The CLT typically conducts it's 'Discover Colchester' hikes on the first Sunday of each month at 1:00pm although, as you'll see below, we are mixing things up this year with some non-hike events, as well as some evening excursions and outings that will take place later in the month. These excursions are free, open to the public, and designed to introduce adults and children to the many special places that make Colchester such a pleasure to call home. Many of the events have been well-planned in advance. Others are in their early stages, tentative, and subject to change so we highly recommend following us on Facebook or checking our web site (www.colchesterlandtrust.org) for up to the minute information. For more information on any of our upcoming hikes, contact CLT hike coordinator, John Barnowski by email at johnbarn@comcast.net.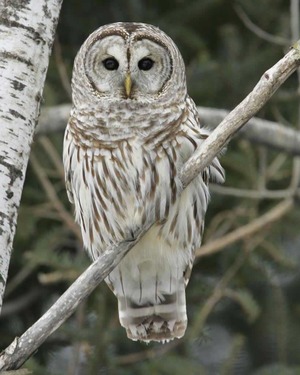 Whooooo's out there on a cold winter night? Our next outing is an Owl Prowl in the Salmon River Forest on Saturday evening, February 25th at 6:30pm. Come join us in experiencing the forest after dark and learn about the nocturnal life of owls. This evening adventure will begin with a short indoor educational program given by Kasha Breau from the CT Audubon Society at the home of CLT Vice President, Lisa Hageman, at 36 Dickinson Road. Afterwards, we will proceed outdoors and into the forest to call the owls. Of course, owls being wild creatures with minds of their own, there are no guarantees of seeing or hearing them during the hours of this event. Hot cocoa and light refreshments will be served following the prowl. Due to the popularity of this outing last year and the limited space available in the indoor setting, we are offering first dibs to current members (it's not too late to join!) and we respectfully ask those interested in attending to please register ahead of time by calling Cathy Shea at 860-537-2158 or by sending an email to colchesterlandtrust@gmail.com.

Folks attending the event should be sure to dress warmly and bring a flashlight. In the event of deep snow on the ground, participants with snow shoes may wish to bring them along. Dangerous conditions such as ice would cancel the event but we've reserved Saturday, March 4th at 6:30pm as the snow date.

March 11th - 6:30pm - Full Moon Hike (or Snow Shoe) at the Bulkeley Hill Preserve
Meet at the home of CLT board member, Cathy Shea, who will guide you through the Preserve to experience the woods after dark. In the event of deep snow on the ground, participants with snow shoes are welcome to bring them along. If you'd like try snow shoeing but don't own a pair, feel free to drop an email to us at colchesterlandtrust@gmail.com and we'll see if we can set you up. All are welcome indoors after the outing to socialize, enjoy some hot cocoa and other light refreshments.

April 9th - 1:00pm - Hike of the Day Pond Extension
Two years ago, the State of Connecticut D.E.E.P. purchased 60 acres of fields and woodlands adjacent to the Day Pond State Park on recommendation by the Colchester Land Trust. Come and meet us in the park for a tour of these newly added 60 acres.

May 7th - 1:00pm - Botany Hike Along the Airline Trail
Come learn about the physiology, structure, genetics, ecology, distribution, classification and economic importance of plants native to our area.

June 10th - 1:00pm - A Kayak Adventure at Red Cedar Lake
Bring your kayak and enjoy an afternoon on the water at Red Cedar Lake with us. If you don't own a kayak, but would like to try one out, drop us an email at colchesterlandtrust@gmail.com and we'll see if we can set you up.

July 8th - 11:00am - Bike Ride on the Airline Trail from Rt. 85 to the Willimantic Brewery
Now that the old iron trestle bridge crossing the Willimantic River has been completed, and the trail improved the full distance beyond, we thought it would be fun to take the 10-mile ride out to Willimantic, enjoy a nice lunch there, and return back at a liesurely pace. If you'd like to join, but don't have a bike to ride, drop us an email at colchesterlandtrust@gmail.com and we'll see if we can set you up.

August - TBD
We are still working on the August outing but are hoping we might be able to have some 'Fun with Fungi', and explore and learn about the mushrooms found in our native woodlands. Stay tuned.

September 15th - 7:00pm - Stargazing at the Cold Spring Farm, 46 Town Road
We could not be more excited about this outing! Come and appreciate the dark skies afforded to us through our area's open spaces. The Cold Spring Farm is a working, organic farm that has been preserved in perpetuity. From its perch overlooking Lake Hayward, the farm's fields offer the perfect venue for stargazing. Colchester's own Gary Walter, and members of the Astronomical Society of New Haven have graciously offered to join, bring equipment, and help to explain the heavenly bodies visible to us that evening. If you have a telescope, feel free to bring it along!

October - TBD
We are still working on our October outing, but are looking to put together a harvest event in appreciation of Colchester's farms. Stay tuned.

November 5th - 1:00pm - Sunday hike of the Babcock Pond Wildlife Management Area
Colchester has three State of CT DEEP wildlife management areas (WMAs) that are used during the hunting season, and Babcock Pond is a delight when everything turns yellow in the fall. While used for hunting on Saturdays during the season, Sundays at the WMAs offer wonderful hiking opportunities.

December - TBD
We are still working on the December outing but are hoping to have a festive Colchester History Tour after dark and during the holiday season. Stay tuned.

Salmon River 5.5 Mile Run Coming...
The Colchester Land Trust will be holding its annual Salmon River 5.5 Mile Run on Saturday, May 13th, at 10:00am and if you are a runner, this is an event not to be missed! This earth-friendly road race features a spectacularly scenic course that begins in front of the Comstock covered bridge with a patriotic send-off from our good friends, the Colchester Continentals Fife & Drum Corps. Then the course veers onto River Road for some gorgeous views of the Salmon River, turns up onto the Airline Trail then back to the covered bridge for a fast down hill finish. As such, the course includes a variety of terrain - a little pavement, some dirt road and improved trail.

Following the race, CLT puts out an amazing spread that includes a number of locally grown and sourced foods and beverages. The entry fee is just $30, includes the post race BBQ, recycling of your old shoes, and an organic cotton t-shirt when you pre-register by April 30th. For more information or to sign up, check out the race web site at: www.salmonriverrun.org





Volunteers Needed...

Not a runner? CLT could use a few good volunteers to help with some of the activities for its annual road race. If you are available on the morning of May 13th, please consider volunteering a small commitment of time to help out with registration, parking, traffic control, a water stop, assisting runners at the finish line or the post race BBQ. Salmon River Run volunteers are always well rewarded with a nice t-shirt, good food, great entertainment, and the sincere appreciation of a few hundred runners. Get in touch by emailing us at: racedirector@salmonriverrun.org -or- colchesterlandtrust@gmail.com

"Hometown Habitat" Coming to Cragin Library

Hometown Habitat - Stories of Bringing Nature Home is a new documentary film that flips the landscaping paradigm by raising awareness about the critical role native plants play in the survival and vitality of local ecosystems. Co-sponsored by the Connecticut College Arboretum, Colchester Garden Club and Cragin Memorial Library, the 90-minute film will be shown in the Norton Room of the Cragin Library on Thursday, April 27th at 1:00pm and again at 6:00pm with a discussion following the showing. This event is free and open to public!

Monthly Meeting Schedule

Do you enjoy the outdoors? Do you like nature? Are you concerned about the environment? Do you appreciate Colchester's forests, farms, parks, and other open spaces? Are you interested in making a difference in our community and looking to get more involved? We are a small dedicated group of volunteers and we'd LOVE to have your input at any of our regular monthly meetings, which are generally held at 7:00pm in the Colchester Town Hall on the 2nd Tuesday of every month. Come join us at any of our upcoming meetings and learn about the important, behind the scenes work we are doing here in Colchester:
Tuesday, February 14th, 7:00pm - at the Colchester Town Hall
Tuesday, March 14th, 7:00pm - at the Colchester Town Hall
Tuesday, April 11th, 7:00pm - at the Colchester Town Hall
Tuesday, May 9th, 7:00pm - at the Colchester Town Hall
Tuesday, June 13th, 7:00pm - at the Colchester Town Hall
Tuesday, July 11th, 7:00pm - at the Colchester Town Hall
Tuesday, August 8th, 7:00pm - at the Colchester Town Hall
Tuesday, September 12th, 7:00pm - at the Colchester Town Hall
Tuesday, October 10th, 7:00pm - at the Colchester Town Hall
Tuesday, November 14th, 7:00pm - at the Colchester Town Hall
Tuesday, December 12th, 7:00pm - at the Colchester Town Hall

We
TRUST
You Care...
The Colchester Land Trust needs your help! We are an all volunteer nonprofit organization working to permanently protect open space in Colchester. Protecting land takes time and requires funding. Please consider becoming a member, volunteering your time, or making a contribution to our efforts! Learn more by visiting our web page at:
www.colchesterlandtrust.org