Colchester Land Trust News
Autumn 2017
The Power of Awe...
On August 21st of this year our country experienced a rare moment of unity as millions of Americans stepped away from their televisions, leaving the news, their politics, and their conflicting ideologies on pause in an effort to get outdoors to observe the darkening skies from the rare coast to coast solar eclipse. For a single brief moment in time, people of all ages, skin colors, gender orientations, creeds, and belief systems were able to come together to experience the power of 'awe' - that sense of wonder we feel in the presence of something much larger than ourselves - that sense of amazement that transcends us and our understanding of the world.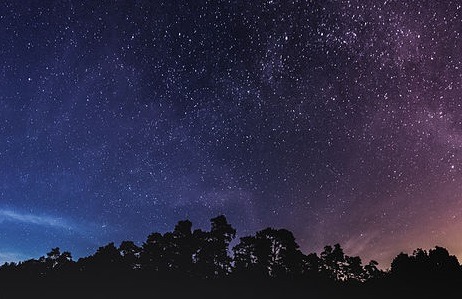 It's become all too clear that we Americans need many more of these kinds of experiences in our daily lives. They are not only important to our own individual sense of well-being but, more importantly, they are critical to the well-being of our society. In fact, a May 2015 study published by the American Psychological Association found that the 'awe' experience not only provides us with a sense of personal fulfillment, but has the added effect of promoting altruism and kindness to others, of generating magnanimous behavior by diminishing self-absorption and self-importance. One of the researchers, Paul Piff, PHD, of the University of California, Irvine, states:

"Across all these different elicitors of awe, we found the same sorts of effects - people felt smaller, less self-important, and behaved in a more prosocial fashion. Might awe cause people to become more invested in the greater good, giving more to charity, volunteering to help others, or doing more to lessen their impact on the environment? Our research would suggest that the answer is yes."
While frequently associated with music, the arts and religion, this sense of 'awe' is most easily accessible through our experiences with nature - from viewing scenic vistas and scanning vast expanses (just step outside your door on a clear, crisp, dark night and look to the heavens and you are sure to feel small in the presence of the rest of the universe) to observing the smallest of intracies (look closely at the wonder and beauty that is the monarch butterfly) to experiencing the completely mundane (intense feelings of joy and happiness, awe and wonder, can be experienced simply by facing into the wind, feeling the warmth of the sun on our shoulders, or taking in a thunderstorm). Moreover, these awe-inspiring natural experiences are not only transformative, but are also universal, timeless, and most importantly - egalitarian, for the stars do not care about the color of our skin, the moon does care what church we attend, and the trees do not care what is in our bank account.

Each of us can tap into these experiences simply by making time to tap into nature itself. As we embark on the upcoming 'season of giving', we here at the Colchester Land Trust, would like to express our gratitude for you, our friends and members. We wish you an 'awe'-some holiday season and hope you'll make time this fall to seek out a connection with nature - to watch a sunrise, or take in a sunset, have a walk in the woods, or look up at the stars. We hope such experiences will inspire you to step away from your own cares and concerns and encourage you to help improve the welfare of others. And, if you do happen to find yourself feeling especially altruistic or magnanimous, please make a pledge to make the world a better place by giving back to your community in some small way. Read on to see how you can help your Colchester Land Trust...
Challenge Grant Underway
On August 1st, a small group of local benefactors wishing to remain anonymous announced to us they would be willing to pool some funds to challenge our community in helping to complete CLT's 200-Acre Farm and Forest campaign. The original campaign was initiated a little more than a year ago to raise funds for the creation of a 130-acre community forest known as the Bulkeley Hill Preserve and to preserve the 88-acre Tangletree Farm on Lebanon Avenue.

Much has happened in the short time since the campaign began. The 115-acre Bulkeley Hill parcel that sits adjacent to CLT's existing 15-acres on Bulkeley Hill Road, was purchased through a short-term, low-interest loan thus saving the land from development and protecting the headwaters of the 'wild and scenic' Eightmile River. That loan was recently repaid through generous donations from our membership, and a new short-term, low-interest loan was taken to complete the purchase of an agricultural conservation easement on the Tangletree Farm. Roughly one fourth of this loan has already been repaid leaving just $131,000 of the original $850,000 campaign left to complete. And, this brings us to our anonymous local benefactors. They've offered to MATCH EVERY SINGLE DOLLAR (up to $30,000) donated to the Colchester Land Trust from now until the end of the year. And that brings us to YOU. We are counting on your support this season to help us meet every dollar of this match and make significant progress toward the completion of our campaign and the Bulkeley Hill and Tangletree projects! This is a fantastic opportunity to double your impact and help us to financially complete these projects by making a generous donation to CLT as we have other projects waiting in the wings. Note, too, that many large area employers (Aetna, Prudential, Pfizer, UTC, Eversource, and others) offer corporate matching gifts to organizations their employees support and a simple inquiry at your employer may even have the potential to quadruple the impact of your donation to CLT this year!
New Permanent StoryWalk at Cohen Woodlands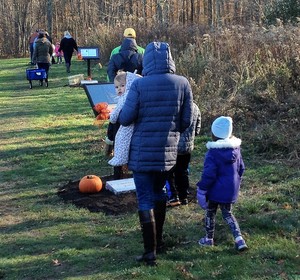 In an age of cell phones, video games and other electronic devices and media, Colchester's children, like those in other towns and cities across the United States, are lacking the exposure and engagement with nature that most of us in the land trust community took for granted in our own childhood. In fact, the average American child spends 44 hours per week interacting with electronic media, a trend that does not bode well for the future of conservation and the environment. To this end, the Colchester Land Trust has been examining the role of our organization in helping to stem the tide of what Richard Louv, author of the 2005 book, "Last Child in the Woods" terms as Nature Deficit Disorder.

Members of the Colchester Land Trust were first introduced to the concept of a StoryWalk® by some friends of the trust who summer in Colchester but remain active year round in their Maine-based land trust. CLT already partners with the Colchester Garden Club on a number of activities and events related to the Community Wildlife Habitat of Colchester (CWHC), an initiative promoting awareness and action for area wildlife, so it was only natural for us to reach out to members of this group for help with a StoryWalk® project and, as fate would have it, two other groups in town, Colchester's Collaborative for Children (C3) and the Cragin Memorial Library had also been interested in bringing a StoryWalk® to Colchester.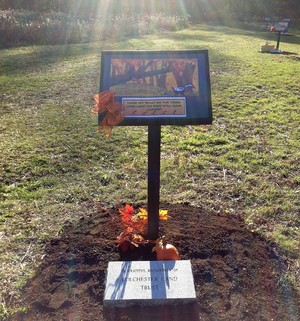 What is a StoryWalk®
? Basically, it is an activity designed to get children and families outdoors and into nature while building literacy skills. The orginal StoryWalk® was an idea hatched and created in 2007 by Anne Ferguson of Montpelier, VT and developed in collaboration with the Vermont Bicycle & Pedestrian Coalition (VBPC) and the Kellogg Hubbard Library. Since then, similar such StoryWalks have been created in all 50 US states and 12 countries.

Over the course of several months, Colchester's StoryWalk® committee came together to work on the project, to decide its location, obtain permission from the Town of Colchester, to evaluate and choose books and decide how best to present the pages. By the summer of 2016, the group had launched our first StoryWalk® at the Ruby and Elizabeth Cohen Woodlands on McDonald Road in Colchester, with laminated pages presented on cardboard stapled to tomato stakes. We have prepared a story every couple of months since and were thrilled last fall when Troup 72 Boy Scout, Jack Boyden, chose as his Eagle Scout project a permanent installation of Colchester's StoryWalk®. Jack was able to raise more than $10,000 through car washes, donations from local families, and sponsorships from area businesses and community organizations to fund one of the most impressive Eagle Scout projects undertaken in recent history. Through the funds raised, Jack was able to purchase sturdy, water and weatherproof metal stations that will allow our group to change out the stories more frequently and with much less effort. He was able to garner support from fellow troup members, scout leaders, and volunteers to lay out and install the stations and their accompanying stone plaques acknowledging donors and sponsors.

On Saturday, November 11th, this amazing gift to our community was unveiled at a ribbon cutting ceremony held at the Ruby and Elizabeth Cohen Woodlands. The installation is truly a beautiful sight to see and will no doubt be delighting young children from Colchester and surrounding towns for years to come. It far exceeds the greatest expectations any in our group had entertained when we first embarked on this journey more than 18 months ago. Each of the five participating organizations: C3, Craigin Library, CWHC, Colchester Garden Club and CLT will be forever appreciative of the incredible vision, time and effort gifted to this project by Jack Boyden, Troup 72, and all others involved in making Colchester's StoryWalk® a reality. We hope you'll make time to come to visit and bring along your favorite young person!
Cato Corner Farm Crowdfunding
The Colchester Land Trust would like to bring to your attention a worthwhile crowdfunding campaign in our community: Colchester's own Cato Corner Farm, makers of world-class, award-winning cheeses, is looking to expand its operation with improved cheese-making facilities and a larger cheese shop. Farm owners, Liz McAlister and Mark Gilman, long ago preserved their Cato Corner Farm through an agricultural conservation easement - a real gift to Colchester - one that keeps 82 acres of land in agriculture forever, but also one that reduces the value of that land since it cannot ever be sold for development, thus restricting the farm owners' ability to borrow funds. While more than 80% of the cost of this expansion project will be covered by the farm's own resources as well as state and federal grants, the Cato Corner Farm is seeking help from our community for the last 20%, or about $60,000 and have launched a kickstarter campaign for that purpose.

The improved facilities would enable Cato Corner Farm to support other local dairy farms through purchase and pastuerization of their milk, which, in turn, helps to increase the long term viability of these farms and reduces the likelihood these farms will wind up as residential subdivisions - a disturbing trend here in Connecticut and throughout New England. Cato Corner Farm will also be able to expand their offering, adding new fresh cheese varieties to the raw milk varieties they already produce. We hope you will show your support for open space, local agriculture, local business, and community members who themselves have already paid it forward, by participating in this worthwhile crowdfunding campaign. You can read more about the Cato Corner Farm, their expansion plans and participate in the campaign, which goes until December 3rd, here.
CLT Hikes, Excursions and Events...
The Colchester Land Trust typically conducts it's 'Discover Colchester' outings on the first Sunday of each month at 1:00pm although, as you'll see below, we have been mixing things up this year with some non-hike events, as well as some evening and Saturday excursions and outings. All are free, open to the public, and designed to introduce adults and children to the many special places that make Colchester such a pleasure to call home.
Next outing
The next 'Discover Colchester' excursion will take place on December 10th at 1:00pm in partnership with the Colchester Historical Society (CHS). This hike will be a walking tour of the Colchester Historic District and beyond based on a November 1874 Hartford Post newspaper article. In this article, an unnamed local leads the writer through Colchester, describing who owns or lives in nearly every house or business along the way. We'll be meeting Gary Walter of the Historical Society in front of the CVS store on Rt. 85. Please get in touch with CLT's hike coordinator, John Barnowski, by email at johnbarn@comcast.net if you have any questions.

Here's a look at some of our recent outings and events: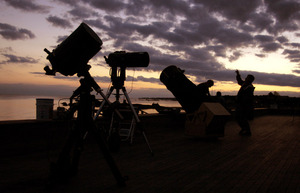 On Friday, September 15th, members of the Astronomical Society of New Haven (ASNH) and Colchester's own amateur astronomer, Gary Walter, treated us to a stargazing event held at the Cold Spring Farm, a preserved, organic farm overlooking Lake Hayward. ASNH members brought with them some very impressive telescopes that allowed us to peer into the universe and observe, up close, the most amazing heavenly bodies and astronomical phenoma. The large group of folks who joined this outing were blessed with a clear night, a gorgeous view of the milky way and excellent north, west, and eastern views of the horizon, offering big, dark skies. Many thanks to the Cold Spring Farm for hosting this event and to members of the ASNH for sharing their equipment and incredible knowledge with us! We hope to have them back again next year, as this was an event not to be missed.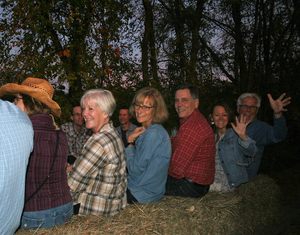 On October 7th, CLT held its first ever Harvest Celebration and Hoedown at the preserved Tangletree Farm on Lebanon Avenue. The event was held to raise funds toward the CLT's 200 Acre Farm and Forest Campaign and attendees were treated to a sunset hayride and tour of this beautiful working horse-breeding farm. Jim Gregory provided us with line-dancing lessons, the Seat of Our Pants band offered some fun, upbeat music, employees of the Tangletree Farm offered a horse-riding demonstration, and CLT provided a Texas-style BBQ, beer, wine and cocktails. If you missed this event, you missed a rollicking good time! It was so much fun, we hope to bring it back, bigger and better, next year.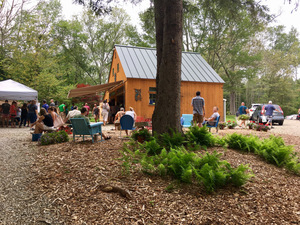 We all had so much fun on our July 8th bike ride on the Airline Trail to the Willimantic Brew Pub, that we could not resist the idea of another bike outing, this time, headed the opposite direction on the Airline Trail out to the Fat Orange Cat Brew Co. on Tartia Road, East Hampton on November 5th. The ride, which began at the Rt. 149 entry to the Airline Trail, proved to be much shorter than the Willi Brew Ride, allowing us time to sample a number of tasty IPAs and make it back to our starting point before dark.

And here's a sampling of hikes to come...
CLT's Excursion Committee will be meeting in the coming weeks to carve out some dates and flesh out some events, but outings we are currently considering for 2018 include:

Hike of the Meadowbrook Wildlife Management Area
Full Moon Snowshoe/Hike of the Bulkeley Hill Preserve
Botany Hike at Day Pond
Mushroom Hike with the Connecticut Valley Mycological Society
Stargazing at Cold Spring Farm
Bike Ride on the Airline Trail to the Willimantic Brew Pub
Tangletree Farm Ramble
Salmon River Soak
Kayak Adventure
Geology Hike on the Airline Trail
Farm Tour of Cato Corner and others

Do you have ideas for other CLT outings? Could you be interested in helping to plan or lead one of our excursions? We would LOVE to have your input and involvement! Please feel free to contact us at colchesterlandtrust@gmail.com or reach out directly to our hike coordinator, John Barnowski, at johnbarn@comcast.net.

Monthly Meeting Schedule
Do you enjoy the outdoors? Do you like nature? Are you concerned about the environment? Do you appreciate Colchester's forests, farms, parks, and other open spaces? Are you interested in making a difference in our community and looking to get more involved? We are a small dedicated group of volunteers and we'd LOVE to have your input at any of our regular monthly meetings, which are generally held at 7:00pm in the Colchester Town Hall on the 2nd Tuesday of every month. The next regular meeting of the Colchester Land Trust will be held on December 12th at 7:00pm. Come join us at this or any of our upcoming meetings and learn about the important, behind the scenes work we are doing here in Colchester.
We
TRUST
You Care...
The Colchester Land Trust needs your help! We are an all volunteer nonprofit organization working to permanently protect open space in Colchester. Protecting land takes time and requires funding. Please consider becoming a member, volunteering your time, or making a contribution to our efforts! Learn more by visiting our web page at:
www.colchesterlandtrust.org