By 10 Books A Home volunteer Role Model, Miriam Magana
I challenge you to write the first word that comes to mind when you see this picture.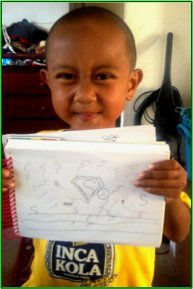 For me, the word is
PROUD
. Siupeli is proudly holding our writing activity in which he finally mastered writing the stubborn and sometimes lazy, letter S. She is a stubborn letter because sometimes she just keeps on going and turns into random scribbles - a worm, a streamer, a pig's tail. However, our biggest problem with the letter S is that she tends to be very lazy. She lays face down, face up, and sometimes even gives us her back.
Every Role Model has a bag of tricks to pull from when dealing with stubborn, lazy and often times confusing letters to learn. One of my favorite activities has been our thank you card goal setting activity. Together, Siupeli and I come up with a goal. I then write it on the thank you card, seal it, and talk about ways we can practice and activities he can do with his family to help him achieve this goal. When he is ready, Siupeli gets to cash in his goal for a gift. The first goal consisted of learning four colors. He was so excited and to my surprise it only took one week to achieve. For his acheivement, he earned a small Ikea train set. We are big on trains and trucks!
Our goal for the following week was writing the first three letters of his name, Siu.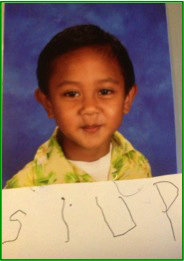 Needless to say, Siupeli not only achieved his goal, he kept going and is now only three letters away from writing his full name. He wished for a painting set to give his train tracks some life and color, and that will be one of our activities next time we meet. Our friendship with the letter S has improved. She still falls asleep on the job every once in a while, but for the most part she is present and cooperative!
About Siupeli:
Siupeli just turned 4-years old. His mother applied to 10BH for fear that he might struggle in grade school like his older brother, who is two grade levels below in reading. After 5 months, Siupeli's mother is convinced that he is on his way to becoming a successful reader.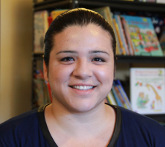 After attending school in East Palo Alto, Miriam went on to Bryn Mawr College. Upon graduating, Miriam returned to her community and now works at the 49ers Academy, which she herself graduated from in 2004. Miriam runs a homework center for k-5 students and sees firsthand the ramifications of starting kinder unprepared. In the five months she has been a Role Model with 10BH, Miriam has seen the impact that one hour a week can make. Siupeli's attention span has increased, not only enabling him to sit through their lessons, but now he is excited about reading and eager to learn. She has also noticed that Siupeli's parents are more patient with him during lessons. Miriam plans to work with Siupeli for the full two-years he is in the program.
Upcoming Events
Role Model Discussion Night #2
Kinder Council Meeting

Trinity Presbyterian Church Community Service Project

Hidden Villa Farm Tour
Get Involved