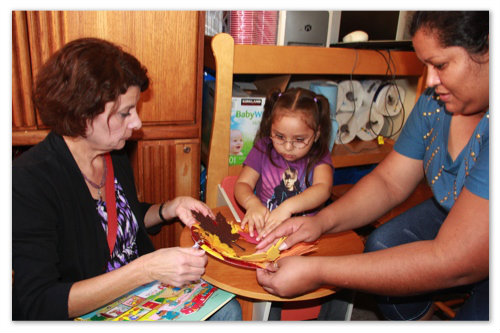 "Honestly, I knew nothing about what my daughter needed to know for kindergarten before 10 Books A Home," Rosa said.
According to Rosa, this was no longer the case by the time she placed her only child, three-year-old Yeniser, in preschool this past August. After only a week in school, Rosa proudly reported that Yeniser was one of only three students in her class that could write their name. It was a skill, Rosa said, that Yeniser had been working on with her and 10BH Role Model, Yvonne, since her enrollment in 10BH in March of 2013.
When Rosa first received a flier for 10BH in the mail, she said the appeal of such a small time commitment is what caught her eye.
"I saw that it only took an hour a week and since I don't drive, it was really great that they would come to the house to give the lessons," she said.
A native of El Salvador, Rosa moved to the United States as a teen with a high school education and without knowing any English. She admitted that despite friends and family advising her to continue her schooling upon arrival in America, the same lack of motivation to continue school stayed with her.
"I just didn't have the will [keep going to] school back home. In El Salvador, if you want to go to elementary and high school, then you go. If you don't want to, then you don't," she said.
It's a path, Rosa said, that she doesn't want her daughter to follow. In America, Rosa knew a quality education would be the engine to her daughter's success.
"I don't want her to have just any job, I want her to be somebody," Rosa said. "She told me just the other day that she wanted to be a doctor, so why not?"
In order to see her dreams for Yeniser become a reality, Rosa knew that an early love for reading would be the key to Yeniser's success.
"When I applied, I thought they would just come and read with her," Rosa said candidly. "I had no idea that we'd actually be practicing things she would need to know for kindergarten."
Rosa especially recalls the nervousness she felt as she was told by 10BH staff that their Role Model would only speak in English.
"I remember thinking, 'What am I going to do if she asks me something? How am I going to respond to her?' But, we make it work between us even if it is pretty choppy," Rosa laughed.
During their first month of lessons, Role Model Yvonne remembers Rosa's impatience with Yeniser, who often times sat quietly as Yvonne would ask her various questions.
"Rosa was cautious and wasn't sure what to expect of me. Rosa watched a lot. She was courteous and polite to me but didn't try to engage in conversation with me at all," Yvonne said.
Like many 10BH parents, Rosa was eager for Yeniser to answer her promptly and correctly. It wasn't until Rosa had the example of Yvonne's patience that she began to allow Yeniser to take the time to process questions and engage for herself.
"Yeniser was very unsure of herself when we first began and would look to mom for a lot of feedback and prompts," Yvonne said. "You could tell she was sweet and just on the cusp of jumping in and learning. The fire was there."
Within just a few months, Yvonne reported that Yeniser had begun to take leadership during her lessons more and more every week.
"Yeniser is much more animated. She wants to act out animal noises. She wants to have tactile experiences and she wants to be completely engaged," Yvonne said.
What first began as probing a quiet three-year-old for answers during lessons, quickly turned into fun and chatty conversations about everything under the sun, as Yvonne and Yeniser worked on art projects together such as decorating small cupcakes with blueberries to read along with Blueberries for Sal, writing activities, and letter recognition games to help Yeniser prepare for the world of kindergarten.
"I don't understand what they're talking about most of the time, but Yvonne will tell me when she's answering correctly," Rosa said.
In fact, according to Rosa, Yeniser speaks English a majority of the time now, which is a skill that all kindergarteners need in order to accelerate in an English-based school system.
Nonetheless, Rosa is adamant about Yeniser mastering both languages, and is confident just by the visible success of Yeniser in preschool, that she'll continue to excel come kindergarten in 2015.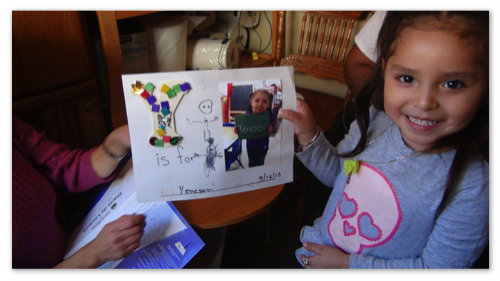 According to Yvonne, Rosa's progress is just as noteworthy as Yeniser's English-language development.
"I think she has seen her daughter grow. She has seen her daughter interact with someone who is outside of their culture and has seen Yeniser's potential which in turn has given her a lot of confidence that this program works and her daughter has blossomed with it," Yvonne said.
As a Role Model, Yvonne also acknowledges the unique role she plays in both Yeniser's and Rosa's life.
"I have made an effort to let Rosa know that it's in her hands to be Yeniser's first teacher. I'm merely a tool in assistance to Rosa," she said.
Having Role Models serve as facilitators encourages parents to take on the same role between lessons, helping to foster learning ecosystems in every home 10BH serves.
According to Rosa, 10BH has given her encouragement and hope for her daughter's future by beginning with subtle changes at home.
"Yeniser would always ask us questions about things, but we never took the time to explain them to her before," Rosa said. "She'd ask me to read things to her and I'd tell her, 'In a little bit, wait, behave.'"
"That's how we were with her before this program. Now, we take the time to read to her or explain things. I believe that if a parent has the will to take the time, then anything possible."
10 Books A Home In Action!
Take a peek into Yeniser and Yvonne's lessons in this
video
.
Hear what volunteer Role Model, Yvonne, has to say about the impact the 10BH program has on families and volunteers in this
video
.
____________________________________________________________________________________