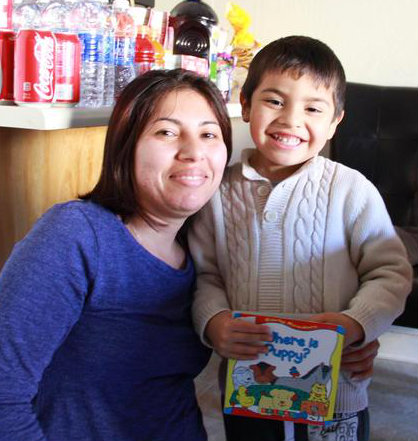 Geidy enrolled her son in 10 Books A Home in January 2013, 6 months before her three-year-old son, Jose, entered preschool. Initially, Geidy recalls Jose being extremely shy and hesitant to participate during his hour-long lessons. Nevertheless, Jose's 10BH Role Model, Jonathan, was consistent about engaging him. This meant everything from asking Jose about his day, to having him practice writing his name.
According to Geidy, Jonathan's focus and attentiveness was something she herself wasn't used to giving her children when it came to their academics. Geidy has two older daughters, Jeddy, 11, and Katie, 6. When Jeddy first entered school, Geidy admits dropping her off at school was nothing more than an opportunity for her to work full-time.
With a busy workload and a family to care for with her husband, Jose, Geidy's mind was far from her children's progress in school. When Jeddy began receiving below grade level test scores in reading and mathematics, Geidy naturally became concerned. She began to seek out afterschool programs and interventions for her daughter, but still couldn't put her finger on what she could do to help her improve.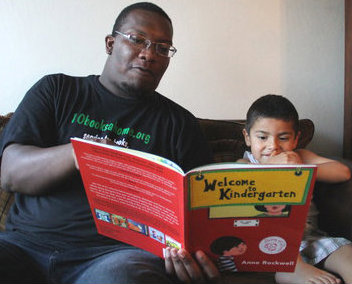 It was her son's Role Model, Jonathan, who would show Geidy just how easy helping her children could be. According to Geidy, Jonathan's constant patience during learning activities such as flashcard games and name writing was nothing less than impressive.
"This was a stranger coming into my home, and I still can't believe how patient and compassionate he is with Jose," Geidy said.
That observation quickly led to action on Geidy's part. As Jonathan worked week to week with Jose on fine tuning his kindergarten-readiness skills, she was left in awe of his rapid progress and was inspired to begin helping her son between lessons. Watching Jonathan coach Jose through his alphabet and writing, Geidy gradually began to inquire Jonathan (with some broken English, gestures, and patience) about Jose's progress. It was then that she realized the importance of teamwork between parents and teachers, what she now calls the "50/50 partnership" that all parents should strive for.
After 8 months of lessons with Jonathan, Geidy has learned how to support Jose in learning new skills such as identifying numbers, letters, shapes, colors, writing his name as well as the names of his family members, and reciting the alphabet.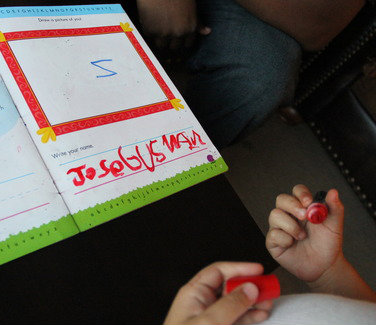 In Geidy's eyes, Jonathan is a hero in her son's life. She even credits Jonathan for helping Jose grow out of diapers because of his desire to be a "big boy" just like Jonathan. It's a relationship that, Geidy said, is invaluable.
With only an eleventh grade education, and having grown up in Guatemala where schools require tuition, Geidy is hopeful about the opportunity her children have here in America.
"I know it's hard for working parents to focus on their children's education," Geidy said. "But, it's all about making time for your children. Everyone has ten minutes to ask their child about their day at school."
For Geidy, all it took was a caring individual to help her get into the habit of checking in and monitoring her son's progress, something she's begun to do with her daughters, too. Now, Geidy eagerly asks her children's teachers about their strengths and weaknesses, and what she can do to help.
"10 Books A Home gave me the power to know I have the right to ask. I began by asking Jonathan all I wanted to know about Jose, and now I ask much more of his teacher as well as my daughters'," Geidy said.
As for Jose, according to Geidy, his teachers reported just weeks after he started preschool that he's ready for kindergarten.
"While I wish I would have become more active in my oldest daughter's education when she was young, I know I still have time to help all three of my kids. I want them to study and go on to college and become professionals. Thanks to 10 Books A Home, I know now that it's nothing difficult!" Geidy said.
The table below shows a spread of Jose's skill development while enrolled in 10BH from Jan-Aug 2013. Jose did not enroll in preschool until the end of July. Skill development is reported by Jose's mother, his Role Model, and 10BH staff observations.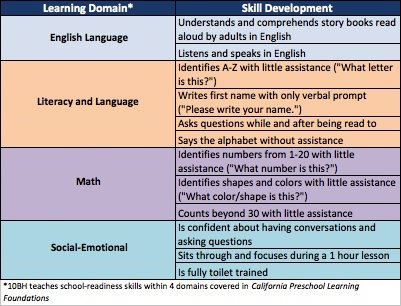 ____________________________________________________________________________________