four-year-old Manuel beamed with excitement next to his mother, Patricia. "I like superhero books!"
When Manuel first met his Role Model, Natassia, in early 2012, he whined to her in Spanish, "I don't understand you." Natassia replied to him in English very calmly, "Yes, you will." After more than a year of lessons for just an hour a week, Patricia says he's as talkative as 'a little songbird.'
Her little songbird, however, wasn't always such a confident speaker. Unable to help Manuel with basic English skills, Patricia recalls recognizing a gap in her ability to help her son when he first entered preschool.
"He was a child that had a lot of energy, but at the same time he didn't know a lot of things you need to know for kindergarten. I wasn't really able to help him with it either at the time," Patricia admitted.
Having emigrated from Mexico with only a high school education, Patricia did not speak or understand English. Her husband, Victor, was able to speak some English, but his long work days left him unable to practice with Manuel and his two-year-old brother on a regular basis.
"I'm with the boys all day long. So, of course we only speak Spanish with each other," she said. "By the time my husband gets home from work, it's already time to put them to bed, so it's not like they have time to speak to each other."
Signing up for 10 Books A Home seemed like the easiest way to help both her and her son prepare for kindergarten.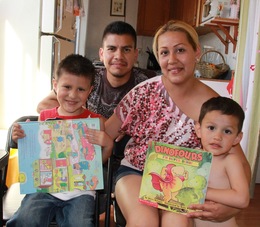 "I felt like we needed the program," Patricia said simply. "He always liked reading, but I knew I had to be able to help him even more."
Upon meeting Manuel's volunteer Role Model, Natassia, over a year ago, Patricia immediately felt the urgency to be able to help her son learn and grow.
"When they first registered us, they told us that lessons would only be in English," Patricia said.
According to her, it was a nerve-wracking feeling not being able to communicate with Natassia, but after speaking with her husband, they both agreed it was the best thing for Manuel.
"My husband even teased me that I should take English lessons so I'd be able to understand, and to be honest, Manuel was my push to go back to school," she said.
Now enrolled in English courses, Patricia says she understands the language much better, and is focusing on being able to finally speak it.
Manuel's progress from a shy preschooler who didn't like to share, into a friendly, outgoing and active learner, was thanks to Natassia's patience, according to Patricia.
"He couldn't sit for fifteen minutes straight at all," Patricia said. "Natassia would then read to him with crazy voices and excitement and I remember the first time he sat and listened for a whole fifteen minutes. I was shocked!"
According to her, it was also from Natassia that she learned how simple it was to engage Manuel in learning activities on a daily basis.
"I used to just read books to them front cover to back, but when I saw how Manuel paid attention to her when she was silly and making silly voices, I started to do that too," Patricia said.
The difference, according to her, meant the world. Slowly, she noticed Manuel take interest in specific kinds of books as Natassia visited week to week.
"He really loves superhero books," Patricia laughed as Manuel scurried over to his bookcase to grab one.
For Patricia, Manuel's growing success is because of their ability to learn from Natassia. Aside from learning how to engage her son by reading enthusiastically, Patricia said she is constantly learning different ways to engage with and help Manuel master kinder readiness skills by copying Natassia.
Writing, for example, has been a challenge for Manuel that both Mom and Natassia have helped him begin to overcome. At first, according to Natassia, Manuel hated writing.
"He was reluctant to even pick up a pen," she said. "We would practice by writing with chalk and different colors, which he loved."
With Patricia present, she was able to begin to help Manuel distinguish the letters "S" and "Z."
"He'll write them backwards or confuse them sometimes, but Natassia would always repeat it and practice it over and over with him, so I did the same," she said.
Helping Manuel differentiate between the letters "S" and "Z" between lessons came naturally to Patricia due to the experience she had watching Natassia teach Manuel how to write his name. According to both Patricia and Natassia, they began by showing him the letter "M," and gradually working with him, letter by letter. Patricia said practicing with Manuel between lessons soon became a regular habit. Today, Manuel can proudly spell both his first and last name with very little help.
Socially, Patricia has seen Manuel flourish almost as quickly as he learned how to write his name. According to her, before 10 Books A Home, Manuel's preschool teachers commented that he often had trouble sharing with others in class and was reluctant to make friends. By having Natassia facilitate games that required patience and sharing, Patricia said Manuel was able to develop the skill quickly.
"She had this game that included flashcards and she would make all four of us, including his younger brother Ismael, take turns trying to match the cards," Patricia said. "This taught him how to wait and be patient. I loved it so much; I made my own flashcards just out of white paper and pencil."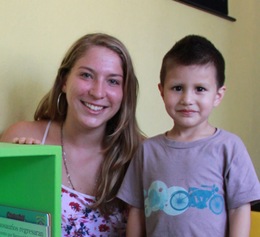 For Natassia, Patricia's participation couldn't be any more helpful. Accoording to her, Patricia is very active and encourages Manuel during the lessons by as
king him questions herself.
"I've worked in tutoring programs where the parent isn't there and they don't really know what's going on. It feels kind of natural to have them be a part of the learning process," Natassia said.
And at every lesson, Patricia is. Natassia has also seen an increase of books within the family's home on top of Patricia replicating activities done during lessons.
"The number of books that are in their house has grown exponentially," she said. "His parents buy him books now because they see how excited he gets. They realize how much they can do to help their children."
Manuel will be among 10BH's first cohort of children to begin kindergarten this year. To further prepare Manuel for his big day, Patricia signed him up for a four week kindergarten preparation program in June. While conversing with the teacher about what the children would be expected to learn during the program, a sweeping smile came over Patricia's face.
"I felt so proud that Manuel would start ahead," Patricia said. "I knew it was because of the help he received from 10 Books A Home. I told her, 'My son is ready for kindergarten.'"
"I'm so grateful for this program and what it does for me and my children. It's helped Manuel so much. Because of that, I'm hoping someone can be paired with our other son, Ismael, who just turned three!" Patricia laughed.
________________________________________________________________________