"If Bryan's writing, Diego wants a paper and pencil to write. If Bryan's reading, Diego has to read too. If Bryan's counting, Diego is counting too," Monica laughed.
During lessons with four-year-old Bryan and his Role Model Rosa, it is not uncommon for Bryan's two-year-old brother, Diego, to scurry off to his bedroom and return to his mother's lap with a book. Since Bryan's very first lesson with Rosa in October of 2012, both Monica and Diego have actively participated and shown an ever-growing appreciation for learning.
Monica attributes this new behavior to the example Rosa has set on a weekly basis during lessons together.
"Because of 10 Books A Home, I've learned that you can start teaching your child about colors, counting, and even how to begin a love for reading at a very young age," Monica said.
Born in Mexico and having immigrated to the United States only six years ago with a high school education and speaking virtually no English, Monica said that like many parents from foreign countries, she firmly believed that education would be the biggest factor in her children's success here in America.
After hearing about 10BH through a local preschool, Monica said it was an opportunity she felt would give her children the head start she had been looking for.
"My mother never sat down and read a book with me. I didn't get any stimulation like that from my parents, and I feel like that's what I needed to do well in school," she said.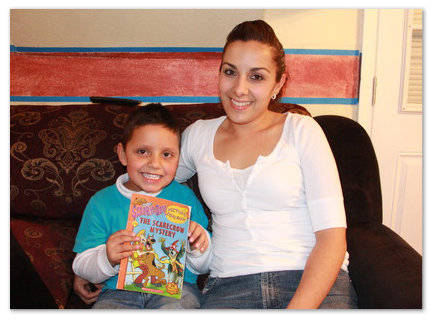 Since beginning lessons with 10BH just over a year ago, Monica said that above all, the program has opened her eyes to the simplicity of parent engagement.
"Because I'm sitting there with him during lessons with Rosa, I can see what he needs help with and I know to practice more with him during the rest of the week," Monica said.
According to her, despite lessons with Rosa starting off rocky (her son threw fits and tantrums), she is thankful for being able to seize the opportunity to develop quite a bit of patience.
According to Monica, lessons began as a weekly battle, as Bryan frequently refused to respond or participate with Rosa.
"He didn't engage much before, but he did answer questions. He was shy, as well as his mother. It was actually Diego who broke the ice because he was adorably interested in me," Rosa said.
Applying what she had learned during 10BH's training, Rosa assured Monica that it was perfectly okay for Bryan to sit quietly during lessons and that he would participate when ready.
"I would just let him have some time and I would try to joke around with him and try some conversation. He would then come around," Rosa said.
Like every 10BH Role Model is trained to do, Rosa overcame Bryan's unwillingness to participate by determining exactly what Bryan enjoyed doing, and incorporating those interests into weekly lessons.
"I tried to see what he would be happy doing," Rosa said, "If he didn't want to count I'd figure out some way that he could count his cars or dinosaurs, or even toss a ball back and forth while counting."
According to Monica, watching Rosa turn lessons about counting into games that caught Bryan's interest, quickly transformed into her practicing the very same technique with both of her sons.
"When Bryan was Diego's age, I would read to him, but very rarely," Monica said.
"Before, I wasn't stimulating my sons. I've learned that you can take advantage of any given moment and use it to practice different skills like color identification or counting."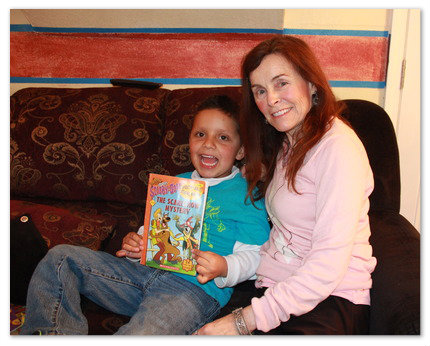 Today, Rosa said that Monica and Diego are usually fully engrossed in a book together during lessons, or participating in the lesson in other ways. Creativity drives Rosa's lessons with the family, as she constantly searches for new ways to engage Bryan.
"For about five weeks, all we looked at was an I-Spy book, but I looked at it as English practice," Rosa said. "He got such a kick out of that book. He knew what a lock was and all these words that fifth and sixth graders know. That's really when he started opening up and talking."
According to Rosa, Bryan's English-language skills have improved exponentially since last year. A once quiet and reserved Bryan now actively asks Rosa questions as the two read, and is always eager to tell her all about his day.
"Before, Bryan would answer Rosa by pointing, making gestures and looking at me to tell Rosa what he wanted. Now, he has a lot more confidence in his English skills and participates," Monica said.
His English-language skills are something that Monica believes will benefit Diego as he grows older. He has already developed a genuine love for books, according to Monica, and frequently asks to be read to throughout the week.
"I read a book to the boys every night before bed now, but that wasn't something I did before," Monica said. "I practice numbers and colors with Diego now as well, because I know how important it is to start teaching him early. Plus, just by watching Bryan every week, Diego already knows how to hold a pencil and begin to draw."
Just by seeing Bryan's development and newfound love for learning rub off onto his younger brother, Monica is confident that 10 Books A Home is playing a key role in helping her prepare her children for achievement.
"As a parent, 10 Books A Home helps by showing you examples of how to help your child with classwork or just practicing basic skills like letter, number and color identification," she said. "I like that I'm able to learn how to stimulate my boys and help peak their interest in books and for learning in general. For that, I'm thankful for the program."
Watch 10 Books A Home In Action!
Monica describes how she has discovered new ways that learning can be transformed into play for her two sons, Bryan and Diego. Watch the video.
____________________________________________________________________________________