"His teachers used to tell me that some days he would just cry and cry because he wasn't in the mood to do activities like sit down and read with the rest of the class." Maria said, "He wouldn't tell them what was wrong."
Maria enrolled Leo in 10 Books A Home in April of 2012; he was paired up with his current Role Model soon after.
Upon meeting Leo, Kate realized that he frequently spoke using only key words, and threw tantrums when he became upset during lessons. "He usually used one word answers when I'd ask him about something, and it was hard to get through a lesson because he would get up, walk away, or throw a tantrum," Kate said.
Every week, Kate encouraged Leo to respond to her in complete sentences. Maria, sitting in on every lesson, learned to do the same with both Leo and his two-year-old sister Cetlaly. "For example, when Leo says, 'Mom…Water,' I'll respond back to him and say, 'Tell me exactly what you want,' and I'll even say it myself in a complete sentence for him to copy," Maria said.
Maria also learned from Kate how to engage Leo verbally by asking him academic questions outside of his lessons. "When we go to the store, he'll grab the shopping cart and I'll ask him to go grab me five yellow lemons, for example, and he just gets so excited about that," Maria said.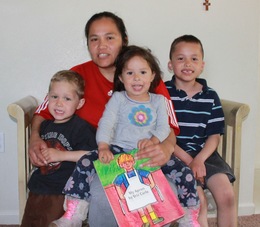 With that practice, Maria believes Leo has developed a better sense of how to communicate with others. "His teachers say he plays a lot more with other kids now and can count and identify numbers for them, which is great compared to when he would sit alone, quiet during class," Maria said.
Within the time Kate has spent with Leo, she too is impressed with his new ability to have full conversations with her.
"This last lesson I had with him was amazing. We talked nearly the whole time. While on a page with doctor pictures in our Richard Scarry book, after I asked him if he had ever been to the doctor he went into detail about how he had gotten a shot recently," Kate said.
According to Kate, Leo spoke clearly and only mumbled over a few words as they sat on the living room floor and chatted, something that had rarely occurred in the past year.
"In the last several months I've really noticed a difference in his ability to control his emotions and ability to focus in on some of the activities," Kate said.
Alongside 10 Books A Home, Maria has developed new approaches to education. "More than anything I've learned about a different way of teaching. Kate is calm, she's patient, she speaks to him calmly, and sometimes I'm like, wow! How can someone have more patience with him than me?" Maria said, "It motivates me to do the same and have the same patience, and of course, how to speak to my kids correctly."
Having been present during every lesson, Maria also admitted she is surprised at what other various teaching techniques she's learned. "I've learned from Kate to give Leo options so that he feels like he's in control whenever we're doing an activity like reading a book," Maria said.
Despite not knowing English, Maria said she also learned from Kate how to picture-walk, which involves actively engaging in and discussing
a book's visual content, such as asking young learners to count or identify drawings.
As for the future of Leo and 10 Books A Home, Maria says her son has grown tremendously during his time in the program. As a result of his increased use of language in both school and at home, Maria feels as though Leo has gained confidence and will be more than ready for the new world of transitional kindergarten this year.
________________________________________________________________________