| | | |
| --- | --- | --- |
| News & Insights from Broadscale Group | November 2017 | |
Friends,

Summer and Fall 2017 have been an exciting period for Broadscale, filled with new investment, strategic partnership, and thought leadership activity. Here's a quick update:
---
Broadscale invests in ride-share pioneer Via








.....

We are excited to announce that Broadscale has invested in Via, a pioneering provider of on-demand shared rides, alongside Daimler in the company's Series D round.

The financing, and a strategic partnership with Mercedes, will enable Via to expand in Europe and develop future mobility solutions. Via presented to Broadscale's corporate Network in January 2016.
---
Special Guests at our Network Meetings
Last week, at our Fall Network Meeting, Seth Magaziner, Treasurer of the State of Rhode Island, and Jeff Diehl, CEO of the Rhode Island Infrastructure Bank, spoke about new models of financing, alongside special guests from Brown and MIT, and CEOs of five innovative startups.

At our Spring Network Meeting, we heard from Paul Hawken, the renowned sustainability advocate, author, and leader of Project Drawdown, a multi-year research project that seeks to rank climate solutions based on financial, social, and environmental impact.





---
Strategic partnerships and exits








.....

We've now selected more than 80 growth companies to present to Broadscale's corporate Network. These innovators have gone on to raise more than $1 billion, establish key strategic partnerships, and create value for their customers, shareholders, and society.


Last week, Italian utility Enel acquired eMotorWerks, a manufacturer and software platform for EV charging. Val Miftakhov, CEO, presented to our Network in October 2016. In June, Wartsila acquired Greensmith Energy, a leader in energy storage development and software. John Jung, CEO, presented to our Network in April 2015.
---
Business leaders not slowing down on climate
Business leadership on climate change is more important than ever given the White House's withdrawal from the Paris Agreement. I was honored to lead a discussion at Climate Week NYC in September with senior leaders from PepsiCo, Siemens, and Walmart, all of whom support Paris and robust action on climate change.

Check out the full discussion, "We're Doing This," here.




bsg
---
Nexus: Israel highlights global technology solutions





In May, I led a discussion at Hebrew University's Nexus:Israel technology conference with Catherine Wood, CEO of ARK Investment Management, and Jacob Worenklein, CEO of US Grid Co., about rising populations, scarce resources, and how investment in new technologies can sustain our planet.

You can watch the discussion here.
---
If you're interested in learning more and exploring what all this means for your enterprise, let us know.

Onward!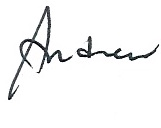 Andrew Shapiro
---