Dear Friends and Colleagues:
As you know, CFJC executive director Armando Nieto has been on medical leave for the past year. We are truly happy to report that he is healing on schedule and planning to return to work soon. We are writing to update you on Armando's condition, but also to let you know how that will affect ongoing CFJC activities.
You will recall that CFJC staff, assisted by Jessy Gill (former CFJC staff member) from
World Farmers
, Jensen Vang (former CFJC Steering Committee Member) from
Fresno Economic Opportunities Commission
, and Paula Fernandez-Wulff Barreiro, a Fellow at University of Louvain, in a volunteer capacity, sent out a survey earlier this year. The member/supporter survey requested input on priority areas of focus for CFJC's work. Many thanks to everyone who took the time to fill out the survey, we appreciate your support. The information garnered will be the basis of a strategic planning and visioning process that Armando will spearhead when he does return.
This process is something that we have been discussing with our funders from before Armando's leave began. With hindsight, it does seem that a planning and visioning process is exactly what we should be doing, in this most interesting time period.
Food First is the temporary fiscal sponsor of CFJC, since we left the Public Health Institute. A piece of the planning and visioning process will be to determine what structural form CFJC should take in 2016 and beyond. Accordingly, it is important that we invite anyone of you interested in being part of the process to do so by responding with an email letting us know of your interest. For some years now CFJC staff have been using Google Hangouts for staff and other meetings with people around the country, so we are confident it will suffice for the P&V process that Armando will be leading.
In addition to letting us know if you will be part of the P&V process, we are sending the previous survey sent out earlier this year soliciting input for CFJC priorities. This seems only appropriate as since we first sent out the solicitation the political landscape has changed dramatically. Specifically, Paul Ryan is now Speaker of the House, and the Republicans have selected Donald Trump to be their presidential candidate in the November election. Who would have or could have thought?
Whatever you decide to do—participate in the planning and visioning process or update information on our priorities survey, or something else—we believe it is critically important that each of us is involved in helping to chart the course of our country over the rest of the year. Because of the hard work of CFJC members over many years, our coalition holds a special place for engaging in the important discussions at the federal, state, local and family levels. In every such effort, we do better because we support one another. At the staff level we like to say we "hold a safe space" in which the hard work of solving problems can take place.
Please let us know what's on your mind, and join us in welcoming Armando upon his return to CFJC. Not just yet, but soon.

The Community Food and Justice Coalition

If you would like to make a donation to support our efforts you can donate via our Paypal, or you can send a check to:

398 60th Street
Oakland, CA 94618

Please make all checks out to Food First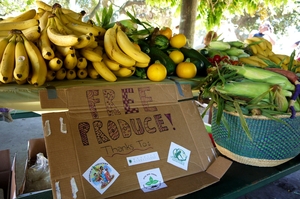 2012 Healthy Families, Healthy Communities PIcnic