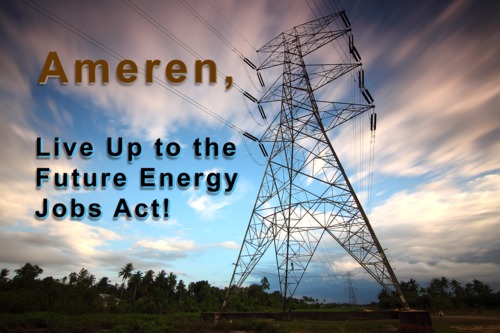 TAKE ACTION: Make Ameren Live Up
to the Future Energy Jobs Act!

Ameren has asked the Illinois Commerce Commission (ICC) to break the Future Energy Jobs Act agreement and fall short of the legislation's Energy Efficiency savings goals by 27% for the next four years.

Ameren wants to game the system, getting the ICC to lower the savings targets and collect a $36 million bonus for exceeding them, on the backs of customers.

Ameren customers in central and southern Illinois will pay higher energy bills and will lose out on job creation and economic development benefits associated energy efficiency while ComEd customers reap all the benefits.

Rolling back these goals would allow Ameren to save money at the cost of raising energy bills for downstate customers, adding to climate change, and putting the rivers and wildlife of Illinois at further risk.

Ameren should live up to its own goal of putting "savings tools in your hands—so you can take action."

Take action now. Tell ICC to deny Ameren's request to ignore the Future Energy Jobs Act energy savings goals!
THANK YOU FOR TAKING ACTION!