Inaugural Jazz for Justice Marks a
New Tradition for Central Florida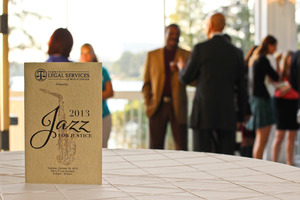 On October 29th, 2013, over 150 attorneys, judges, representatives of local businesses and others gathered at Leu Gardens for the Community Legal Services of Mid-Florida's (CLSMF) inaugural Jazz for Justice event. The event was held to raise funds for CLSMF and to honor local attorneys who have provided outstanding pro bono legal services to the poor.
Jazz great Richard Drexler entertained the crowd with his jazz trio while guests enjoyed camaraderie, good food and spirits. The Florida Bar President Eugene Pettis was the keynote speaker and was joined by members of the judiciary who honored local attorneys who went above and beyond in providing pro bono legal services to residents of Central Florida.
A complete list of honorees as well as photos of the event can be found here.
Jazz for Justice was such a success that CLSMF will be holding the event annually to raise funds for CLSMF's programs and to honor attorneys who provide pro bono legal services to those who have nowhere else to turn.

For information on sponsorship opportunities for next year's event contact:
Justine Cowan
---
Featured Pro Bono Attorney of the Month Marion County's Raymond T. McNeal
Raymond T. McNeal received the Community Legal Services of Mid-Florida
Volunteer Lawyers Project 2013 Richard D. Custureri Pro Bono Award for his dedication to helping the people of Marion County.
Ray is experienced in many areas of law, but his passion is family law. He has devoted much of his career to learning, teaching, and investigating ways to improve the family law system in Florida. He has received numerous awards for this work and in 2012, the Florida Psychological Association recognized him for his "commitment to the safety and happiness of Florida's children of divorce."
During his distinguished legal career, he served as Circuit Judge for the 5th Judicial Circuit; Administrative Judge, Family Law Division, Marion County; Fifth Circuit Family Law Administrative Judge; and Marion County Judge. He also worked as a Chief Assistant State Attorney and was in private practice with John F. Welch. Ray is currently a Florida Supreme Court Certified Mediator in Family, Dependency and Appellate practice areas. Although Ray has retired from the bench, he continues to serve our community through numerous organizations.

Ray currently serves on CLSMF's Board of Directors.
Learn more about Ray's invaluable service to Central Florida
---
Give Peace of Mind t
his Holiday Season
Every year thousands of Central Florida's residents find themselves in seemingly hopeless situations, fearing the worst and feeling they have nowhere to turn - but they are wrong!
Community Legal Services of Mid-Florida is the safety net for children, seniors, veterans and families across Central Florida who need help. Our dedicated attorneys and advocates work each and every day to provide them with the free legal services they need to get an education, find safety, save their home, and, most importantly, get peace of mind.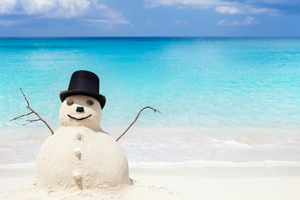 This holiday season you can make the difference in the life of a veteran, a senior or a child by making your $100, $250 or $500 tax-deductible donation today. Your support of Community Legal Services of Mid-Florida can make the difference between food on the table or hunger, a home or homelessness, and so much more for those who have nowhere else to turn.

Donate online now and give the gift of food, shelter, safety and dignity to thousands of Central Florida residents this holiday season.
---
Free Credit Report Workshop This Saturday
Learn the 3 R's of Your Credit Report - Request, Read and Repair
Date: Saturday, December 7
Time: 10 a.m. - 12 p.m.
Location: Orlando City Hall
Address: 400 South Orange Avenue, 9th Floor, Orlando, FL 32802
If you:
Have errors on your credit report,
Are a victim of identity theft,
Have creditors contacting your or reporting debts after filing bankruptcy, or
Have experienced wrongful denial of a mortgage loan, auto loan, job, apartment or credit card
Join us this Saturday at Orlando City Hall where Community Legal Services of Mid-Florida is partnering with the City of Orlando, Florida A & M University (FAMU) and Burke Harvey & Frankowski, LLC to host a free credit report workshop. Free parking will be provided in the City Commons Garage on Boone Avenue.
Pre-registration is strongly recommended. To secure a spot at this event please fill out the online registration form.
Participants are also encouraged to fill out the Annual Credit Report Request Form and bring it with them to the event.
For more information on this event, please call (407) 841-7777 extension 2131 or send an email here.