A Message from CLSMF Fair Housing Program Manager, Alicia Magazu

Shortly following the assassination of Dr. Martin Luther King, Jr., congress passed the Fair Housing Act of 1968 to protect victims of housing discrimination and provide legal resources to those minority groups most often affected by injustice when seeking proper housing opportunities. Today, the Act protects against discrimination based on race, color, religion, sex, national origin, familial status and disability. While great strides have been made since the Act's passage, many Central Florida residents still battle barriers to housing choices. CLSMF's Fair Housing Unit exists to combat discrimination both by assisting clients and by educating individuals so they understand their rights and obligations under the Fair Housing Act.

When you support CLSMF you allow the Fair Housing Unit to:
Defend clients who have experienced differential treatment for being a member of a protected class like when a mortgage broker was charging a higher fee to African American clients,

Obtain pet policy changes to accommodate a service animal companion – which are not to be treated as pets under the Fair Housing Act – for a veteran suffering from extreme PTSD,

Prepare housing discrimination complaints for disabled persons living in relatively new multi-family construction that had accessibility issues like light switches being too high to reach when seated in a wheelchair and a lack of accessible parking spaces and sidewalks for them to use,

Help elderly clients or clients who have difficulty speaking English who were targeted by companies offering mortgage rescue services that insisted they would obtain a modification from the lender but never did, often times collecting payments over several years,

File fair housing complaints alleging discrimination when a landlord refuses to rent an available unit to a lesbian couple or a loan officer who refuses to include alimony as income when completing a loan application for a divorcee.
The Fair Housing Unit's mission is to combat housing discrimination by advocating for the rights of those protected by the Act, educate the community and encourage housing industry professionals and government leaders to put fair housing laws into practice. If justice for all matters to you, please consider a gift that will help protect the rights of Central Florida citizens.

Together let's affirmatively further fair housing!
---
A Young Boy's Seizures Almost Cost His Family Their Home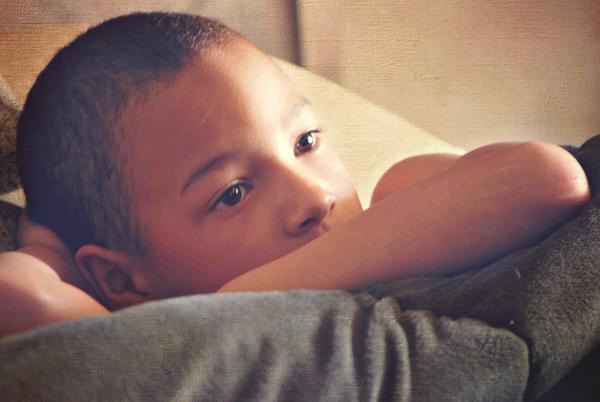 Janet struggled to find proper housing
a
s a single mother of two young boys, one of whom suffers from epileptic seizures and uses the support of heavy leg braces to walk. The only unit available in her budget was on the second floor and although she feared that she may have issues with the neighbors she
moved in anyway because she was relieved to finally have found a place to call home. D
ue to her son's disability, there would be unavoidable loud noises that would come when he had seizures and when his braces would violently hit the floor.

One day her landlord confirmed her suspicions and informed Janet that her neighbors had been filing noise complaints against her. Janet knew that if they were evicted they would end up on the street. Shortly after the verbal warning she received from her landlord, Janet was served with a 7–day notice to vacate the property. Distraught by this news Janet sought help with CLSMF's Fair Housing Unit. Advocate, Rosemary Ramirez, accepted her case and was able to get her landlord to agree to move Janet and her family into a first floor unit.

The Fair Housing team steps in and uses the power of the Fair Housing Act in favor of those it is meant to protect. It is because of the work of CLSMF's dedicated advocates and attorneys that clients like Janet who face discrimination or unfair housing practices are able to establish and maintain stable homes for their families.

Read Janet's full story and other CLSMF client stories here
---
CLSMF Awarded Fair Housing Education and Outreach Initiative Grant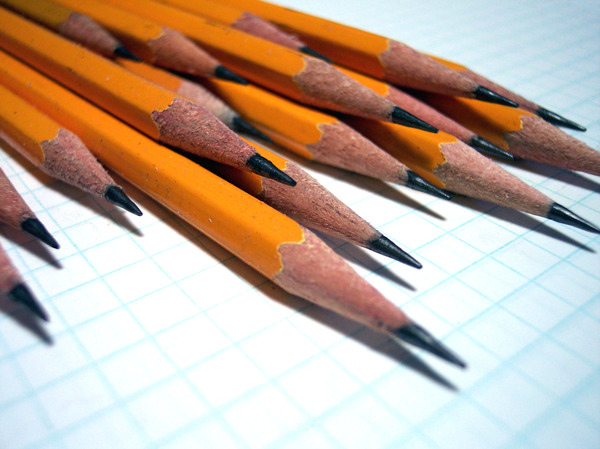 The Fair Housing team has helped numerous victims of housing discrimination and is now ready to start new projects under the Education and Outreach Initiative, a grant that HUD awarded the Unit earlier this year. These funds will be put to use to conduct Fair Housing workshops, Fair Lending workshops and Mortgage Rescue Scam workshops. The workshops will help attendees understand the Fair Housing Act, Fair Housing violations and how to identify if someone has been a victim of housing discrimination. The team will also be reaching out and conducting Fair Housing education to government employees, landlords and other housing providers.

The Fair Housing Unit hopes to expand their reach in CLSMF's 12 county service area so that community members can not only identify when they are a victim of housing discrimination but also how to prevent discrimination in housing practices.

Read more about the new CLSMF Fair Housing Education and Outreach Initiative
---
2015 Florida Fair Housing Summit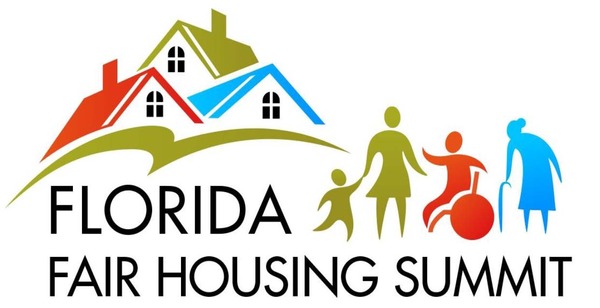 April is Fair Housing Month and to celebrate, CLSMF will participate in the statewide

2015

Florida Fair Housing Summit. The Summit will be held on Friday April 24, 2015 at Marriott's Orlando World Center on World Center Drive.
The event will include a keynote address from Sara Pratt, Deputy Assistant Secretary for Enforcement Programs at the Department of Housing and Urban Development, and from James Perry, former executive director of the Greater New Orleans Fair Housing Action Center. Several other guest speakers will present workshops on various topics related to affirmatively furthering fair housing. Visit the Summit website at www.FLFHSummit.com for more information.
---
Justice Matters to Fair Housing Advocate, Winton Williams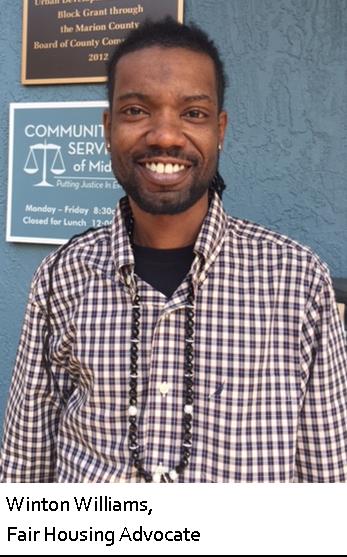 Fair Housing advocate Winton Williams developed an affinity for justice and equality early on in life and has been committed to CLSMF's goal to deliver equal access to justice. Being a victim of discrimination on several occasions in his life makes Winton uniquely open to the concerns and complaints of Central Florida residents. When asked about his experiences, Winton states, "Discrimination is real and present in our communities today. Without programs that are directed to seek out and hold accountable those who discriminate in public businesses such as housing, we would most likely not have any other remedy to address citizens concerns."

Winton came into his position at CLSMF not knowing what to expect or exactly how he could make a difference. Today he feels empowered and enthusiastic about the potential he and other advocates at CLSMF have to make a direct impact in the communities that they serve.

Read Winton's full story
---
Civil Legal Assistance Saves Money and Helps People Escape Poverty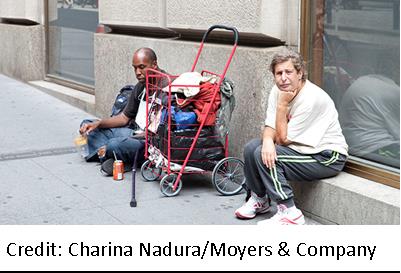 Lonnie Powers, executive director of the Massachusetts Legal Assistance Corporation (MLAC), writes an except
ional article on the impact that civil legal aid has for the poor and the asset these services provide for the War on Poverty.
"The irony, of course, is that the civil legal aid yields a measurable―and significant―return on investment. Looking at work solely related to housing, public benefits, and domestic violence, three independent economic consulting firms which did analyses for the Task Force found that every dollar spent on civil legal aid in eviction and foreclosure cases saved the state $2.69 on services associated with housing needs such as "emergency shelter, health care, foster care, and law enforcement." Every dollar spent assisting qualified people to receive federal benefits brings in $5 to the state. Every dollar spent on civil legal aid related to domestic violence is offset by a dollar in medical costs averted due to fewer incidents of assault.

Civil legal aid is a powerful tool. It helps people living in poverty build a foundation of stability so they can create a better future for themselves, their families, and our communities."
---
Join the Fight for Equal Justice

Will you fight with us? When people's rights are denied and they need legal advice, CLSMF is often the only place they can get help. Whether helping a single mother keep her job, or an elderly person overturn an unlawful eviction notice, we fight for fairness for people with nowhere else to turn. We fight with those who are unable to fight for themselves.

By providing access to our courts when no one else can help, CLSMF attorneys help
fulfill America's promise of a just society, with equal treatment under the law. With your help your gift of:
$350 could help three people get advice on the CLSMF legal aid hotline and help seven people get brief legal services with our quality legal staff.

$700 could help one victim get legal representation and protection from their abusers by CLSMF staff attorneys.
If you are an attorney you or your firm you can join our Sustaining Law Firm campaign which will not only help many people of Central Florida gain access to justice, but also allow you to meet the goals set out in Florida Bar Rule 4-6.1 which provides that every member of the Bar should render 20 hours of pro bono legal services to the poor or donate $350 each year to a qualified legal services agency.

Join us in the fight for equal justice today!