Day With Santa a Hit with the Kids!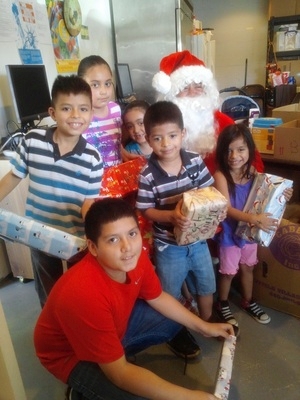 Throughout December, CLSMF conducted a toy drive for the The Farmworker Association of Florida (FMAF) in Pierson, Florida. Pierson is a fern and citrus farming community with a large population of low-income immigrant workers that are also supporting their families. These families utilize the FWAF to meet basic needs such as groceries, clothing and referrals to resources such as Community Legal Services of Mid-Florida (CLSMF).

The staff at CLSMF wanted to bring extra cheer to farm-workers and their families during the holiday season, so they gathered new toys that were delivered to almost 200 children as part of a "Day with Santa." CLSMF conducts this toy drive each year.
---
New Year's Resolution: Get a Head Start on your 2014 Pro Bono Service!



It is not too early to think about how you are going to fulfill your annual pro bono service obligation for 2014.

Florida Bar Rule 4-6.1 provides that every member of The Florida Bar should render pro bono legal services to the poor. This professional responsibility may be discharged in one of two ways:
1. Annually providing at least 20 hours of pro bono legal service to the poor.
​

2.
Making an annual contribution of at least $350 to a legal aid organization such as CLSMF.
Your law firm can also become a Sustaining Law Firm. If each member of your law firm donates $350, your law firm will qualify as a Sustaining Law Firm. In addition to being able to report 100% participation in the Florida Bar's pro bono obligation, Sustaining Law Firms receive a variety of benefits. For example, your firm will be listed prominently on CLSMF's website and other promotional materials and attorneys receive free tickets to our annual Jazz for Justice event.

Find out more about becoming a Sustaining Law Firm.
---
Fair Housing Summit Set for April 29th



April is Fair Housing Month, and Community Legal Services of Mid-Florida (CLSMF) will commemorate the 1968 passage of the federal Fair Housing Act, which prohibits discrimination in housing, by co-hosting the Fair Housing Summit. The Summit will be held at Rosen Centre Hotel, 9840 International Drive, Orlando, FL 32819 on April 29th.

Each year, CLSMF teams up with other local organizations to bring this one-day summit that is filled with intense workshops and also features innovative and powerful keynote speakers. Members of the community, local government administrators, local housing providers, property managers, attorneys, real estate agents, mortgage lenders, and fair housing advocates will come together to experience a conference intended to educate, engage and motivate them. The topics range from how to affirmatively further fair housing to creating accessible homes and inclusive communities.

Click here if you, your law firm or organization is interested in co-sponsoring this event.

Click here if you would like to be placed on the mailing list to receive further announcements about this event.
---
Workers May Qualify For Federal Tax Cerdit
With tax season quickly approaching, it is the ideal time to explore whether you qualify for the Earned Income Tax Credit or "EITC." The EITC is a refundable federal income tax credit for low to moderate income working individuals and families. Congress originally approved the tax credit legislation in 1975 in part to offset the burden of social security taxes and to provide an incentive to work. When EITC exceeds the amount of taxes owed, it results in a tax refund to those who claim and qualify for the credit.
Join the millions who already received the EITC they earned. Last year, the credit returned over $63 billion dollars to over 27 million workers. The amount of EITC varies by income, family size and your filing status. It can mean up to $487 for people without children, and up to $6,044 for those with three or more qualifying children. The average EITC amount last year was $2,335.
Read more about who qualifies for the EITC credit and how qualified workers can receive free assistance in preparing their tax return.
---
Pro Bono Attorney of the Month Sandra Day
This month, Community Legal Services of Mid-Florida (CLSMF) is honoring attorney Sandra Day. Sandra is passionate about helping others, in large part due to her own experiences. She remembers her mother needing an attorney when she was in college. She visited one attorney after another and each one said no or wanted a large sum of money. It was this event that made her decide to go to law school and commit to help people who needed a lawyer and could not afford one. She has lived up to that decision of many years ago by providing pro bono representation to low income clients in Chapter 7 Bankruptcy cases.
There are only two attorneys in the Day Law Office and even in these tough times, Mrs. Day has provided full representation to every client who was referred to her by CLSMF since 2004. She also provides pro bono representation to clients who contact her office directly. She recalls an incident of a woman calling on the telephone and being very upset. She told her that her house was in foreclosure, her husband lost his job and she just wanted to end it all. After calming her down, Sandra told her to come into her office immediately. When the woman arrived she was in tears and holding an infant in her arms. She took the time to explain to her how she could help her and her family and did not charge them attorney's fees. She filed a bankruptcy for them, saving their home and giving this family a fresh start. Sandra indicated that she often thinks of that woman holding that baby and wonders what may have happened if she did not take the time to talk with her that day. It is with this same sense of caring and urgency that she continues to provide pro bono assistance through CLSMF's Volunteer Lawyers Project and on her own.
Read more about Sandra Day here.