HealtheNews: November 2015 Issue

In This Issue:
Refer a Colleague: Help Us Reach 600 Participants By December 31!
Collaborative Image Viewing Now Available
Community Preventive Services Task Force Recommends Use of Blood Pressure Self-Monitoring
Meaningful Use Final Rule Webinar Scheduled for December 1
In the Community: HealtheConnections sponsors local events, holds Provider Forums
October HIE Statistics

---
Refer a Colleague: Help Us Reach 600 Participants By December 31!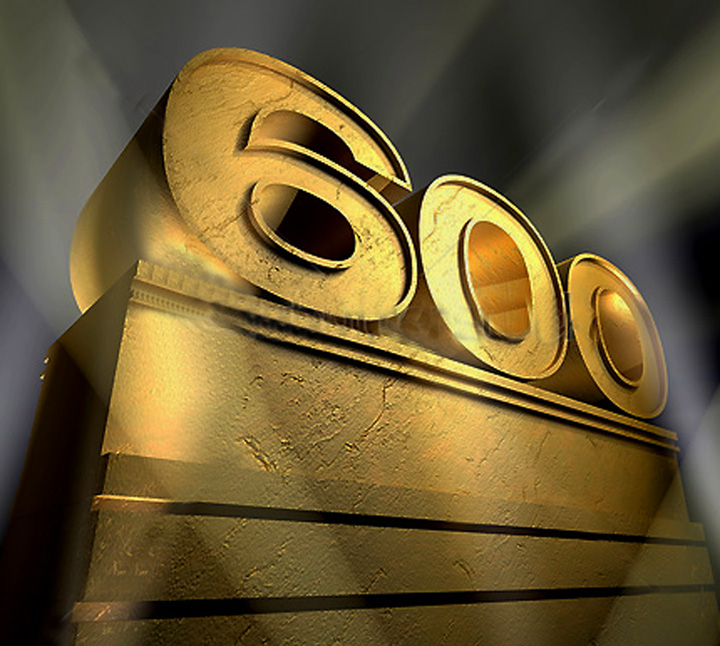 In July, HealtheConnections announced our 500th participating organization. Now, less than six months later, we are asking our current participants to refer a colleague to help us reach our 600th participating organization before we ring in the new year!
Let your colleagues know about the valuable services offered by HealtheConnections:
Patient Lookup: Real-time consolidated view of a patient's community-wide health records
Direct Mail: Secure email system to communicate patient clinical information between healthcare professionals
myAlerts: Patient activity notifications sent to providers for Emergency Department encounters, in-patient hospital admissions and discharges
Results Access & Delivery: Automated delivery of results, reports, and images through the HIE to a participant's EHR, or viewed directly in the HIE via myResults
Image Exchange: Access to and viewing of diagnostic-quality radiology image studies
Query-Based Exchange: Access to state and federal health records systems and other external partners to view patient data
Participants DO NOT need an EHR to access HealtheConnections services!
Please extend an invitation to colleagues to "Get Connected" with HealtheConnections.
Search our HealtheConnected Participants by clicking on the map below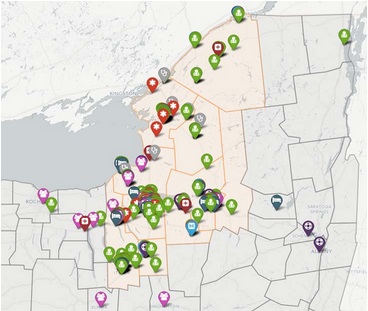 Send referrals or have interested colleagues contact:
HealtheConnections Support:
(315) 671-2241 x5
support@healtheconnections.org
---
Collaborative Image Viewing Now Available
It's now easier to co-consult on radiology images within the health information exchange (HIE) with the new collaborative image viewing feature within Patient Lookup. Once an image in a patient's record has been opened via the "View Image" button, it can be viewed by two or more Authorized Users. All users involved in the collaborative view must click the "Share This Session" button, marked in the image below by a red box, to activate a shared session. When the dot next to the button turns green, this indicates that the collaborative view is in progress. Any markers placed on the image by any one user will be shown in real time to all others in the session.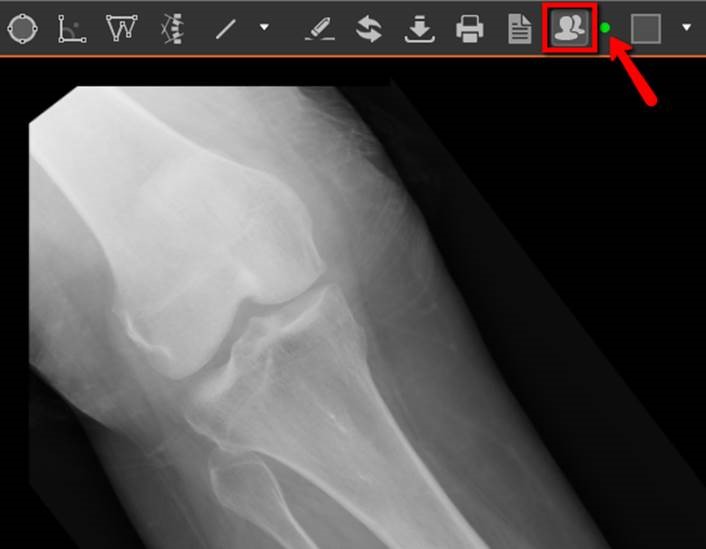 To initiate a collaborate image viewing session, Authorized Users can utilize the Direct Mail service provided by HealtheConnections to plan a sharing session with other providers and securely share any relevant protected health information (PHI).
---
Community Preventive Services Task Force Recommends Use of Blood Pressure Self-Monitoring
Summary of the Community Guide News
Last month, the Community Preventive Services Task Force released new recommendations for preventing and controlling cardiovascular disease through the use of blood pressure self-monitoring. Researchers from the Community Preventive Services Task Force conducted a systematic review of literature, and concluded that whether blood pressure self-monitoring was used alone, or in conjunction with other supports (like nutritional counseling, education about high blood pressure, or text or email reminders), improvements were made in blood pressure patients.
What is blood pressure self-monitoring?
Blood pressure self-monitoring is a process that starts with training patients to use validated, automated blood pressure measurement devices on themselves. Patients then use these devices to measure their own blood pressures on a regular basis, outside of the clinical setting, such as in their own homes or at work. The information captured through these regular blood pressure readings are shared with their providers during in-person appointments, over the phone, or electronically. Ideally, these data would be integrated directly into patients' electronic health records, so that providers could incorporate it into the treatment decisions that they make for their patients.
What is the prevalence of high blood pressure, in Central New York and the nation?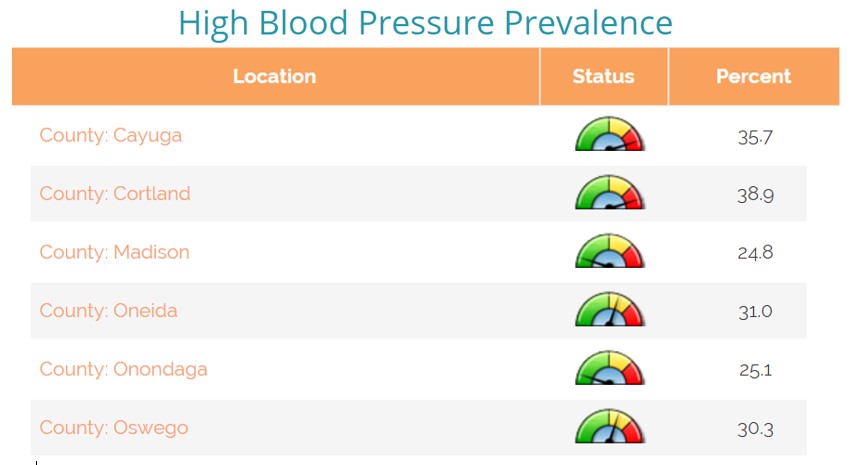 The data in this table are self-reported from the 2014 Expanded Behavioral Risk Factor Surveillance System. Visit www.HealtheCNY.org for more information on these and other data indicators.
How does HealtheConnections' work connect with these Task Force recommendations?
HealtheConnections was recently awarded grant funding through NYSDOH's Local Initiatives for Multi-Sector Public Health Action (Local IMPACT) program to prevent and control obesity, diabetes, high blood pressure, and heart disease. In the coming year, HealtheConnections will work with partners in Cayuga, Cortland, Herkimer, Oneida, Onondaga, and Oswego counties on health systems change strategies that will result in better population health, such as:
Increase engagement of nurses, pharmacists, and other non-physician team members in hypertension management in health care settings

Increase usage of blood pressure self-monitoring, linked to clinical supports

Implement systems to facilitate identification of patients with undiagnosed hypertension and prediabetes.
For more information on Local IMPACT, contact Bruce Hathaway, Senior Population Health Analyst, at bhathaway@healtheconnections.org.
---
Meaningful Use Final Rule Webinar Scheduled for December 1
After the release of the final rule for the Meaningful Use program, HealtheConnections held a webinar for all participants to learn more about the key changes made by The Centers for Medicare & Medicaid Services (CMS) and the Office of the National Coordinator for Health Information Technology (ONC).
A second webinar has been scheduled for Tuesday, December 1 from 12:00 noon - 1:00 pm.
Please join the meeting from your computer, tablet or smartphone by clicking on the link below:
Join the conference call: 1-866-945-2255; Code 8859347
For more information on the final rule,
click here
.
---
In the Community: HealtheConnections sponsors local events, holds Provider Forums
HealtheConnections has shown its support for the Central New York community by sponsoring three local events within the past month:
Making Strides Against Breast Cancer, October 18: HealtheConnections served as the Start Line sponsor for the American Cancer Society's 20th annual walk held in downtown Syracuse. More than 4,000 supporters participating on 260 teams raised $320,000 to help save lives from breast cancer.
Healthiest Employers of CNY, November 4: Hosted by Syracuse Media Group, this event honored nine companies for their advancements in "workplace wellness" initiatives to create a healthier environment for their employees. HealtheConnections was a sponsor of the event and had the opportunity to connect with other businesses that have a vested interest in the well-being of their employees. Healthiest Employers is a corporate wellness and data program held in cities around the country.
Onondaga County Medical Society's 2015 Annual Dinner Awards, November 12: The annual meeting recognized members of the OCMS for their contributions to both the Medical Society and the community. To view the awards presented and their recipients, click here.
In addition to sponsorships, HealtheConnections held Provider Forums for healthcare providers in the North Country and eastern part of the region:
Watertown Provider Forum, October 14: Held in partnership with Fort Drum Regional Health Planning Organization (FDRHPO), this event discussed the importance of EHR usage in both civilian and military base healthcare settings. The panel, made up of Dr. Steven Lyndaker, Dr. David Page, Dr. David Rechlin, Jennifer Dr. Jef Sneider, and Jennifer LaClair, RN shared their experiences with EHR as well as the benefits of using the HIE.
Madison County Provider Forum, November 5: The Rural Health Council of Madison County partnered with HealtheConnections to bring Dr. Mickey Lebowitz, Dr. David Page, and Dr. Jef Sneider together to discuss the impact of EHR and HIE use on the quality of care they provide to their patients, as well as the internal benefits received.
---

HIE Adoption
Welcome New Participants
Lifetime Pharmacy, LLC
Iroquois Nursing Home, Inc.
Community Health & Home Care
Genesee Region Home Care of Ontario County, Inc.
Groton Community Health Care Center
Allied Spine & Sports Chiropractic, PC
Contact Community Services, Inc.
Visiting Nurses Association of Utica & Oneida County
St. Luke's Home
St. Elizabeth Home Care
---
HIE Statistics
534 Participating Organizations
Hospitals: 21
Practices: 278
Other Healthcare Entities: 256
Labs: 20
Radiology: 24
October 2015 Statistics
Patient Lookup
Connected EHRs for Results Delivery
Continuity of Care Document (CCD) Exchange
Practices sending CCDs: 68
Total CCDs received monthly: 165,499
Connected EHRs for CCD exchange:
ChartMaker
EPIC
GE Centricity
Medent
NetSmart
Nextgen
Peerplace
Vitera
(Under "Healthcare Providers")