---
Best Wishes to Ted Kremer, Rochester RHIO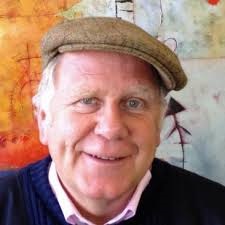 HealtheConnections would like to thank Ted Kremer, Executive Director of the Rochester RHIO, for his leadership and camaraderie. Ted is the founding Executive Director of the Rochester RHIO and recently announced plans to step down - moving to Connecticut to be closer to family and to pursue the next chapter of his life and career. Associate Director Jill Eisenstein will provide interim leadership of the organization while a national search for a replacement is conducted.
Under Ted's leadership, Rochester RHIO is recognized at both the state and national levels. Ted and his team have been very supportive and collaborative with HealtheConnections - and very much appreciated as a contributor to our success.
We value our friendship with Ted and the Rochester RHIO and look forward to staying connected.
-Rob Hack and the HealtheConnections Team
---
CMS Releases Final Meaningful Use Program Rules
On Tuesday, October 6, 2015, The Centers for Medicare & Medicaid Services (CMS) and Office of the National Coordinator for Health Information Technology (ONC) released the final rule for the Meaningful Use program to simplify requirements and add new flexibilities for providers.
Reporting Periods:
90-day reporting period for 2015 for all providers, for new participants in 2016 and 2017, and for any provider moving to Stage 3 in 2017
Meaningful Use Stage 2 (in 2015 and through 2017):
Reduced number of objectives - only 10 now required

No changes to Clinical Quality Measures (CQM)
Meaningful Use Stage 3 (2017 and subsequent years):
8 objectives for eligible professionals, eligible hospitals, and CAHs

Public health reporting with flexible options for measure selection

CQM reporting aligned with CMS quality reporting programs

Focused interoperability for sharing data and patient portals

Stage 3 is optional in 2017, with requirement for compliance in 2018, using EHR technology certified to the 2015 edition

Stage 3 includes increased thresholds, advanced use of health information exchange functionality, and overall focus on continuous quality of improvement
If you are currently participating in or would like to learn more about the NYeC EP2 Meaningful Use incentive program through HealtheConnections, or to learn more about HealtheConnections' HIE services and how they can help you achieve Meaningful Use, please contact us:
tkelly@healtheconnections.org
tkiniry@healtheconnections.org
HealtheConnections will be holding a webinar open to our entire participant population in late October. Additional details will be announced.
---
Coming Soon to a County Near You: HealtheCNY Launch Events
Together with partners in Cayuga, Cortland, Madison, Oneida, Onondaga, and Oswego Counties, HealtheConnections will be holding events across Central New York in October and November to introduce www.HealtheCNY.org, which launched in September.
At these local events, HealtheConnections and county partners will demonstrate the many functions of the site, including:
Data indicators, and the tools available on the site for working with data and creating reports

Collections of best practices, funding opportunities, and resources

Mechanisms for connecting stakeholders and increasing local and regional collaboration

Why this is all so important for health promotion efforts in Central New York!
For more information on launch events near you, please contact the Director of Population Health Improvement at HealtheConnections, Rachel Kramer, at rkramer@healtheconnections.org.
---
YMCA and HealtheConnections Release Report on Listening Forum
HealtheConnections is pleased to announce the release of a Report to the Community, which follows up on the Clinic-to-Community Listening Forum event held in June by the YMCA of Greater Syracuse and HealtheConnections.
The event was successful in bringing together representatives of healthcare and community-based organizations for a robust dialogue about local referral patterns between these agencies and sectors, and where the opportunities exist for making stronger connections between the two. The Report to the Community captures presentation highlights, themes from the small group discussions that happened throughout the day, and dialogue that resulted from the large group reconvening.
The Report to the Community also provides several possibilities for next steps that are specific to the greater Syracuse healthcare, health, and human services provider communities. These next steps include:
Continuing dialogue around how local referrals pathways can be improved upon, and how strong linkages between agencies and sectors can be fostered

Increasing awareness and educational effort around what services are available locally and the value that different agencies and sectors bring

Creating or improving upon referral tools
For further questions or comments on the Clinic-to-Community Listening Forum Report to the Community, or on related health promotion efforts in the area, please contact Bruce Hathaway at bhathaway@healtheconnections.org or Cheryl Pusztai at cpusztai@syracuseymca.org.
---
Healthy Eating on HealtheCNY
A step-by-step example of how several features on HealtheConnections' new website, www.HealtheCNY.org, could be used to inform local health improvement efforts.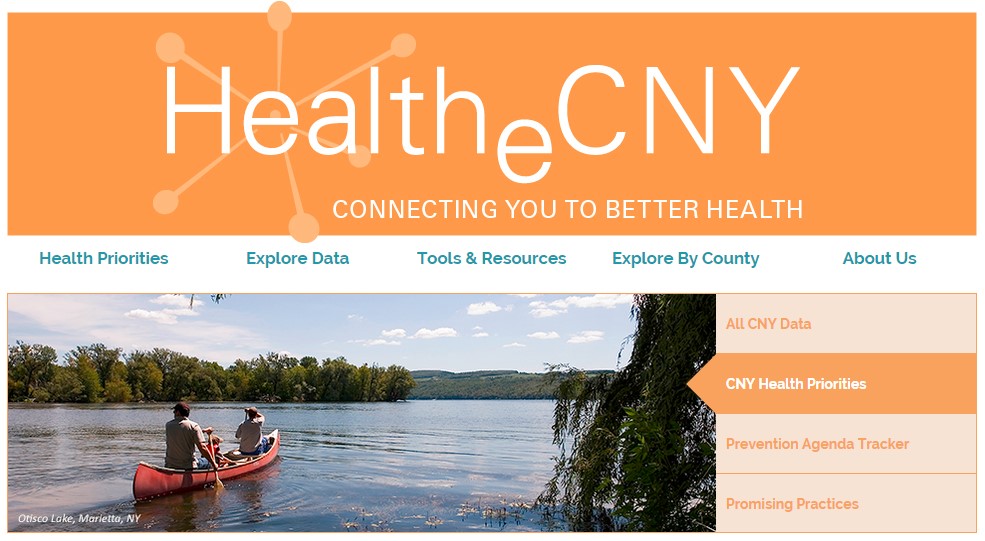 Background: A program manager at a community-based organization in Oswego County discovers that several of their clients have difficulty affording and acquiring nutritious food. They frequently rely on processed food high in sugar and sodium, and fast food to feed themselves and their kids.
The following features of HealtheCNY could be used to help address this situation and many others: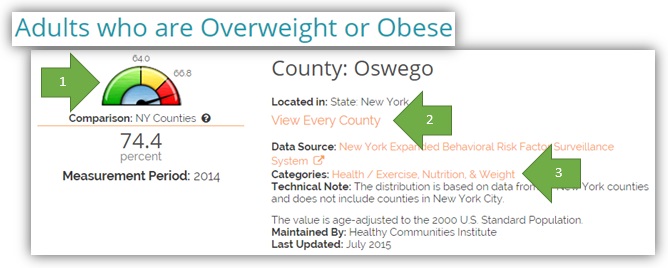 County-Specific Data Indicators:
Use the green, yellow, and red gauge to quickly understand that Oswego County's percentage of Adults that are Overweight or Obese is high compared to other counties in New York State.
Click the link to other counties to view percentages for surrounding counties, or rolled-up data for Central New York as a whole, where it is available.
Click the category associated with this data indicator to bring up a list of other data indicators related to the Exercise, Nutrition, and Weight category.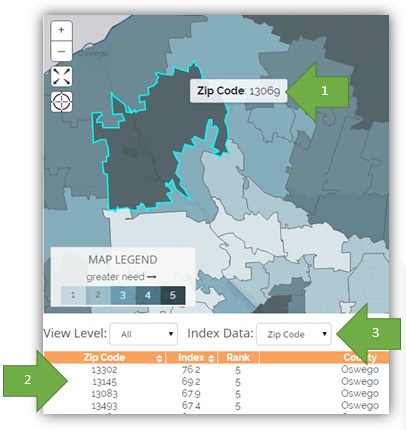 Socio-Needs Index by Zip Code:
Roll the mouse over the Socio-Needs Index map to highlight which zip codes have greater or lesser socio-economic need.

View the table below the map for more detail, such as the index value used to rank zip codes in terms of need.

Toggle using the View Level and Index Data to manipulate the presentation of the data in the table.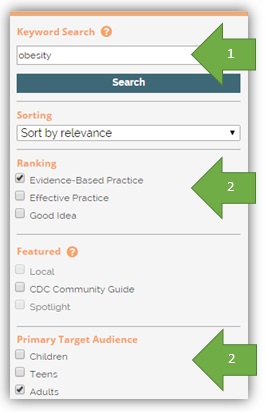 Promising Practices Database:
Use the keyword search bar to begin exploring the Promising Practices database.
For more refined searches, you can choose to view only rigorously researched practices, specify a target audience, and so on.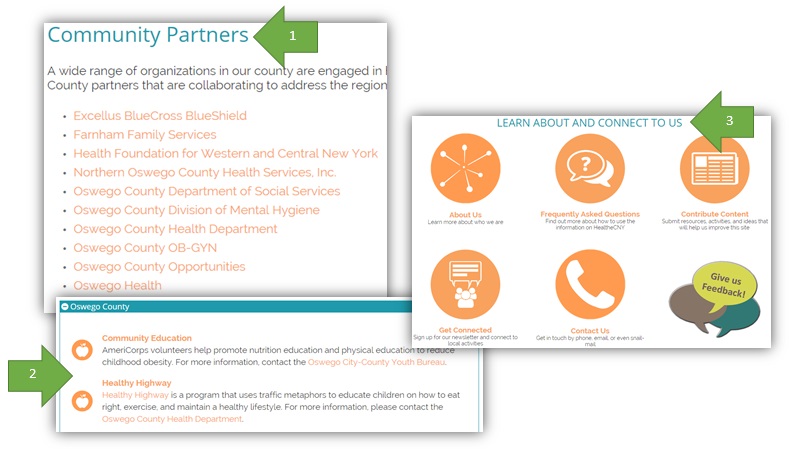 Oswego County Activities & Partners
Browse the wide range of health care, health, and human service partners engaged in health promotion activities in Oswego County.
See who is already working to increase consumption of nutritious food and decrease the prevalence of obesity in Oswego County.
Contact someone at one of these organizations, or someone at HealtheConnections, to find out how to get more involved.
Next Steps: Through use of some of the key features of HealtheCNY, this community-based organization could better access local health and socio-economic data, get a better idea of the proven approaches for increasing access and affordability of healthy food and decreasing obesity, and form new and valuable connections with local stakeholders.
Several additional useful features of HealtheCNY also exist for this example:
Access HealtheCNY's Funding Opportunities database
Create a report using the Report Assistant
Train the organization's staff on the 211 Resources and Resource Collections, to facilitate increased referrals to local health and human service organizations
Visit www.HealtheCNY.org to see all of the possibilities for yourself!
---
CMS Reveals New Hardship Exemptions
If an Eligible Professional (EP) switches EHR vendors in 2015 and is unable to demonstrate meaningful use in 2015, the EP can apply for an EHR Vendor Issue hardship before the July 1, 2016 submission deadline and be exempt from the payment adjustment in 2017.
If you are enrolled in the EP2 or REC program and believe you may be eligible for this Hardship Exemption, please contact Tim Kelly to discuss your options: (315) 671-2241 x300 or tkelly@healtheconnections.org.
---
Meaningful Use Stage 1 Year 1 Deadline
As a reminder, October 3 is the last day to begin the 90-day reporting period for Meaningful Use Stage 1 Year 1 Eligible Professionals attesting to a 90-day period. Contact Tamie Kiniry with questions: (315) 671-2241 x350 or tkiniry@healtheconnections.org.
---
Preetjot Kaur Joins HealtheConnections as Business Intelligence Analyst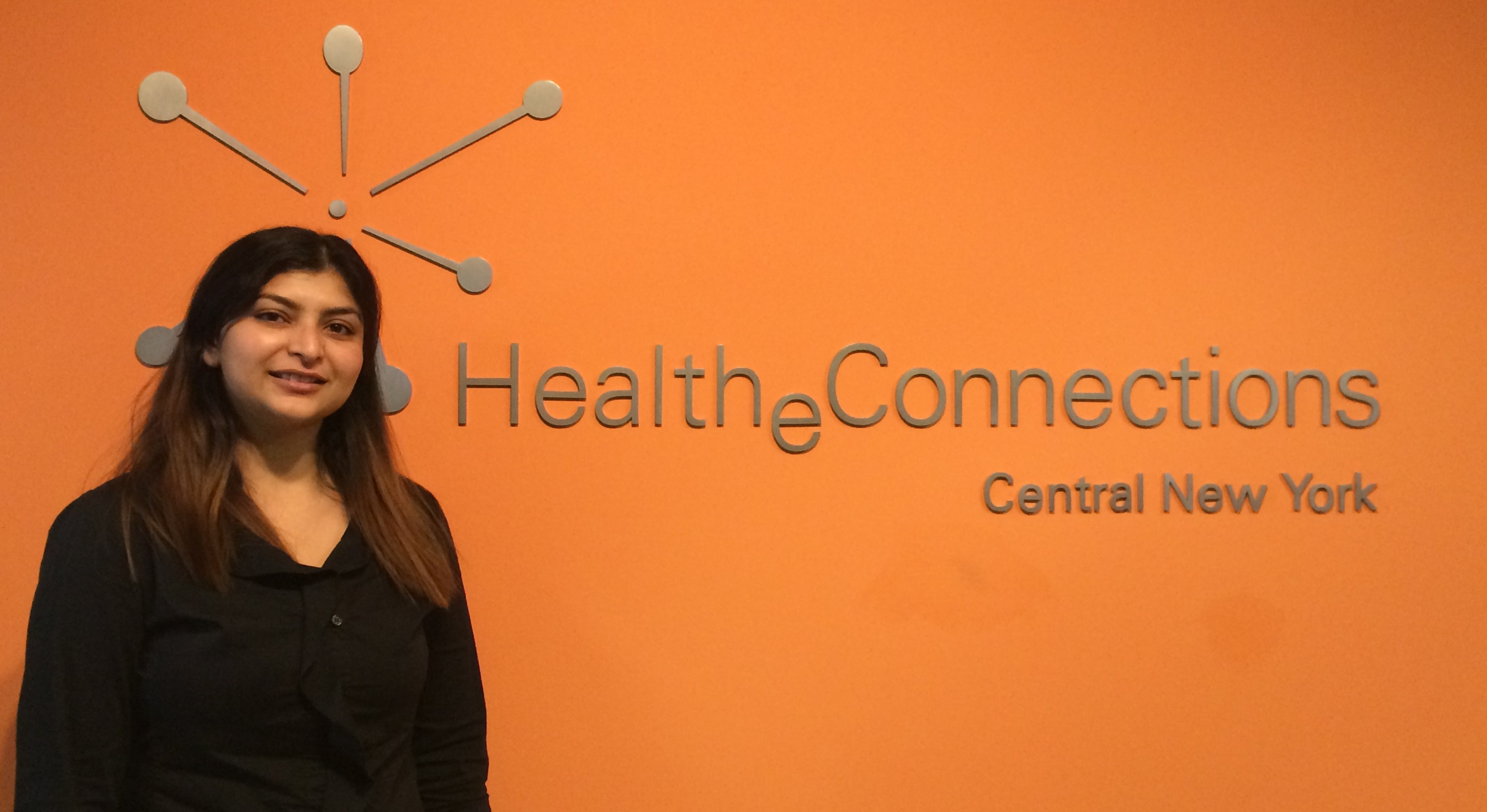 Preetjot Kaur, Business Intelligence Analyst, has over six years of experience in the finance, management, and healthcare industries. Kaur earned her bachelor's in management from San Jose State University - California. She also gained her CPL and CFI (Commercial Pilot License and Certified Flight Instructor) from FAA-approved Flight Academy in California.
---