---
The Pines at Utica Center for Nursing & Rehabilitation is HealtheConnections' 500th Participant
On Tuesday, June 30, The Pines at Utica Center for Nursing & Rehabilitation became the 500th participant to join HealtheConnections.
The Pines at Utica offers "a comprehensive array of specialized services and programs including clinical care, physical, occupational and speech therapies, in addition to social services and recreational therapies."
---
HealtheConnections Earns Score of 99% on State Audit
In April, HealtheConnections underwent an audit to certify its status as a qualified entity of the Statewide Health Information Network of New York (SHIN-NY). This audit was performed by KPMG under the guidance and criteria of the New York State Department of Health. It included a review of organizational policies and procedures as well as security, privacy, and technology processes and services.
HealtheConnections is pleased to report an outstanding score of 99% - scoring 242 out of 245 possible points.
The high score on this assessment punctuates HealtheConnections' commitment to excellence in running a secure health information exchange (HIE). We take great pride in our work and feel this score affirms our dedication and attention to detail in operating Central New York's HIE. If you have any specific questions about the audit, please contact HealtheConnections Support: support@healtheconnections.org
---
Provider Directory Launches for HealtheConnections Users
HealtheConnections has released a new Direct Provider Directory. This comprehensive provider search tool contains Direct Mail addresses for providers including HealtheConnections Direct Mail users and select other providers nationwide utilizing Direct services through a participating EHR, HIE, or HISP.
The Direct Provider Directory is updated daily with new provider addresses. Addresses are available in real-time once they have been added to the directory, and can be searched immediately. If you cannot find a provider in the directory, you should contact the provider or their organization to obtain their Direct address or inquire if they are using a Direct service.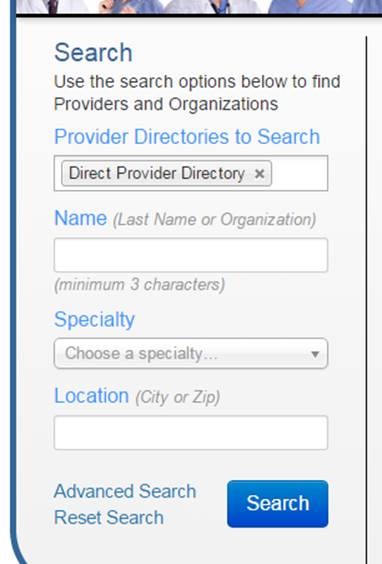 All authorized users of HealtheConnections will have access to this tool via a new "Direct Provider Directory" icon on the myConnections portal.

Contact HealtheConnections Support with questions:
(315) 671-2241 x5
support@healtheconnections.org
---
Behavioral Health and Long-Term Care: Interoperability is in your future
A proposed new CMS rule to govern Medicaid managed-care plans encourages states to fund the purchase of electronic health record systems for behavioral health, long-term care and other providers previously excluded from federal EHR incentive payments. The draft regulation also promotes health information exchange.
The proposed rule, released on May 26, 2015, is the first update of Medicaid managed-care regulations since 2003. "We encourage states to support the adoption of certified technology that enables interoperability across providers and supports seamless care coordination for enrollees," the proposed rule said.
States, according to the rule, "could make available incentive payments for the use of technology that supports interoperable health information exchange by network providers that were not eligible for EHR incentive payments under the HITECH Act (for example, long-term/post-acute care, behavioral health, and home and community-based providers." Public comments to CMS on this rule must be received no later than 5 p.m. on July 27, 2015.
Long-term care and behavioral health organizations can participate now with HealtheConnections to access patient medical records, utilize HealtheConnections' Direct Mail service for secure messaging, and receive alerts when patients are admitted or discharged from any of the acute care facilities in our region. If you would like more information, please contact HealtheConnections Support: (315) 671-2241 x5 or support@healtheconnections.org.
The Pines at Utica Center for Nursing & Rehabilitation is HealtheConnections' 500th Participant
HealtheConnections Earns Score of 99% on State Audit
Provider Directory Launches for HealtheConnections Users
Behavioral Health and Long Term Care: Interoperability is in your future
HealtheConnections Working With CNYCC to Connect DSRIP Participants to HIE
HealtheConnections and YMCA Partner for Clinic-to-Community Dialogue
HealtheCNY Site is On Track for September 2015 Launch
Additional Provider Forums Coming Soon
HealtheConnections' Internal Worksite Wellness Committee Offers CPR Training
New HealtheConnections Participants Announced
June HIE Statistics
---
HealtheConnections Working with CNYCC to connect DSRIP Participants to HIE
HealtheConnections is working with the Central New York Care Collaborative (CNYCC), the Performing Provider System (PPS) for the Delivery System Reform Incentive Payment (DSRIP) program covering six counties in our 11-county region. Governor Cuomo announced that New York had finalized terms and conditions with the federal government for a groundbreaking waiver that will allow the state to reinvest $8 billion in federal savings generated by Medicaid Redesign Team (MRT) reforms.
The waiver amendment dollars will address critical issues throughout the state and allow for comprehensive reform through a DSRIP program. DSRIP will promote community-level collaborations and focus on system reform, specifically a goal to achieve a 25 percent reduction in avoidable hospital use over five years. Safety net providers will be required to collaborate to implement innovative projects focusing on system transformation, clinical improvement and population health improvement. Single providers will be ineligible to apply. All DSRIP funds will be based on performance linked to achievement of project milestones.
In June, HealtheConnections began, in collaboration with CNYCC, to reach out to providers enrolled in this program encouraging connectivity and increased usage of HealtheConnections' services to help attain the goals set forth by the program. If you have registered as a DSRIP participant and would like more information or would like to discuss the options available to meet the program measures, please contact Tamie Kiniry: (315) 671-2241 x350 or tkiniry@healtheconnections.org.
---
HealtheConnections and YMCA Partner for Clinic-to-Community Dialogue

On June 11, HealtheConnections and the YMCA hosted the Clinic-to-Community Listening Forum in Syracuse, NY. The event, sponsored by the National YMCA and the Robert Wood Johnson Foundation (RWJF), had two goals: (1) to better understand local referral patterns between healthcare and community-based organizations, and (2) to identify opportunities for making stronger connections between those agencies and sectors.
Dr. Tom Dennison of the Lerner Center served as moderator for the day. He opened the event by discussing the importance of linking medical care and social services in a way that positively affects health and, at the same time, facilitates the healthcare transformation currently underway in New York state. The forum then transitioned to small group discussions on what constitutes and produces good health in our community; what systems are in place to enable use of health and related services; what improvements need to be made to the system; and what can be done to achieve those changes. The key points drawn from each table's discussion were presented to the larger group.
Rob Hack, the Executive Director of HealtheConnections, opened the second part of the day with an overview of information sharing in our community, including the functions of the health information exchange (HIE). Each table then discussed the challenges their organizations face in sharing information about patients and clients; how the Regional Health Information Organization (RHIO) could be used to improve information sharing; and how consumers and providers could be engaged to strengthen the data and potential benefits the RHIO has to offer the community.
Outcomes from the Listening Forum will be captured in a report that will be sent to all participants, and to the RWJF. RWJF will utilize the outcomes from multiple Listening Forums across the country, to help advance the national healthcare reform. Locally, the report will help shape the work of HealtheConnections as we continue to convene stakeholders and build the region's population health capacity around priority issues.
---
HealtheCNY Site is On Track for September 2015 Launch
Last month, HealtheConnections announced the development of a new website to support a healthy Central New York population. Initially, the website will be geared towards health professionals, by providing data, tools for using data, best practices, information on local programs and projects, and opportunities for collaboration. In the future, the site will contain additional content focused on health consumers and providers.
Look for HealtheCNY to launch by September 2015!
---
Additional Provider Forums Coming Soon
In June, HealtheConnections held two Provider Forums for healthcare professionals in Syracuse and Ithaca. Additional forums will be scheduled for later this summer and into the fall for Watertown and Madison County.
More details for these forums will be available soon.
---
HealtheConnections' Internal Worksite Wellness Committee Offers CPR Training
The HealtheConnections Worksite Wellness Committee recently sponsored a CPR (cardiopulmonary resuscitation) training for staff members. The training, done in partnership with North Area Volunteer Ambulance Corps (NAVAC), has equipped staff with the skills they need to start CPR on those experiencing sudden cardiac arrest. According to the American Heart Association, more than 420,000 emergency medical services-assessed out-of-hospital cardiac arrests occur in the United States each year.
---