HealtheNews: February 2015 Issue

In This Issue:
Population Health Kick-Off Meeting
New HIE Feature: myAlerts
Medicaid EP2 Program Announcement
HIE User Change Form for RHIO Admins
Increased HIE Participation in 2014

---
Population Health Improvement Kick-Off
In December 2014, HealtheConnections announced that it received a grant award from the New York State Department of Health (NYSDOH) for $2.4 million to be spent over two years on the implementation of a Population Health Improvement Program (PHIP). HealtheConnections will leverage this funding to increase its impact as convener, collaborator, and provider of health care improvement and transformation support services in the Central New York (CNY) region. This will be accomplished in accordance with other NYSDOH initiatives aimed at preventing disease, reducing health disparities, and transforming health care delivery systems.
The Population Health Improvement team at HealtheConnections will convene a diverse group of stakeholders from six CNY counties to share data-driven, evidence-based best practices, and foster strategies for achieving local priorities. Stakeholders will include health and social service providers, consumer advocacy organizations, health departments, rural health networks, insurers, payers, schools, businesses, and others. The following agencies will facilitate this collaboration within each of the six CNY counties:
Cayuga Community Health Network (Cayuga County)

Seven Valleys Health Coalition (Cortland County)

Madison County Rural Health Council (Madison County)

Central New York Health Home Network (Oneida County)

Onondaga County Health Department (Onondaga County)

Oswego County Opportunities (Oswego County)
Later this month, the Population Health team and representatives from all six partnering county agencies will come together for the first time to begin their collaboration. This kick-off meeting will provide the first of many opportunities for the group to engage in discussions and activities focused on population health priorities for the CNY region.
Updates on PHIP activities will follow in subsequent newsletters. For more information, contact Rachel Kramer, PHIP Director at rkramer@healtheconnections.org
---
myAlerts HIE Functionality Announced
HealtheConnections is proud to announce the launch of myAlerts, a new feature that will electronically notify health care providers when their patients are treated in an in-patient or emergency department setting.
Incoming admission, discharge, or emergency department registration information will be detected by HealtheConnections, automatically generating an alert to notify the provider that a patient is being treated.
Alerts will be delivered via secure Direct Mail to a designated secure address, or a non-PHI version will be sent as a text message to the provider's phone number.
Providers have the option to receive the alerts individually as they are available, or in a "daily digest" that is sent one time each day.
The myAlerts feature will be available to providers by March 2015.
---
Medicaid Eligible Professional Expansion Program Assistance Available
The New York State Department of Health (NYSDOH) Office of Health Insurance Program (OHIP) is utilizing the New York eHealth Collaborative (NYeC) REC program to support the Medicaid Eligible Professional Expansion Program (EP2). Up to $3,500 is available in addition to Meaningful Use incentive program payments.
EP2 participation is offered to the following fee-for-service Medicaid providers who meet the 30% threshold as defined by CMS (20% for pediatricians):
Physicians (M.D. and D.O.)
Dentists
Pediatricians
Nurse Practitioners
Certified Nurse-Midwifes
Physicians Assistants (FQHC Qualified)
Those who are participating in the Medicaid Meaningful Use incentive program at Stage 1 or 2 and who have not already attested for 2014 or 2015 are eligible.
If you are on the verge of attesting or would like to participate, contact Provider Engagement Specialists Tim Kelly or Tamie Kiniry:
Tim Kelly: tkelly@healtheconnections.org
Tamie Kiniry: tkiniry@healtheconnections.org
---
HIE Tips & Techniques: User change form for RHIO Admins
RHIO Administrators are required to update HealtheConnections support anytime an employee at their organization is terminated or if their employee's HIE account should be suspended for any reason. To request these types of changes for user accounts, RHIO Admins should submit a completed Authorized User Change Form (Form # A-4) to support@healtheconnections.org.
Contact the support team with questions: 315-671-2241 x5 or support@healtheconnections.org
---
HIE Success in 2014: By the Numbers
HealtheConnections ended the year on a high note with noteworthy increases in overall health information exchange (HIE) participation.
Fast facts:
Total Number of Active Users: 3,349 (108.4% increase)
Total Number of Licensed Providers: 1,853 (39.8% increase)
Total Participating Organizations: 408 (77.4% increase)
Participating Medical Practices/Specialists: 259 (86.3% increase)
In addition to the positive provider statistics, 2014 saw a significant rise in patient consents, with HealtheConnections reaching 1 million unique affirmed consents. The total number of patient consents grew by 73 percent.
Finally, the number of data sources contributing patient data to the HIE rose substantially and, by year-end, HealtheConnections connected 40 new sources - a 125 percent increase from the previous year - to finish 2014 with 72 total data sources.
How did we stack up against all of New York state? See the chart below:
HIE Usage - Statewide/Regional Adoption (Year-End 2014)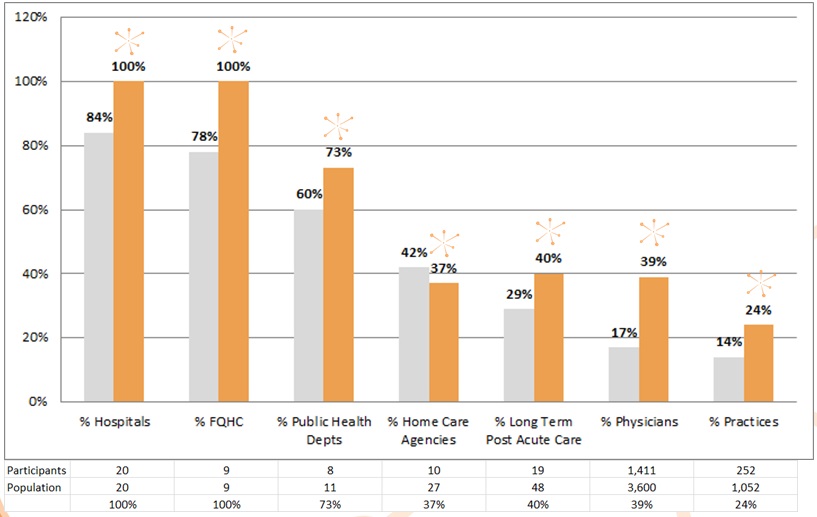 ---

HIE Adoption
Welcome New Participants
University Pediatrics
Suzanne M. Lamanna, DO, PLLC
Professional Counseling Services
BRiDGES
Gyn Oncology of CNY
Sebastian A. Mazzotta, MD, PC
Walter H. Majak, DPM
House of the Good Shepherd
Home Aides of Central New York
Medical Arts OB/GYN PC
---
HIE Statistics
410 Participating Organizations
Hospitals: 20
Practices: 268
Other Healthcare Entities: 112
Labs: 20
Radiology: 24
January 2015 Statistics
Patient Lookup
Users Accessing HIE: 879

Log-ins: 10,458

Documents Viewed: 27,949
Monthly User Totals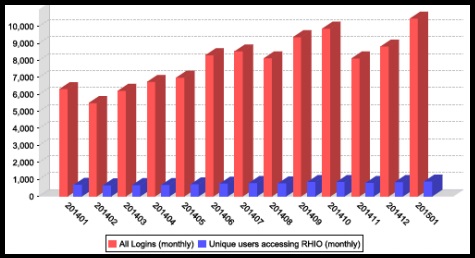 Results Delivery