HealtheNews: April/May 2015 Issue

In This Issue:
HealtheConnections Announces New Services, Website
Provider Forums: Are You HealtheConnected?

Contribute Data to HIE via Direct Mail

What is Population Health?
HIE Services enables EHRs for CCD Exchange
myConnections Video Tutorial

HealtheConnections Welcomes New Team Members
New HealtheConnections Participants
April HIE Statistics

---
HealtheConnections Announces Two New Functionalities, Updated Website
HealtheConnections has a new look and feel, with the launches of the myConnections provider portal, the myAlerts service, and a new website in April.
With myConnections, a single user ID and password combination allows HIE users to access all HealtheConnections applications in one place, making it easier to navigate between applications. Previously, there were multiple login screens for users to access all of the HealtheConnections applications. The new login screen brings users to the myConnections portal, which displays icons for each of the applications.

The initial launch includes easy access to three HealtheConnections services: Patient Lookup, Direct Mail, and myAlerts. Additional applications will be released as they are available.
The new myAlerts service sends electronic notifications to providers so they can keep track of their patients' real-time in-patient admissions, in-patient discharges, or Emergency Department registrations.
Incoming information is analyzed electronically by HealtheConnections and automatically generates an alert to subscribing providers. Alerts are delivered via Direct Mail to a secure designated email address. Alerts that do not contain protected health information (PHI) can be sent as a text message to a provider's phone. Users who do not have an EHR can access myAlerts through myConnections. Providers have the option to receive alerts individually as they are generated, or in a "daily digest" once a day. Approximately 600,000 admit, discharge or transfer messages are scanned daily from our data sources, triggering provider alerts.
myAlerts helps healthcare providers avert unnecessary care for better patient care management, access real-time admission/discharge information for quick interventions, and follow chronically ill patients (e.g. CHF, COPD) to monitor emergent situations.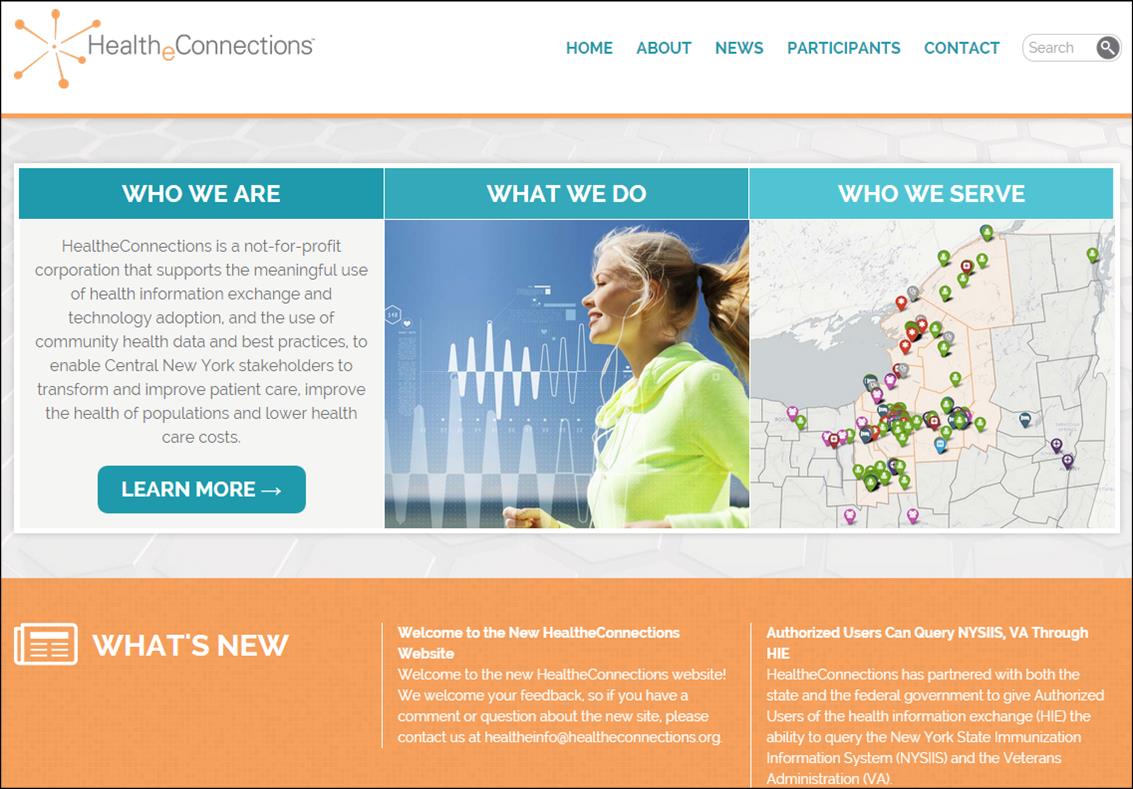 The new HealtheConnections homepage
The new
HealtheConnections.org
highlights HealtheConnections' mission to support the meaningful use of health information exchange and technology adoption, as well as the use of community health data and best practices, to enable the transformation and improvement of patient care, improvement of population health, and lowering of healthcare costs.
One of the new features included in the website update is the
Interactive Map
, where users can view all healthcare organizations participating with HealtheConnections. To use the map, click on each pinpoint to display information for the organization. Looking for a certain type of facility? Select a "Type" to filter your results. To search for a specific participant, type the name in the "Search" bar. A printable list of participants is available by clicking the link in the top right-hand corner of the map.
---
Provider Forums: Are You HealtheConnected?
Get to know the ins and outs of EHR and Health Information Exchange
HealtheConnections will be hosting regional panel discussions, led by local physician leaders, to showcase the best use of the electronic health record and HIE, giving patients an improved overall quality of care, a better health experience, and reduced overall costs. Our first regional panel will beheld in Syracuse, followed by June events being planned for Ithaca (June 16), Utica, and Watertown.
Join Us
Thursday, May 28 from 5:30-7:30 p.m.
Refreshments at 5:15 p.m.
Marley Education Building
765 Irving Avenue, Syracuse, NY 13210
RSVP by 5/25 to healtheinfo@healtheconnections.org
Who Should Attend?
Physicians - practice and hospital-based

Other providers of direct care and support services to patients

Office managers and practice administrators

Medical records Professionals and Meaningful Users

EHR users who want to learn how to use HIE services with their EHR

Non-EHR users who want to learn how to use HIE services without an EHR
---
Contribute Data to HIE via Direct Mail
Direct Mail, a secure transport of clinical information, is fast becoming an ingrained feature in electronic health record (EHR) systems. HealtheConnections recognizes the importance of this secure method of exchanging clinical information, and has created a process for EHRs to send patient summary information, known as Continuity of Care Documents (CCDs), directly to HealtheConnections via Direct Mail. The information is then added to the patient's community record within the health information exchange (HIE).
Each participating organization can send a secure message containing a CCD to a designated HealtheConnections Direct Mail inbox. From this inbox, the data will be immediately uploaded into the HIE and be available for access by authorized HIE users.
Thousands of clinical summaries are sent to HealtheConnections via Direct Mail every day, dramatically increasing the abundance and variety of patient data available to healthcare professionals.
To sign up for this service, please contact HealtheConnections support: (315) 671-2241 x5 or support@healtheconnections.org
---
What is Population Health?
Population Health is "the health outcomes of a group of individuals, including the distribution of such outcomes within the group" (Kindig and Stoddart, 2003). While not part of the definition itself, it is understood that such population health outcomes are the product of multiple determinants of health, including medical care, public health, genetics, behaviors, social factors, and environmental factors. (
Institute of Medicine's Working Definition of Population Health
, http://iom.edu)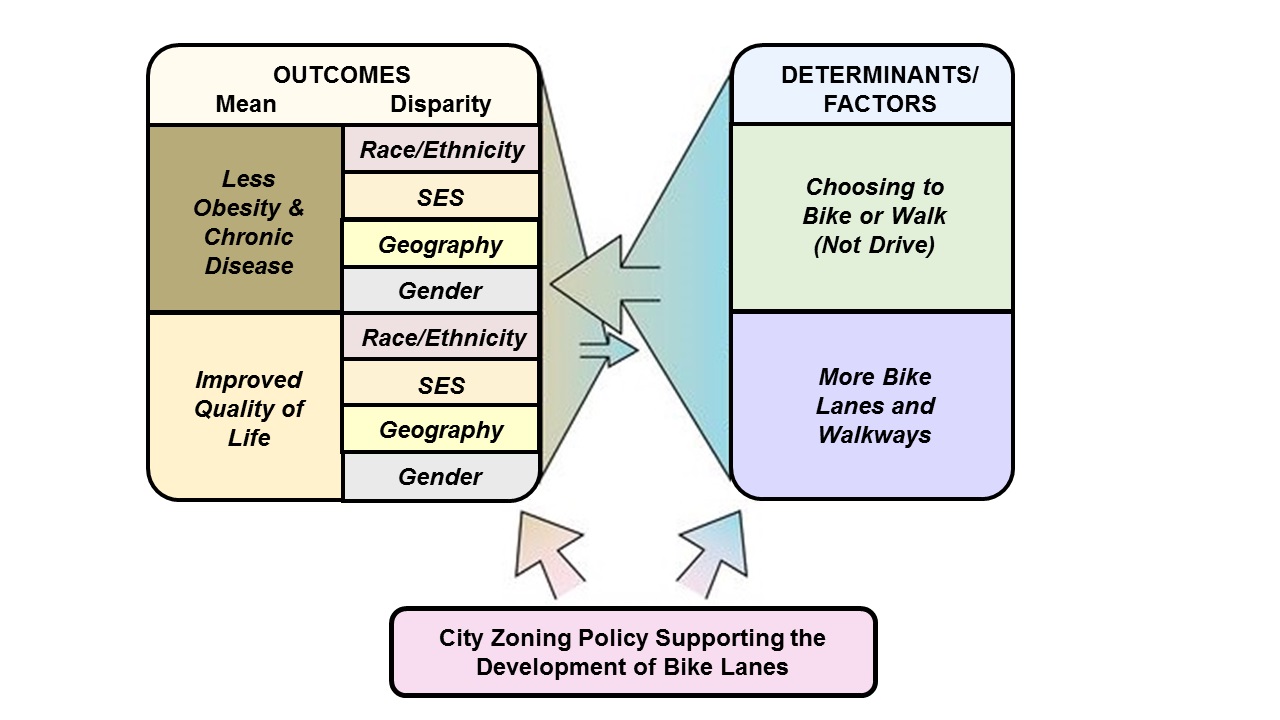 This model of population health (pictured above) was adapted by the University of Wisconsin's Department of Population Health Sciences from Kindig & Stoddart's original figure, published in 2003 in the American Journal of Public Health.
Policies and programs are the focus of population health work, shaping the many aspects of health. These aspects of health (like individual behavior and the physical environment, referred to as "determinants and factors" in the model above) interact with one another in dynamic, complex ways, and ultimately drive health outcomes such as morbidity, mortality, and quality of life.
For population health purposes, groups can be defined in many ways: by geography, demographic factors, disease diagnoses, health behaviors, and so on. Disparities within populations must be considered, and policies and programs tailored accordingly, to ensure that population health approaches are both effective and just.
What is an example of a Population Health approach to a local health problem - like obesity?
According to Robert Wood Johnson Foundation's County Health Rankings released this month, the percentage of people in HealtheConnections' service area that reported they are obese, with a Body Mass Index of 30 or higher, ranges from 24% in Tompkins County to as high as 33% in Oswego County. (For more information on the County Health Rankings, visit www.countyhealthrankings.org).
People commonly think about this issue as the result of individuals not eating well or getting enough exercise, but an individual's behavior is just one component of health in a broader context. What are the choices offered to people in their neighborhoods, homes, and work environments that drive their thoughts and actions? To combat obesity, experts recommend a number of population health approaches. One example is the targeting of work environments, to alter not only individual behavior, but the social environment and the physical environment as well. The following activities were adapted from The Community Guide (www.thecommunityguide.org). Employers can:
Make healthy eating easier by improving what is offered in cafeterias and vending machines

Provide opportunities for employees to be more physically active

Improve human resources policies for employees; for example, offer discounted health club memberships, or work with insurers whose policies support prevention as well as treatment
These policies changes can translate into a workforce improving its health within the context of daily life.
---
HIE Services Enables EHRs for CCD Exchange
HealtheConnections' integration team announces they have connected the following EHRs for CCD exchange:
NextGen
GE Centricity
NetSmart
Chartmaker
Medent
There are currently four EHRs in the testing process:
Allscripts
AmazingCharts
eClinicalWorks
athenahealth
---
myConnections Video Tutorial
Learn more about using myConnections with our new video tutorial.
---
HealtheConnections Welcomes New Team Members
HealtheConnections welcomes two new members to our growing team: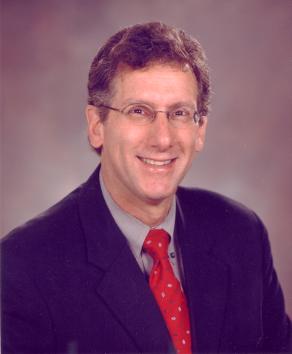 Jef Sneider, M.D. F.A.C.P.
joins HealtheConnections as Medical Director. He earned his medical degree from the Albany Medical College of Union University, and completed his internship and residency in Primary Care Internal Medicine at the State University of New York State Upstate Medical Center in Syracuse where he also served as Chief Resident. Dr. Sneider has been extensively involved in healthcare, working as an Internist and holding many prestigious positions, including serving as a past president of the Onondaga County Medical Society. After 14 years with an HMO, PHP in Baldwinsville, Dr. Sneider began his own private practice in 1993, and is currently a member of Brighton Medical Associates, part of Family Care Medical Group. Dr. Sneider is a founding member of the board of the Health Advancement Collaborative of Central New York (HAC-CNY).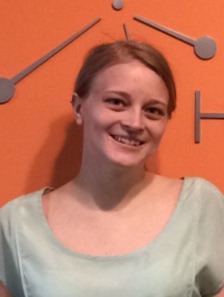 Katrina Schlum, HIE Interface Analyst, has a background in biological research and computer science through summer research internships and her undergraduate degree. She also has experience in health, life and protection insurance at a benefit private exchange company where she previously worked as a System Analyst. Katrina earned her Bachelor's of Science degree in Bioinformatics from St. Bonaventure University.
---

HIE Adoption
Welcome New Participants
Eye Associates of Utica, PC
Walter A. Minaert, MD PC
Epilepsy - Pralid
Eyecare Opthamalogy, PLLC
Community Options, NY, Inc.
Northern Region Center for Independent Living, Inc.
Cayuga Counseling Services, Inc.
Cedarbrook Village, Inc.
Cayuga Centers
Focus Rehabilitation & Nursing Center of Utica
Loretto Geriatric Community Residences
MAMI Interpreters
Five Star Urgent Care Cicero Medical, PLLC
Five Star Urgent Care Big Flats Medical, PLLC

Fayetteville Urgent Care Medical, PLLC
Five Star Urgent Care Ithaca Medical, PLLC
Five Star Urgent Care Jamestown Medical, PLLC
Fairmount Urgent Care Medical, PLLC
Lancaster Primary Care Medical, PLLC
24/7 Online Care
A Reflection of You Counseling & Support Service, LLC
Madison County Rural Health Council, Inc.
Seven Valleys Health Coalition
WIlliam M. Bock, MD PC
Clinton Therapy & Testing Center
Crouse Community Center
Resource Center for Independent Living
Kids Oneida
At Home Independent Care, Inc.
The Grand at Rome
The Grand at Chittenango
Health Alliance Physicians, PC
---
HIE Statistics
HealtheConnections has reached over 1 million unique patient consents!
457 Participating Organizations
Hospitals: 20
Practices: 287
Other Healthcare Entities: 138
Labs: 20
Radiology: 24
April 2015 Statistics
Patient Lookup
Users Accessing HIE: 947

Log-ins: 12,058

Documents Viewed: 30,138
Monthly Patient Consenting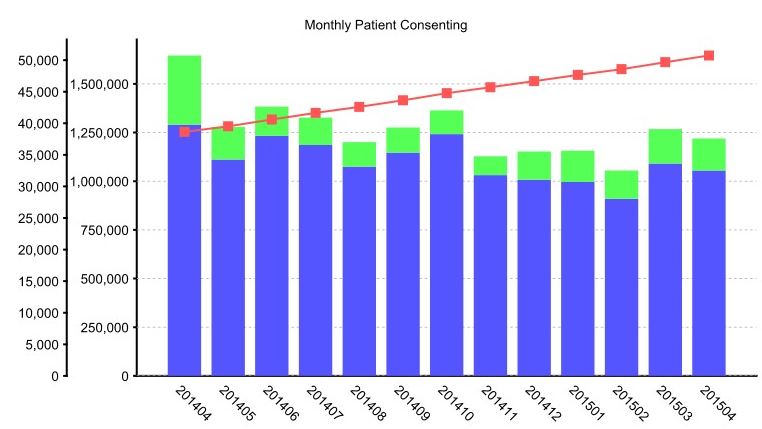 Results Delivery
(Under "Healthcare Providers)