HIE Statistics
Organizations Connected:
Hospitals: 19
Practices: 151
Other Healthcare Entities: 66
Labs/Radiology Centers: 6
Total Participants: 242
January Statistics
Patient Look-up:
Users Accessing RHIO: 687
Logins: 6,313
Documents viewed: 14,214
Results Delivery
:
Providers: 434
Documents delivered: 27,731
Connected EMRs
Medent
Vitera
ChartMaker
eClinicalWorks
MicroMD
GE Centricity
GMed
athenahealth
---
Welcome New Providers
Cayuga County Health Department
Hospice of the Finger Lakes
CNY Orthopedic Sports Medicine
Upstate University Medical Associates at Syracuse (UUMAS)
---
Follow Us on LinkedIn:
---
Continuing Connectivity and Adoption
HealtheConnections, as part of the SHIN-NY (Statewide Health Information Network of New York), will comply with policies for healthcare entities in New York State to adopt HIE services. Adoption requires participants to sign agreements stating that they will share, receive, and access data in the HIE.
To continue to build upon the adoption process, HealtheConnections will be introducing new features and functions which will also align with Meaningful Use 2 requirements. Upcoming features include:
myResults: Providers named on a report sent to the HIE can view the report online within the HIE
myAlerts: Routes, and supports subscription to, various notifications of patient status and events to providers based on pre-defined criteria and data found in messages. For example, patient alerts and notifications will be sent to subscribing providers or healthcare teams upon patient hospital admits, transfers, or discharges using the provider's Direct email account
CCD Exchange: Bi-directional patient data exchange of patient demographics, guarantor information, medications, allergies, problem lists, vitals, procedures, and immunizations
---
HIE 2013 Highlights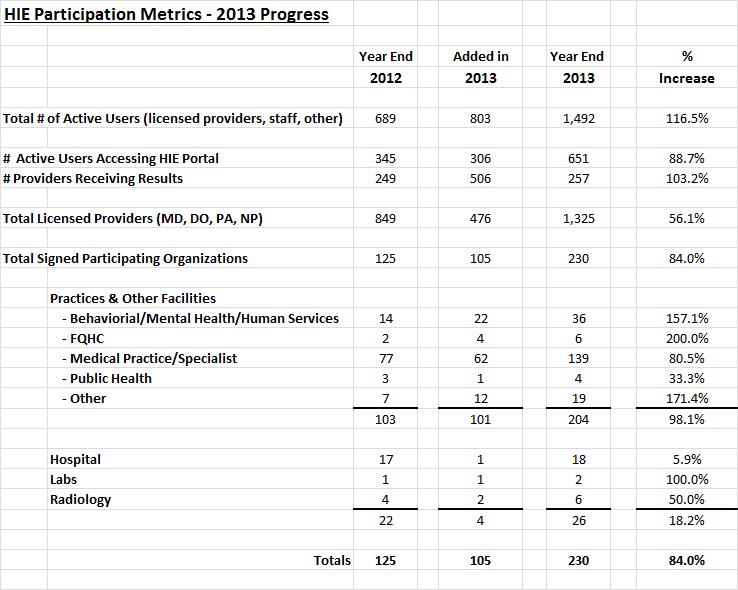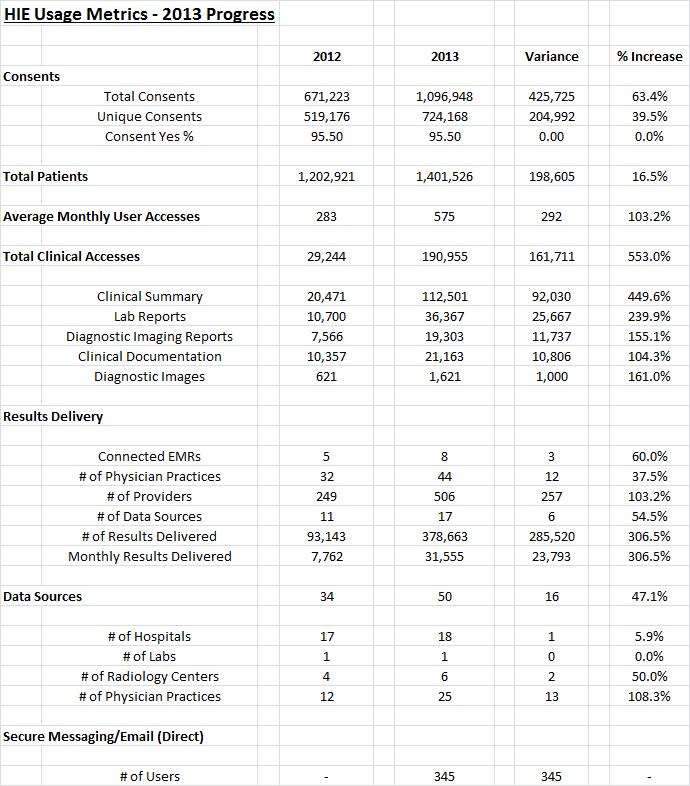 ---
Provider Engagement Services Updates
The REC program deadline has been extended to January 31, 2015. Our Provider Engagement Specialists will reach out and assist those who are already in the program to meet the new deadlines.
The CMS EHR Incentive Medicare Program deadline for Eligible Professionals to attest is February 28, 2014
The CMS EHR Incentive Medicaid Program deadline for Eligible Professionals to attest is March 30, 2014
Do you know someone who would benefit from our services? Refer them to our Provider Engagement team! 315.671.2241 x310
---
Feedback from Our Users
"Wow! I am so pleased. We tried the access today on a client and it was fantastic!" - Cheryl Geiler, Director of Community Health Services at Madison County Health Department
Do you have an experience you would like to share? Contact us to have your feedback featured in our next newsletter! support@healtheconnections.org
---
HealtheConnections in the Community
The HealtheConnections Heart Walk team is working to collect donations to reach our goal of $5,000 for the American Heart Association. Please visit our team page (link below) to donate or for more information on how you can create your own team!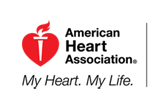 -------------------------------------------
HealtheConnections is sponsoring the 2014 Healthy Syracuse Worksite Wellness Conference on March 19 at the the SRC Arena. Stop by our table to speak with our provider engagement specialists about how we're helping to improve healthcare in Central New York!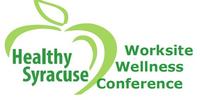 ---