HealtheNews: March 2016 Issue

In This Issue:
HealtheConnections and ARISE Partner to Address Chronic Disease
HealtheConnections Conducting Hospital Summits
Meaningful Use Deadline Updates
HealtheConnections Featured in MD News
HealtheConnections Employees Go Red For Women
Upcoming Events
Now Hiring: Application Support Analyst, Health Systems Improvement Analyst
February HIE Statistics

---
HealtheConnections and ARISE Partner to Address Chronic Disease
This month, HealtheConnections and ARISE announced that they were jointly funded by the National Association of Chronic Disease Directors (NACDD) to participate in the Reaching People with Disabilities through Healthy Communities project. Together, HealtheConnections and ARISE will work to make health-related changes within Onondaga County more inclusive of people with disabilities. This is because people with disabilities are more likely to report poorer health than those without disabilities. Disparities are related to both differences in access to medical care and to health promotion services.
Onondaga County, one of ten communities to receive funding, will utilize state and community collaboration to accelerate disability inclusion policy, systems, and environmental (PSE) improvements. Grant funds will support disability inclusion strategies that make healthier choices, like eating nutritious food and being physically active, the easier choices for all people in areas where they may live, work, play, and receive care.
Under the Reaching People with Disabilities through Healthy Communities grant, HealtheConnections and ARISE will work through this five-phased process over an 18-month period from January 2016 to June 2017: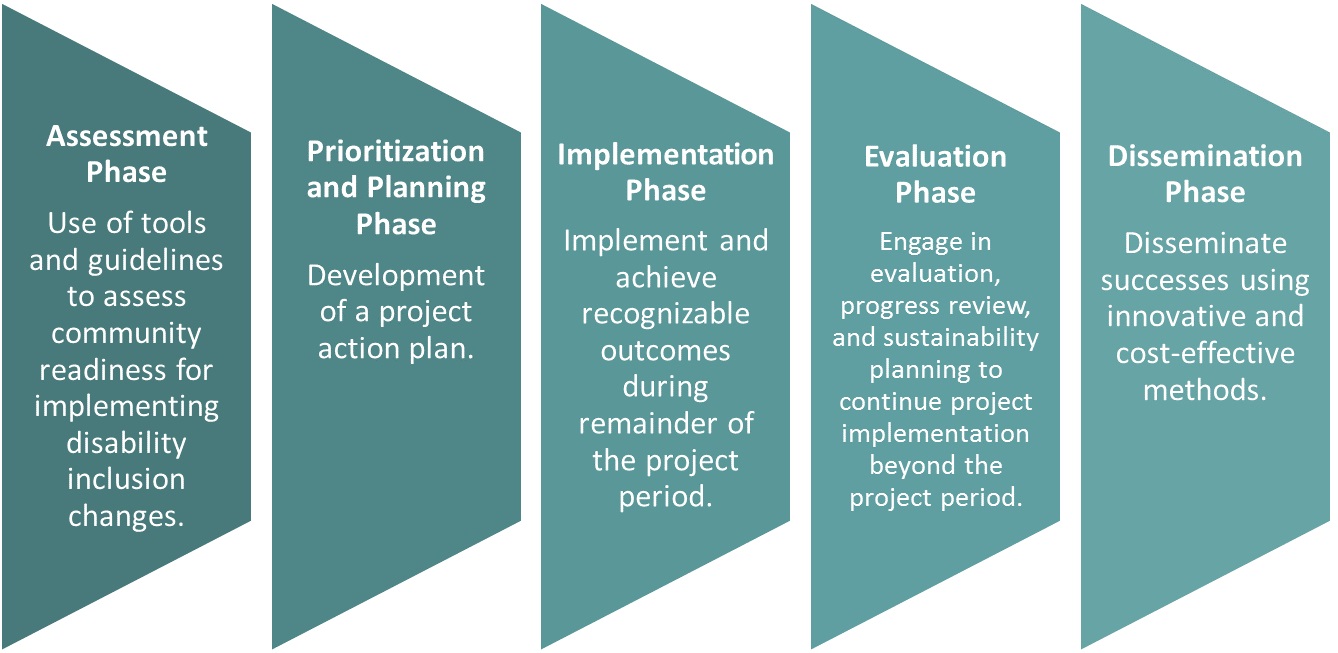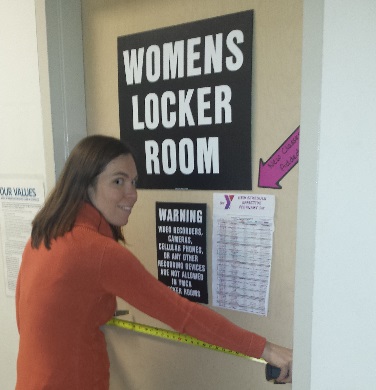 Mary Carney of HealtheConnections assesses the environment at the YMCA of Greater Syracuse on Montgomery Street during Phase I of the project.
For more information about Reaching People with Disabilities through Healthy Communities, please contact:
Bruce Hathaway, Senior Population Health Analyst
bhathaway@healtheconnections.org
---
HealtheConnections Conducting Hospital Summits
Hospitals across HealtheConnections' 11-county region have been long-time partners, contributing to the success of the health information exchange (HIE). Over the course of the last six years, the hospitals and HealtheConnections each have grown, changed, and improved. Over the next few months, HealtheConnections is scheduling meetings with the senior leadership of each hospital to continue our partnership addressing clinical and HIE needs and requirements.
The goal of these meetings is to share information about HealtheConnections' services and how these services can be used by hospital staff to meet new and imminent needs. Besides internal changes that hospitals have dealt with, there are many external drivers such as DSRIP, value-based payment, meaningful use, other incentive programs, and more.
Evolving New York State regulations are requiring hospitals to submit a broader, more rich meaningful use data set to be contributed. HealtheConnections' integration team will be working with hospital information technology teams to support this need.
HealtheConnections can play a key role in assisting hospitals in using health information exchange to enhance their operations and capabilities for various program objectives.
As an example, from a clinical perspective, discharge planners may need to use HealtheConnections Patient Lookup or Direct Mail to coordinate transition of care between a hospital and skilled nursing facility. On the IT side, we will focus discussion on increasing data contribution to the HIE to further enhance patient records.
As a community, we are all facing the same challenges to provide improved healthcare to patients while reducing costs. These summits are a means for HealtheConnections to collaborate more closely with the hospitals, present opportunities that can be meaningful within their workflow, and provide services to help achieve new goals.
For more information, contact:
Karen Romano, Director of Operations & Business Support
315-671-2241 x250
kromano@healtheconnections.org
---
Meaningful Use Deadline Updates
CMS Extends Meaningful Use Attestation Deadline to March 11

The Centers for Medicare & Medicaid Services (CMS) has extended its meaningful use attestation deadline for the EHR meaningful use programs. Originally slated for the end of February, the meaningful use deadline has now been extended until March 11, 2016, allowing providers about two extra weeks to attest to the Medicare MU program.
If you have questions regarding meaningful use, contact:
Tamie Kiniry, Provider Engagement Specialist
tkiniry@healtheconnections.org
Hardship Exception Application Deadline Extended to July 1
The deadline to apply for a hardship exception to the meaningful use requirements for 2015 has been extended to July 1 for both physicians and hospitals, CMS announced in February. Previously, the deadline was March 15 for eligible professionals (EPs) and April 1 for eligible hospitals and critical access hospitals.
Providers Cannot Attest for Medicaid MU Stage 1 or Stage 2 on NY Medicaid EHR Incentive Program Website
Providers are receiving the following message from the NY Medicaid EHR Incentive Program website (www.emedny.org/meipass):
As of December 15, 2015, NY Medicaid is only accepting attestations for adopt, implement, or upgrade (AIU). Meaningful Use Modified Stage 2 attestations are not yet available.
What does this mean? Currently, you cannot attest for Medicaid MU Stage 1 or Stage 2 for calendar year 2015. Our team at HealtheConnections has spoken to our contacts at the NYSDOH. We have not been given a definitive time table on operability of the attestation tool. NYSDOH has provided CMS with this information and requested a 60-day extension to the current deadline. This extension would be effective once the MEIPASS website is operable. We anticipate a decision to be provided shortly.
Your office may be receiving notification from your EHR vendor that the Meaningful Use attestation deadline is quickly approaching. This statement is true, however, currently there is not a way to attest if you are attesting in the Medicaid program. Again, the NYSDOH and CMS are currently engaged in discussions to ensure that your practice and/or your providers are not penalized for missing this deadline.
For more detailed information, please contact:
Tim Kelly, Provider Engagement Specialist
tkelly@healtheconnections.org
Tamie Kiniry, Provider Engagement Specialist
tkiniry@healtheconnections.org
---
HealtheConnections Featured in MD News
MD News issues throughout 2016 will feature a spotlight on HealtheConnections, diving deeper into its health information exchange, population health improvement, and value-based solutions services to show how these services benefit the Central New York healthcare community.
---
HealtheConnections Employees Go Red For Women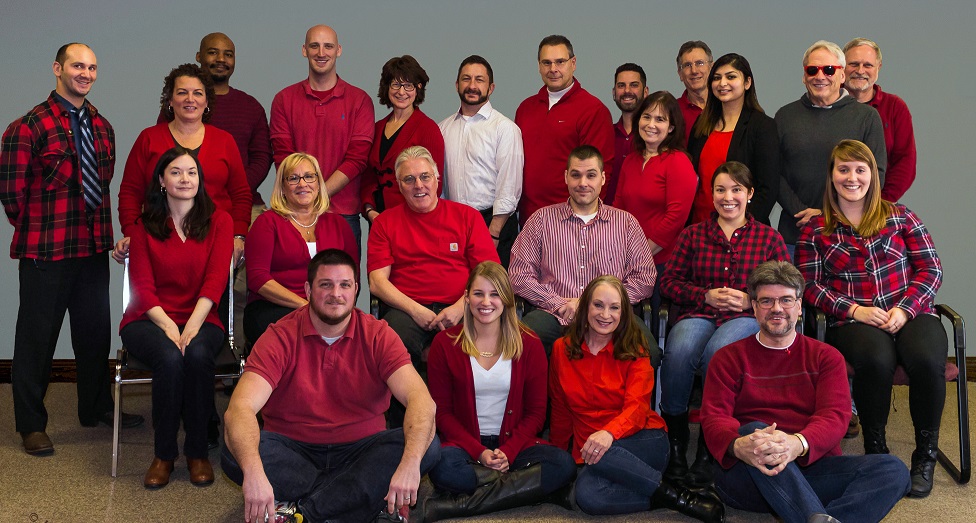 On Friday, February 5, HealtheConnections employees wore their brightest red outfits and sported "Go Red" bracelets for National Wear Red Day, showing their support for the American Heart Association's Go Red For Women campaign.
Many team members later attended a presentation by Syracuse Heart Walk Director Denise McGraw, entitled "Living Heart Healthy", where they learned how to reduce their risk for heart disease and become healthier.
---
Upcoming Events
Look for HealtheConnections at the following community events:



Nurses Night Out - Thursday, March 10, 2016
Holiday Inn, Electronics Parkway in Liverpool

If you are attending Nurses Night Out on March 10, stop by the HealtheConnections booth to talk to our Provider Engagement Specialists about how to become a HealtheConnections participant and benefit from using our services. Visitors will also have a chance to win a $100 Mirbeau Inn & Spa gift card!
Syracuse Heart Walk - Saturday, April 2, 2016
SRC Arena at the OCC Campus

For the third year in a row, HealtheConnections is a proud sponsor of the Syracuse Heart Walk. The HealtheConnections team will be at the walk on April 2 handing out t-shirts to walkers who raise $100 or more to help the American Heart Association meet their 2016 fundraising goal of $570,000. HealtheConnections volunteers will be on hand to answer any questions about our services.
Does your organization have upcoming events? Let us know!
Alicia Schaumberg, Communications & Marketing Coordinator
aschaumberg@healtheconnections.org
---
Now Hiring: Application Support Analyst, Health Systems Improvement Analyst
HealtheConnections is seeking candidates for:
Join a dynamic, growing business. Make a difference.
---