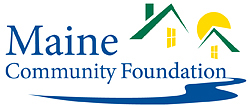 A Grassroots Grant Program
to Grow Communities
Mark your calendar! The February 15 deadline is approaching for Maine Community Foundation's largest grantmaking program. The Community Building Grant Program supports organizations and programs throughout the state that invest in people, maximize assets, and engage community.

Last February we received more than $4 million in requests from 501 applications. The program awarded 170 grants last spring that totaled $1,093,805.

Here are a few of the grants awarded last year: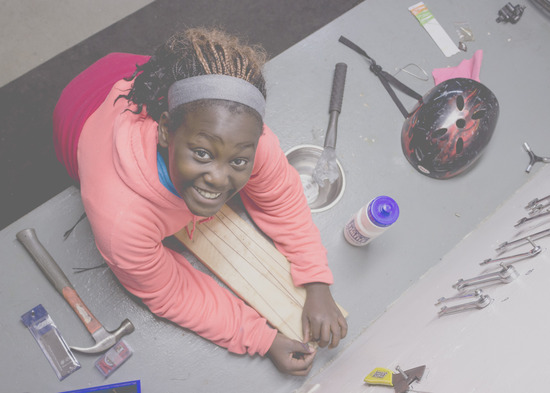 Achayo Katanga at the Community Bicycle Center in Biddeford. Photo: Thalassa Raasch/MaineCF

The York County Committee, which celebrated its 10th anniversary in 2017, awarded a grant to the Community Bicycle Center in Biddeford to align its work with school standards and improve the center's impact. Read about the experiences of one CBC regular, 11-year-old Achayo Katanga, in our special MaineCF@35 series of interviews.

Richard Silliboy, a member of the Aroostook Band of Micmacs, with his gigantic potato basket. Photo: Karen Donato

Among the Aroostook County Fund's 2017 grants was one to the Southern Aroostook Agricultural Museum in Littleton to create an exhibit that highlights the Micmac Tribe's contributions to potato harvesting in The County. Those contributions include what may be the world's largest potato basket, created by master basket maker Richard Silliboy.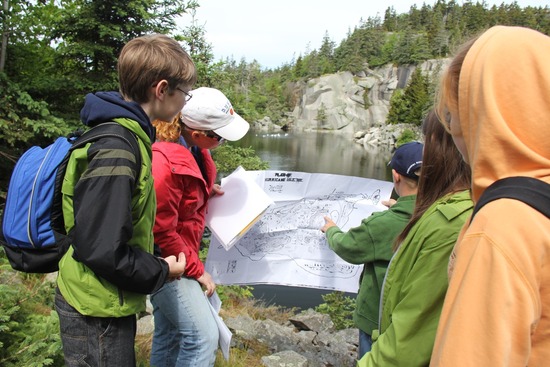 Students from North Haven Community School study a 1910 map of Hurricane Island while learning about the island's granite history in a program hosted by the Hurricane Island Center for Science and Leadership. Photo: Kate Taylor, courtesy Hurricane Island Foundation

The Knox County Committee will mark its 20th anniversary of grantmaking this year. One of its 2017 grants went to the Hurricane Island Foundation to connect the past to the present through preservation of historic and cultural assets.
For more information about community-building grants, please visit www.mainecf.org.
---
Maine Community Foundation, 245 Main Street, Ellsworth ME 04605
(877) 700-6800 | info@mainecf.org

Keep up to date with the Maine Community Foundation
on Facebook, Twitter, and Instagram.