This Week
At Westminster
Church Office is closed 7/4-7/6 for Independence day

.
Thu July 05, 7:30 am, Morning Prayer, Lobby
Sat July 07, 10-Noon, Prayer Shawl, M. Harris'
Sun July 08, Gathering Sunday
Tue July 10, No Session Meeting!
Fri July 13, 7:00 pm, ANNIE! Opens, Theatre
Sat July 14, 7:00 pm, ANNIE!, Theatre
Sun July 15, 10:00 am, Sunday Worship
Sun July 15, 2:00 pm, ANNIE!, Theatre
---
Vanguard Productions

Presents: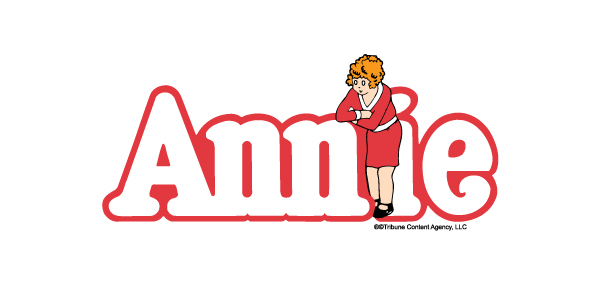 Purchase Tickets at: vanguardsd.org
Call our box office for information
619-224-6263

Opening week-end discounts
for groups of 10 or more.
Winner of 7 Tony Awards, including
Best Musical, ANNIE should be on your
July to do list!
No matter how many times you've seen it before, you will laugh, cheer and weep through the music and antics of this little girl and a dozen of her fellow orphans as they dance, sing and play tricks on the orphan manager, Ms. Hannigan. And you can go home humming "Tomorrow" and other musical treats from this very special production.
9 performances:
July 13,14, 15, 20, 21, 22, 27, 28, and 29 Fridays and Saturdays at 7:00 pm ~ Sundays at 2 pm.
Box Office open
Sundays 11:15 - Noon through July 29
---
New Members Dinner and Class

Wednesday, July 25

6:00-8:00 in the Lobby
Pastor Megan is teaching and you will learn about The Presbyterian Church U.S.A. as well as Westminster Presbyterian Church, our beliefs, our people and opportunities!

If you are interested in this class please contact her at: pastor@westminstersd.org or phone the church office at 1-619-223-3193.
---
Music At Dusk

Summer Line-up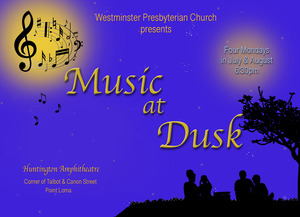 Music At Dusk begins each Monday at 6:30 PM in the Huntington Amphitheatre.

Bring your family and friends along with your favorite box dinner and dine in our Amphitheatre or park while you enjoy neighbors and music under a summer sky. This concert series is a gift from Westminster Presbyterian Church to our neighbors and friends.

All are invited to participate and enjoy. Our new Snack Shack will be open to serve you!

This summer's line-up is:
Jul 23 Billy Hawkins, Dixieland
Jul 30 Fred Beneditti, Flamenco Guitar
Aug 06 Patterson's Hollywood Steel Band
Aug 13 Peter Sprague, American Jazz
Postcards are available in the lobby.
Please take a few to share with your family, neighbors and your friends.
---
Westminster Presbyterian Preschool
Summer Session is July 2-August 29.
July 2-13 Children will experience the magical world of their imagination and take fairytale adventures!
Thursday
July 26 @ Noon
M3 will meet at the Bali Hai on Shelter Island. The group will meet on the 2nd floor an elevator is available.

M3 meets monthly at various Point Loma restaurants. All women of Westminster are invited to attend. Please RSVP Marc Bergqvist at
619-224-4727 or email:
marcybergqvist@hotmail.com
---
Table Games
​1st & 3rd
Wednesdays
3:00 - 4:30 PM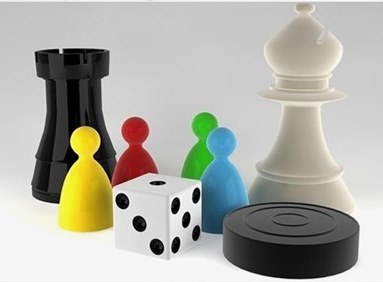 Harris House
Next: July 18, 2018
---
Bible Study
Wednesdays
This group will not meet in July and August
.
All are encouraged to attend Westminster's summer events!
---
Dinner Hosts Needed!
Venture Group is in need of a host for the August group dinner. If you would like to host this group, please call the church office at 619-223-3193 Monday through Friday 9:30-1:00.
---
Biblical Criticism Class
Leader: Don Worley
Sunday Mornings
11:30 am -12:30 pm
in the Library
---
Email the date, time, location and key contact for your Westminster events to the church office at: church@westminstersd.org.
Noon Tuesday
is the deadline for all weekly publications.
Noon Friday
nearest the

10th

of the month (prior to the month you want your information published) for monthly publications or on the church websites at Upcoming Events.
---
Prayer Shawl Ministry
Saturday, June 7
10 am to Noon
Knitters will gather the first Saturday of each month at Mary Harris' home to create shawls of comfort for those in need and shawls celebrating special events in a life. This is a creative and friendly group, a great way to get acquainted with Westminster!
All interested knitters are welcome!