Hi Tom,

According to the Celtic calendar we have just passed Beltaine, the festival marking the light half of the year. The Celtic year is divided into halves and quarters. Samhain, Nov. 1, begins the dark half of the year. It is also the beginning of the Celtic new year. Imbolc is Feb. 1, St. Brigid's Day and the beginning of spring. Lughnasadh is August 1 and marks the harvest. Just a short primer in case you were curious!
This month I'd like to wish a Happy Mother's Day to all you mothers, Happy Birthday to my son Dan, and Happy Memorial Day as we pause to remember all those who have passed on before us and those who have made the ultimate sacrifice to keep us free.



Last month's contest

Last month Berni from upstate NY once again came through the answer to the following:
What Irish poet wrote the following and what are the words that follow it:

The tall trees in the greenwood,
The meadows where we play,
The rushes by the water,
We gather every day;--
Her answer:

Mrs. Cecil Frances Humphrey Alexander
All Things Bright and Beautiful
The next phrase is:
He gave us eyes to see them
And lips that we might tell
How Great is God Almighty
Who has made all things well
`````````````````````````````````````
She won an autographed copy of
Three Finger
. Thanks to all who entered. I had a few more entries this time! Yay! Why not try this month's?
I'm going to make it easy on you this time, although I'm going to ask something additional. If you are not already a Google follower on my blog, please sign up before entering the contest. (Just click on "Follow with Google Friends Connect" on the blog.)
Okay, to enter, just reply to this email with the correct answers to the following questions:
What Irish saint has a feast day this month and sailed to the Land of Promise with his fellow monks in a rudderless ox skin covered boat?
By what name is the 19th century Irish woman Isabella Augusta Persse better known by?
What animated Irish movie did I recently see?
What is the Irish Roots Cafe?
In case you haven't figured it out, the answers can be found in the archives of my blog, although you might have to search a bit for the first one.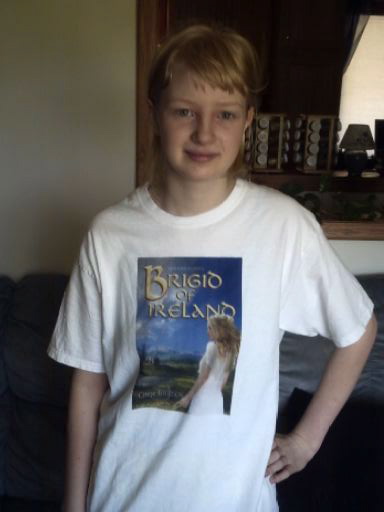 The prize: Your choice of a Brigid of Ireland t-shirt (pictured above, except that sizes are Lg or XL) or one of these handmade prayer crosses (pictured below, made by a community named for the saint in the first question. It's the light brown one.)