Hello SudsMuffinites!
It's been a great year for SudsMuffin and we are looking forward to a busy Holiday season at the shop. We have now been open for 6 full months and have been responsible for many clean folks in the city. (You know who you are.)
Our Gift To You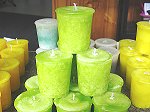 To show you our appreciation for your support, stop in to the shop and pick up a free votive candle of your choice with your next purchase.

To get your free votive in a mail order, just place your order on our website and add the votive you would like to your cart along with the rest of your purchase. Use voucher code votive4me and the cart will automatically deduct the $2.00 cost from your total.

Offer good until October 31st, 2007 or until supplies last.
Soap Cakes, Soap Cakes and More Soap Cakes
Our Soap Cakes have been getting a lot of attention since we started making them. They have been shipped off to Montreal, Washington DC, Texas, South Africa and other far off places. They have been served up at casual get-togethers, bridal showers, volunteer appreciation events, retirement parties and other occasions.

We sell our Soap Cakes whole by special order, or by the slice served up in a clear bakery container, just like real cake. If you have a special event that you would like to make remarkable with one of our soap cakes, just let us know.

Click to see the different scents we have in store


New Products and New Scent Names
We are continuously adding new HOT scents and products to our line and in the process, have also changed the names of some of your favourites. The beloved Spearmint Eucalyptus soap has been renamed to Kiss a Koala and Chamomile Castile is now Keep it Simple Silly. If you can't find your favourite scent right away, let us know and we will probably be able to point you to the new name.

We have a whole new lineup of great lip balms in crazy flavours, like Banana Nut, Tiramisu, Sasparilla and more.

We have new massage oils in our new base made up mostly of rice bran oil and a few other luxury oils. It's simply divine!

Make sure you check out our new Ski Bunniez fragrance that smells like fresh winter pines and the great outdoors. We currently offer candles, incense and room spray in this great scent.

Stephanotis is another great new crisp and green floral fragrance. Pick some up in our Soap Cake, Lotion and Dry Oil Perfume.

We have a new Green Dot soap called Ginger & Mary Ann full of ginger, lime and rosemary oils. Our most recent Pink Dot soap is the rich sultry Aloha is Hello with the vibrant purple top. You have to smell it to believe it!

Our newest baby product, Bum Buttah, is crazy popular! It's a diaper ointment made with luscious Mango Butter, Olive Oil and Beeswax, and of course, it's unscented for tender little bottoms.

As always, we take special requests and will do our best to bring them to you. Just let us know what you are looking for.

Click to see everything else we have in store


Thank you for reading and thank you for being a loyal SudsMuffin Customer. We will continue to bring you new and exciting products and fragrances throughout the year and hope you will choose SudsMuffin when you need a special gift or a treat for yourself.

Read our Blog for the latest news!

Until next time,

Mr & Mrs SudsMuffin (& the Mini Muffin)