Cora Edmonds
Resources
For a two-part talk by Phillip Moffitt on
Living the Dharma in Daily Life
,
click here
and
here
.
For more information about the SIMS Dharma and Children group,
click here
.

Zoketsu Norman Fischer
will be in Seattle for an evening
dharma tal
k
on September 26, 2014, followed by a two-day nonresidential
retreat
--all at the new Center. Norman is a poet, priest, and founder and teacher of the Everyday Zen Foundation in San Francisco.

Christina Feldman
also will be in Seattle for an evening
dharma talk
and two-day nonresidential
retreat
October 24-26. Christina is a co-founder and guiding teacher of Gaia House in England and a guiding teacher of the Insight Meditation Society in Massachusetts.
---
The New Center is Commuter-Friendly

The Center is in a public-transit-friendly location, across the street from Sound Transit's SODO Station and along multiple Metro bus routes.
---

Photographs for the article about the new center were taken by Gary Maigret. Gary died of a sudden heart attack on July 31, 2014. Gary was an energetic and dedicated member of the SIMS sangha, freely giving his time to organize SIMS's annual potluck picnic (where he and his wife, Kathy, met in 2011), coordinate SIMS's non-residential retreats, and pitch in whenever volunteers were needed (as with this article). He will missed.
---
KM Groups
For more information about KM groups and how to become a co-facilitator,
click here
.
Dana
The Pali word for "generosity," dana is what makes the work of SIMS possible. To make a gift,
click here
.

SIMS Dharma Center Opens
By Shaula Massena
T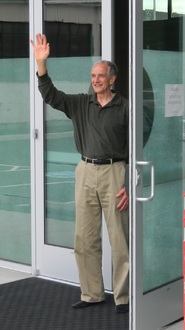 he Seattle Insight Meditation Society celebrated the opening of its own dharma center on July 22, after more than 20 years of renting shared space.
More than 200 people gathered for the inaugural sit and commemoration. Guiding Teacher Rodney Smith rang the bell to call the hall to presence. The chatter that had filled the hall quieted into meditative silence. The space felt contained by the coastal urban environment—the muffled ding-ding-ding of the nearby rail crossings, the whoosh of the light rail train, the occasional cry of a seagull. And at the end of the sit, Rodney drew attention to the audible environment as a reminder that our practice is to ground ourselves amidst busy lives, not to withdraw. The new six-speaker sound system wonderfully covered the room.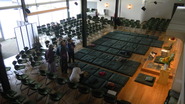 The commemoration of the new center began with recognition of SIMS's eight past board presidents, six of whom were in attendance. Many more have served as dedicated board members and volunteers over the years, supporting the SIMS mission: to offer the Buddha's teachings on insight and awareness to all those who seek them and to support a spiritual community centered in the Pacific Northwest.
Teacher-in-training Bonnie Duran then led a smudging ceremony, accompanied by local Sangha members Chris
Charles of the Duwamish Tribe and Jeff Smith of the McCaw Tribe.
Read more
.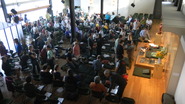 Where is the Dharma Talk? Reflections on Parenting as Practice
By Keri Pederson
It is 11:15 on a Monday morning, and I am lying on the floor of my son's room meditating. To be sure, this is not a traditional posture. There isn't a zafu in sight, the windows are covered in dark shades to block out the summer sun, there are books and toys scattered everywhere, and there is a 25-pound infant asleep on my chest.
Going against the wise advice of every sleep expert on the planet, I have let my one-year-old fall asleep using me as a pillow and now am pinned to the floor for the next 30, 45, or (if lucky) 60 minutes. What to do? It's just this. Aware externally, I notice: there is the constant background sound of the fan, the drool sliding down around my collarbone towards the back of my neck, the faint background smell of the diaper pail, clean but somehow still emitting.... Aware internally, I notice: the solidity of the floor receiving our weight, bringing ease as I let us relax into it. I feel his heartbeat under my own sternum. There is fatigue, contentment tinged with resignation. I notice the interplay of his breath (short, shallow and loud, passing through small nostrils) with mine (now deepening, causing his whole body to rise). Nearly stuck together like this, questions arise: whose body is it? Does this little body belong to me? Does my body belong to me? And what's breathing both of us?
Read More
.
Running on Emptiness

By Miles A. Yanick

I used to think of running as "meditative." That was before I meditated, or ran much. What I meant at the time was that it was pleasant to get lost in thought during a run. And it was.




About seven years ago, at the age of 40, I started distance running. Perhaps coincidentally, I found the practice shortly thereafter. Since then, my relationship with each has deepened my understanding of the other.

Read more

.

The Hows--and Whys--of Starting Your Own KM Group

By Iris Antman




When the KM group I had been in for two years ended, I thought I might like to facilitate a group and so attended a facilitator training. Shortly after that, I was put in touch with another sangha member who was interested in facilitating a group to study the Four Noble Truths in depth. Our first meeting was a year ago, on a beautiful late-summer day, still light and warm enough to begin the meeting sitting on my front porch. We've come together twice a month since then and have one more session to go to complete our year-long exploration. Through our shared practice, study, and reflections we have come to know each other and understand the dharma in a deeper and more personal way.

KM groups tend to have openings only when created. Two people get together to form a group, invite the sangha to join, and a group is formed. But once full, the groups typically close, and subsequent openings can be infrequent or even nonexistent, never meriting another general announcement. Meanwhile, many SIMS members who have wanted to join a KM group have been frustrated by the absence of any openings.




One obvious solution is more KM groups. But SIMS does not create them—sangha members do. More KM groups means more people willing to start them.

Read more

.