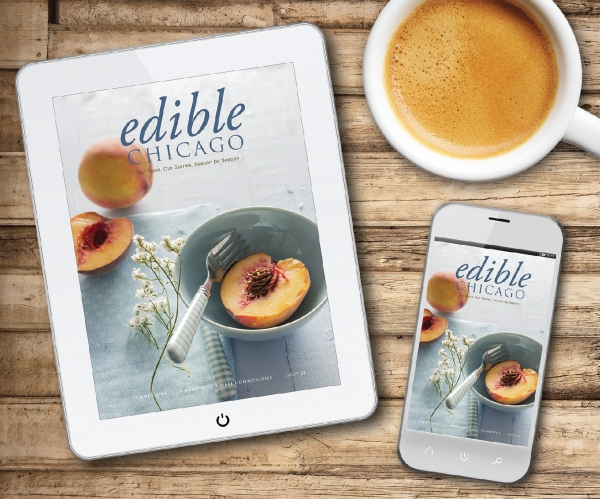 "Edible" is also available for your mobile device. ​Download our digital app for iPad, iPhone at iTunes (Newsstand) and Google Play for Android. Back issues are also available.

​Can't find a print issue of Edible Chicago? Consider subscribing and you'll never miss an issue. We'll deliver pristine copies right to your door: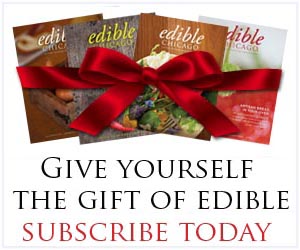 By​ subscribing to EDIBLE CHICAGO you help us GROW so that we can tell even more inspiring stories about our city's great artisans, chefs, growers, local food distributors and our local farmers. Together we can help our food system stay vibrant​ and local economy healthy​. Conveniently subscribe on our website: ediblechicago.com. The annual subscription rate for four seasonal issues is $28.00.
​ ​
Consider a gift subscription for your favorite foodie and we'll mail out a beautiful hand written card along with your gift message.
---
Local Turkeys and Holiday Meats

​
Many of our advertisers are local family farmers who raise and harvest turkey, ducks, poultry, pork and other meats for your holiday table. Farms like Caveny Farm, Gunthorp Farms, Heartland Meats, Jake's Country Meats, Mint Creek Farm, and Rustic Road Farm. We strongly encourage you to buy your turkeys or holiday meats from one of these local farms. Animals are raised humanely on pasture, and given no added hormones or antibiotics. Freshness makes the poultry and meat taste extra delicious. Chicagoland pick-up locations.​ Visit ediblechicago.com for a list of sources; pick up locations and contact information.
---
ADVERTISER SPOTLIGHT: MIKE LINDBURG of SOUTH BEND WOODWORKS: Community Builder.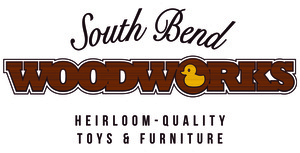 Handcrafted, Heirloom-Quality Toys, Furniture and Gifts made for this generation and the next©.

Founder Mike Lindburg's inspiration for his Indiana-based South Bend Woodworks was two-fold: Create jobs in South Bend and build high quality, Made in America products, which include whimsical kid's rockers and rocking horses, colorful and durable train sets, one-of-kind scooters and wooden puzzles.

Mike's philosophy is that solid jobs for people can make a real impact and create a strong community. "If a man or woman can 'earn a living,' and provide for his or her family, many issues that plague our communities become far less of an issue." The company currently employs eight people providing opportunities for veterans, the long term unemployed, youth and those in the community in need of craftsmanship training. "We have made a positive impact on 8 families, 16 adults and numerous children and grandchildren."


The idea to start a company that crafts wooden toys came to Mike after he was searching for durable, quality American Made wooden toys for his young granddaughter. He was inspired to build a wooden yellow duck stool for her – which then became the early prototype for the iconic duck stool that South Bend Woodworks makes today.

South Bend Woodworks creates lasting memories for families with nostalgic toys and legacy gift items all while creating jobs in the heart of the Midwest. Mike and his company are proud to design and build toys and furniture worthy to be passed first to your child or grandchild and then to their children, providing a tangible link between this generation and the next.

"We make toys for children…Let us make one for yours". ---Founder and Toy designer Mike Lindburg.

Visit southbendwoodworks.com today for a wide selection of custom made and designed children's toys. Items available for purchase online. A thoughtful gift for children this holiday season or anytime.
Learn more about South Bend Woodworks in this video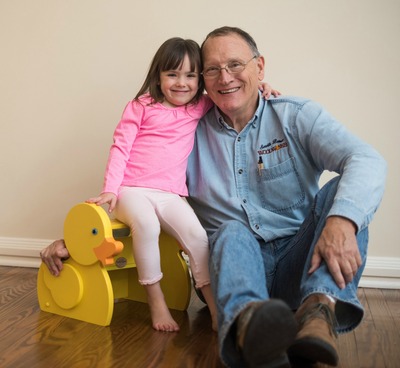 Mike with granddaughter
---
TICKETS AVAILABLE FOR UPCOMING NOV.13 DINNER AND BOOK SIGNING at TABLE FIFTY-TWO Restaurant

Chicago Gourmets, Chicago's premiere fine dining club celebrates its 1000th event (17 years!) with celebrity chef Art Smith at his Table Fifty-two restaurant on Thursday,November 13 at 6PM. A fabulous four-course dinner plus wine pairing will be served in their upstairs private dining room.

Guest of Honor is Author John La Puma MD who is a board-certified internist and nutritionist, a PBS television host (ChefMD) and a New York Times best-selling author. He is in Chicago for one of two events promoting his new book and program called, REFUEL – a 24 day eating program to change how men think about what they eat. Dr. La Puma's mission is to motivate people to live better by eating better.

Join us! There are just a few tickets remaining for this one-of-a-kind special dining and book signing event.

Tickets can be purchased online. Menu and more information about Chicago Gourmets and special guest Dr. La Puma listed on the website. Signed books will be available for purchase.
November 20-22: Chicago's 5th Annual Food Film Festival at Kendall College: "Taste What You See on the Screen"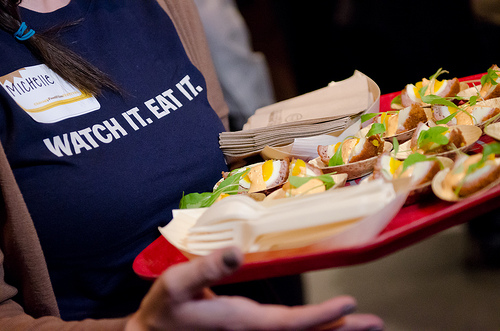 Tickets are now on sale for the 5th Annual Chicago Food Film Festival, benefiting The Good Food Project. The weekend long event is the only festival in the world where guests get to watch food films and then eat the food from the films - right in their seats! All events take place at Kendall College. This is a fun food event you won't want to miss.

Tickets and more details about the events are available online. Edible Chicago is a media sponsor. And for our Edible supporters, use code edible10 for a 10% discount off tickets! But hurry -- these events do SELL OUT!
---
NEW! Cooking Classes at the Fearless Food Kitchen
If you've found yourself staring down a rutabaga at a farmers market and didn't know what to do, fear not. The Fearless Food Kitchen in Chicago's Edgewater neighborhood offers classes to teach you how to prepare seasonal food. The Chicago Park District and non-profit Peterson Garden Project have partnered to open an 800 square foot state-of-the-art teaching kitchen with a capacity to host 40 people. A sampling of December classes include: Hot Water Canning: Jams and Chutneys; Making Homemade butter, yogurt, and cheese; Raised with Love: Homemade Gingerbread House. The space can also be rented for private events. The Fearless Food Kitchen is located at the Broadway Armory at 5917 N. Broadway Ave., Chicago. A full list of classes is located at petersongarden.org.
---
Seasonal Recipe: Quick and Delicious Pumpkin Bread
Originally published in Cooking with the Seasons, Fall 2012, Contributed by Dana Benigno

A Classic way to make this bread is to bake it in 14 1/2 ounce cans. When the bread is removed from the can, it has a nice scalloped edge, which makes for a perfect gift. But a traditional loaf pan works too. Add your favorite dried fruits to the batter such as cranberries and dried cherries.

3 cups canned pumpkin puree
1 ½ cups vegetable oil
4 cups white sugar
6 eggs
4 ¾ cups all-purpose flour
1 ½ teaspoons baking powder
1 ½ teaspoons baking soda
1 ½ teaspoons salt
1 ½ teaspoons cinnamon
1 ½ teaspoons ground nutmeg
½ teaspoon ground cloves
1 teaspoon ground ginger

1) Preheat oven to 350°. Grease and flour three 9 x 5 inch loaf pans. In a large bowl, mix together pumpkin, oil, sugar and eggs.
2) In a separate bowl, combine the flour, baking powder, baking soda, salt, cinnamon, nutmeg, cloves, ginger; stir pumpkin mixture until well blended. Divide batter evenly between prepared pans.
3) Bake in preheated oven for 45 minutes to 1 hour. The loaf should spring back when lightly pressed.
---
KEEP IN TOUCH WITH US:

Want to know what's sautéing in Streeterville, brewing in Bronzeville or roasting in Roger's Park? Sign up for our quarterly newsletter at ediblechicago.com. We'll keep you informed on some great food events happening around town this season. Edible Chicago is a quarterly print publication telling the authentic and compelling stories of our food community. We are advertiser and subscriber supported. Contact our office to learn more about advertising opportunities for your business. We have some of the most cost effective rates around town. Email us at: advertising@ediblechicago.com or call us at 708-386-6781.
Edible Chicago | 159 N. Marion St., #306 | Oak Park, IL 60301
Copyright @2014 Edible Chicago. All rights reserved.