On Purim morning, children from our synagogue made Mishloach Manot gift bags, and then we rode as a car caravan to deliver them to elderly community members. Our last stop was at the Ring House, an independent living retirement residence, where some relatives of our community members live. Infused with the spirit of Purim, the children danced through the halls, on nearly every floor, singing holiday songs. The result was marvelous! Door after door swung open, and the beaming faces of appreciative residents peered out to take in the cute sight of the costumed, energetic children.
In these holy encounters, the beauty of an intergenerational community was so obvious. The residents were uplifted by the young spirit blasting down their halls, and the children listened attentively to the seniors who shared Purim memories from their youth.
In one touching moment, the children gathered in an apartment around the chair of a sweet, older man, not paying much attention to his 93 year old wife, who seemed unable to communicate from her wheelchair just a few feet away. But suddenly, as the children sang the Hebrew Purim gragger song, "Havana risha rosh rosh rosh…," she repeatedly waved her hand through the air, on beat at each "rosh," to mimic the motions of a gragger. The kids quickly took note of her presence, and were wide eyed seeing the child in her emerge. As if they realized, that she too once sang these nursery songs, and wow! She is now 93!
The mingling of ages produced a special type of joy, one that is still lingering as I write this reflection, and one that I hope will inspire us to continue bringing our generations together.
See you in shul! Shabbat Shalom,
Rabbi Uri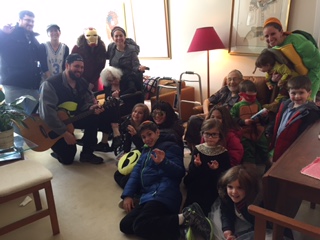 This Tuesday, March 21 @ 8PM
Beltway Vaad Pre-Pesach Speed Learning
Please mark your calendars for the Friends of Beth Joshua Shabbat on
May 12th-13th
. (It coincides with Berman Academy's Grandparents Day on
May 12th
.) We are planning a special Shabbat and would like to extend an invitation to siblings, Grandparents, and other family members and close friends. We will have a deluxe kiddush in your honor, a special afternoon event, and we'll show some real Aspen Hill hospitality!
YOUTH PROGRAM UPDATE:
Regular Shabbat Children's Programs
9:15AM

-
5/6th grade+ meets in cafeteria.
9:30AM

-
Tot room opens for supervised play
10:15AM

-
Groups begin for Tots, K-2nd grade, and 3rd-4th grade.
10:20AM

- Gym time for 5th graders and up
11:00AM

- Gym time for K-4th grade
All children return to the main sanctuary to help lead tefilot at the end of Musaf.
Carmiya is on maternity leave
Carmiya Weinraub is on maternity leave, and in her absence, Lily Landau has taken over many of the youth director roles. You can reach Lily at office@bethjoshua.org
Your feedback is appreciated! RSVP to this email.