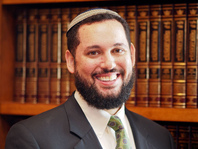 Dear Friends,
Recently, I spoke about an exciting trip our congregation is organizing with the nearby Tikvat Israel Conservative Synagogue, to visit Whitwell, TN, the site of the film documentary, "Paperclips." We will be travelling there together on April 23-24, which is Yom HaShoah.
The goal of the trip is to bear witness to an incredible Holocaust memorial created in this small town, and to meet the individuals behind its creation and implementation. The trip will also offer a window into a part of our country very different than our own, affording us the opportunity for important dialogue on some of the pressing issues of today.
This Shabbat, we sing the "Song at the Sea," as we remember the moment that the Children of Israel crossed towards their freedom. My favorite rabbinic teaching on this story is that the sea split into twelve paths, one for each of the tribes, and that there were windows in the walls of each path. It seems that the Rabbis wanted to emphasize the importance of seeing others who walk different paths than our own, and of appreciating the different perspectives held about the journey we all share.
In this charged political season, it seems challenging to get outside of our echo chambers, and listen deeply to less familiar voices. In this climate, Whitwell offers a unique opportunity to peer deep into rural America, and engage in real conversation about the future of our country with a community that has already built a bridge of understanding to our own community through the sacred memory of the Shoah.
If you are interested in joining our interdenominational mission, and if you'd like to help shape key components of the trip, please let me know! If you cannot make it, consider a small gift here to help financially support the trip.

Click here to learn more details about our Yom HaShoah trip to Whitwell, TN!
See you in shul! Shabbat Shalom,
Rabbi Uri
Please mark your calendars for the Friends of Beth Joshua Shabbat on
May 12th-13th
. (It coincides with Berman Academy's Grandparents Day on
May 12th
.) We are planning a special Shabbat and would like to extend an invitation to siblings, Grandparents, and other family members and close friends. We will have a deluxe kiddush in your honor, a special afternoon event, and we'll show some real Aspen Hill hospitality!
**********************************************************
Tell your friends to check out the fastest growing community in Washington:
Aspen Hill Prospective Families Shabbaton SAVE THE DATE: April 28-29
YOUTH PROGRAM UPDATE:
Regular Shabbat Children's Programs
9:15AM

-
5/6th grade+ meets in cafeteria.
9:30AM

-
Tot room opens for supervised play
10:15AM

-
Groups begin for Tots, K-2nd grade, and 3rd-4th grade.
10:20AM

- Gym time for 5th graders and up
11:00AM

- Gym time for K-4th grade
All children return to the main sanctuary to help lead tefilot at the end of Musaf.
Carmiya is on maternity leave
Carmiya Weinraub is on maternity leave, and in her absence, Lily Landau has taken over many of the youth director roles. You can reach Lily at office@bethjoshua.org
Your feedback is appreciated! RSVP to this email.