Dear Friends,
One of the gifts of the Passover Haggadah to Jewish tradition was that it reinforced the power of visual arts in our learning. Illustrated Haggadot have a long history, and many modern day Haggadot have wonderful images, graphics, and prints to inspire and provoke thoughtful discussion.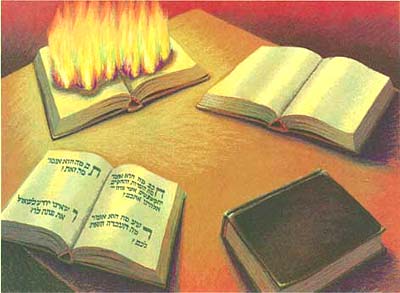 One of my favorite images is the depiction of the Four Sons by artist David Wander pictured here. It features four books: One open with the printed words of the four sons, one on fire, one with blank pages, and one a closed book. This painting was included in a special Haggadah commissioned in 1981 by Zygfryd and Helene Wolloch of New York in memory of their parents, who died in the Holocaust. In this Haggadah, the image of a burning book has chilling associations with Nazi atrocities.
However, the artist does not label each of the books, and it can be a meaningful exercise to print out small copies of this image for each place setting at the seder, and ask everyone for their opinion on which book represents which child. I have continued the sharing until an argument is made for each book as a possible representation for each child. (For example: The wise son is on "fire" with his passion for learning, or has a blank book because he could write it himself, or has the book open to right page to properly study it, or has a closed book because he has it all memorized!)
I encourage you to share this image at your Seder, or to dwell on any of the pictures found in your Haggadot. Studying more than just the text can be very encouraging for the different types of learners at our Seders.
Shabbat Shalom! See you in shul,
Rabbi Uri
PRE-PESACH FOOD DRIVE through April 20
Please support the our Spring Food Drive for the Capital Kosher Food Pantry with your donations of cereal, pasta, and other boxed and canned foods. This is an easy way to dispose of your chometz! Note that all items must be unopened and nonperishable. No glass jars please! You can bring your donations to the shul. There are big cardboard boxes in the hallways to receive your donations. All the food will be picked up before Pesach.
YOUTH PROGRAM UPDATE: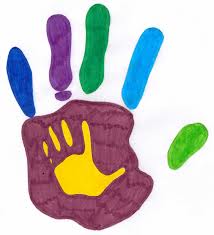 Shabbat Children's Programs
9:15AM

-
5th and 6th graders (and 7th graders who wish to) meet in the cafeteria.
9:30AM

-
Tot room opens for supervised play
10:15AM

-
Groups begin for Tots, K-2nd grade, and 3rd-4th grade.
10:20AM

- Gym time for 5th graders and up
11:00AM

- Gym time for K-4th grade
All children return to the main sanctuary to help lead tefilot at the end of Musaf.
Sunday, April 17: "Kids Free" Cleaning Day for Kids 4+
To ease your preparations for Pesach, we are offering a "Kids Free" Cleaning Day, where you are invited to drop off your children for a Sunday of childcare offered from 9:30AM-4:30PM which will include sports activities, bounce houses, and more!
YOU CAN REGISTER HERE!
Half day and full day options:
Half day - $15 p/child 9:30 am - 1:00 pm; or 1:00 pm - 4:30 pm
Full day - $25 p/child 9:30 am - 4:30 pm
Your feedback is appreciated! RSVP to this email.