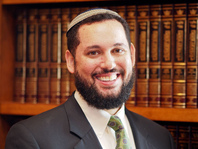 Dear Friends,
Dahlia and I are celebrating our 15th wedding anniversary today! And of course, we have been commemorating in true romantic fashion, with a date to Costco, a flat-tire repair, a broken washing-machine scare (it's fine), hours of cooking, and lots of other Pesach prep!
Our Hebrew anniversary is actually not for a couple weeks, on the 25 of Nissan, just days after the conclusion of Pesach. When we first chose the date for our wedding, it stirred a little controversy. After all, the period between Pesach and Lag BaOmer is considered in our communities to be a time of mourning. This is when we mark the tragic loss of Rabbi Akiva's 24,000 students, and our custom is to refrain from public celebrations, such as weddings. We can leave the halakhic discourse for another forum, but suffice it to say that one can change their minhag to observe the later half of Sefirat HaOmer (beginning only after Rosh Chodesh Iyar) as a mourning period instead, if you are invited to a simcha in the days just after Pesach. When people were unsure of this explanation, I just told them that the Rosh HaYeshiva of the Mir Yeshiva in Jerusalem was marrying off his son the same day. That always seemed to quiet the skeptics!
Our anniversary is a reminder every year of the tension in the Jewish calendar that begins with the onset of Pesach. On the one hand, Sefirat haOmer is associated with mourning, both over the students of Rabbi Akiva, and for the horrific losses of Jewish communities during the era of the Crusades. On the other hand, we begin with Nissan, the month where we celebrate our redemption and the birth of our nation. To those who get a kick out of days when Tachanun is not said, this is a whole month of 3 minute shorter davenings. Oh joy! The next few weeks will also include celebrations for Yom Haatzmaut, Yom Yerushalyim, and Lag BaOmer, and there is excitement building towards the holiday of Shavuot. (Not to mention Yom HaMiyuchas!)
This tension is also reflected in Pesach itself, as we relive the agonies of slavery and oppression, as well as the joys of salvation. Matza is one great symbol of this duality, as it is described as "lechem oni" (the bread of our affliction), and also as the bread of freedom (according to Rabban Gamliel in the Haggadah).
Even as we balance these two emotions and memories, I am reminded of the words of my teacher, Rabbi Yitz Greenberg, who constantly pushed back against adding chumrot (strictures) to the criteria of mourning during Sefirat haOmer. In response to a question I asked of him one year, he articulated an argument that he also makes in his book, The Jewish Way, in the chapter on Yom Haatzmaut. In his letter to me, he wrote:
"From the second destruction of the Temple, and the growing Exile on, the Sefirah period was increasingly turned into a period of Aveilut (mourning). In other words, the expansion of mourning customs was the halakhah's way of inculcating and internalizing the growing suffering of the Jewish people. In this spirit, I would argue that with the recreation of the State of Israel, an expansion of Jewish joy and simcha is underway. This should reduce the mourning periods on our calendar as part of our participation in the fate/joys of Jewry. The first step was Yom HaAtzmaut -inserting a day of simcha in a period hitherto dedicated to mourning. The second step was Yom Yerushalayim. I would argue then that the response of our poskim should be to widen simcha occasions in this period whenever possible."
Something to think about!

As Dahlia and I celebrate this Shabbat, we are also overjoyed to join with our community in marking the 60th anniversary of our members, Mel and Evy Getz! May these semachot, and many others, continue to pave the way towards even greater joy in our world.
Shabbat Shalom,
Rabbi Uri
YOUTH PROGRAM UPDATE:
Regular Shabbat Children's Programs
9:15AM

-
5/6th grade+ meets in cafeteria.
9:30AM

-
Tot room opens for supervised play
10:15AM

-
Groups begin for Tots, K-2nd grade, and 3rd-4th grade.
10:20AM

- Gym time for 5th graders and up
11:00AM

- Gym time for K-4th grade
All children return to the main sanctuary to help lead tefilot at the end of Musaf.
Registration for our
annual Pre-Pesach Child Care Funday this Sunday is now closed. Happy Cleaning!
You can reach Carmiya, our Youth Director, at ckasse@yahoo.com
WELCOME BACK FROM MATERNITY LEAVE!!
Your feedback is appreciated! RSVP to this email.