Dear Friends,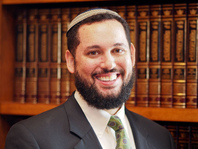 In our congregation recently, we have been having numerous conversations about challenging texts that are incorporated into our daily or weekly prayers. As a result, beginning this Monday, we will launch a monthly class series on "Troubling Texts in our Tradition" as a way of wrestling with some of these issues. In addition, tonight, we will begin a weekly Friday night Dvar Torah series to explore for the next couple of months the text of "Bameh Madlikin" - a set of mishnah traditionally read on Friday nights that also contains some disconcerting ideas.
At a rabbinic gathering this week organized by the Jewish Federation, I had the opportunity to meet with Rabbi Estaban Gottfried, who has become well-known in Israel for pioneering creative and engaging ways to bring tefillah to the masses. For the past few years, he has been leading a Kabbalat Shabbat service in the port of Tel Aviv, facing the ocean, at sunset. Over a 1,000 Israelis attend each week in the summer months. I was particularly struck by the policy of "Beit Tefillah Yisraelit" - his synagogue, to only hold services on Fridays exactly at sunset, and outdoors, in order to accurately capture how they perceive the spiritual essence of Kabbalat Shabbat. They have also adopted a siddur with the full traditional text, complemented on the facing page (where our english translation would go) with alternative poems, prayers, songs, and meditations - many from contemporary Israeli voices, that are regularly incorporated.
Rabbi Gottfried admittedly is not attempting to create a halakhic service that would fit easily into the lifestyle of an Orthodox community, but he is still offering an important challenge to all serious daveners, to consider the ways tefillah can be more relevant and alive.
He told me, "Many Israelis don't go to shul, because they know Hebrew, and therefore, they understand what is written in the Siddur, and it doesn't speak enough to them." He argues that with the advent of a modern State of Israel, where the Hebrew language has been reborn, more Hebrew prayers, and prayer-like poetry, have been written in the past 70 years, then in all of Jewish history. He said, "Do we not want these prayers - this reality - included in our siddur today?"
Inside the cover of his siddur is a quote from Hayim N. Bialik (1930) that has guided Beit Tefillah Israelit's journey to make their tefillah more accessible for their community. In an inspiring, yet cautionary tone, it reads: "Celebrate your ancestors' holidays and add to them a bit of your own, according to your ability, your taste, and your reason. What is paramount is that you do everything out of faith, and with a live feeling and a soulful need - and don't be too clever!"
I look forward to my own continued journey to bring alive all my prayers.
Shabbat Shalom!
See you in shul,
Rabbi Uri
YOUTH PROGRAM UPDATE:
Regular Shabbat Children's Programs
9:00AM - Early Bird Book Worm Club
9:30AM

-
Tot room opens for supervised play
10:15AM

-
Groups begin for Tots, K-2nd grade, and 3rd-4th grade.
10:20AM

- Gym time for 5th graders and up
11:00AM

- Gym time for K-4th grade
All children return to the main sanctuary to help lead tefilot at the end of Musaf.
Lily Landau is our Youth Director. You can contact her at office@bethjoshua.org
Your feedback is appreciated! RSVP to this email.