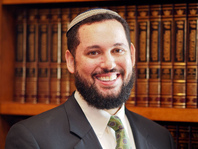 Dear Friends,
This past Sunday and Monday, I traveled to Tennessee to meet up with a group of colleagues. Friends since rabbinical school, we have been gathering annually, to learn, reconnect, commiserate, and energize each other in our service to our communities. As this year's gathering drew close, we decided to plan an itinerary beyond the learning and shmoozing, that included a drive out to the countryside to visit small towns, gun ranges, moonshine distilleries, and closer to Gatlinburg, where arsonists recently sparked catastrophic wildfires. We even visited the Hermitage of President Andrew Jackson and his family. In all these places, we had the meaningful conversations we had hoped for, with people, who, in many cases, had vastly different ideas than our neighbors back home, about all sorts of things. To be sure, politics and patriotism was never far from the lips.
I thought my Tennessee experience had come to end by the time I checked through security at the airport. But I was wrong.
The flight home was delayed, granting me the time I needed to properly shop for a gift for my holy wife. I remembered seeing a particular store in the airport when I landed the day before, that I thought might have something just right, so I headed back there, probably spending more time than the average customer before settling on a couple of choice items. A quiet, young woman behind the counter rang me up, and then I headed over to my gate, thankful to find a seat squeezed in the middle of the crowded waiting area.
Not five minutes passed, when suddenly, two beefy police officers were standing on either side of me, asking me to come with them. I was shocked. And then embarrassed. I could feel the eyes on me from all around. I was slow to get up, flushed in the face, as a million thoughts raced through my head. I followed the officers, hoping for a little more privacy. Instead, they brought me behind a glass wall, where we could talk without being overheard, but as if oblivious to all the people watching! It was an awful feeling. And then the questions began…
They wondered what I was doing in Tennessee, and why I had been in the airport two days in a row, not to mention being seen around the same gift shop both times. The had me open my bag, and they took my license. Then they asked me what was on my head.
I must have shot an inquisitive look back at them, because one officer quickly explained, "The woman at the gift shop reported you as a suspicious person, with a beard, and with possible religious motivations, saying that you were wearing a religious cap. And that you had on a bulging backpack."
When I told the officer, that I was a rabbi and that I was wearing a yarmulke, he smacked his colleague on the arm, laughed, and said, "I told you it was a yarmulke!"
At this point, all the pieces were coming together. I was accused of being a Muslim terrorist by a terrified shopkeeper, who probably had never been that close to a religious Jew or Muslim before. But now that I was Jewish, and seeing that my bag only contained clothes and books, that my story checked out, and that my license didn't raise any flags (whew!), I was free to return to my seat. Oh goodie!
If you see something, say something. That apparently includes seeing someone who looks different than you. Does racial profiling make us safer? It's a lot to think about. All I know is how embarrassed I was to resume my place among fellow travelers who were now, no doubt, anxiously wondering why the religious, Middle-Eastern looking passenger in seat 8A was just interrogated by the police. At least I am far more aware now of what many of my religious Muslim brothers and sisters might experience on a much more regular basis.

As the plane lifted off, I wondered what would have happened if the shopkeeper has just asked me one question, like, "Hey, who are these gifts for?", before calling the police. I probably would have gushed out some story about my wife and kids who I had left behind for two days, and that personal touch might have melted away all the fear. It's what can happen to a profile, when it's met with the power of a simple hello.
Shabbat Shalom. See you in shul!
Rabbi Uri
A Wider Circle Holiday Giving
Our shul has partnered with A Wider Circle this year, to help provide for those in need. As the holiday season approaches, a number of special opportunities present themselves to enhance this partnership.
We are providing holiday presents for a local family, the Kuoams. If you are able to assist, please sign up by the present in this document or email jackie.burman@gmail.com. If you would like to contribute but don't have time to get a present, donations can be accepted in order to purchase some of the items. We will be delivering the items on Dec 14, so don't wait to help brighten this family's holiday season! If you are able to purchase a present, please wrap each individually and tag with the recipient's name. If you're purchasing clothing, please include the gift receipt in the package.
We are also collecting new items at the shul, culminating with our Dec 17 PJ Havdalah program, to donate to A Wider Circle, such as: coats, hats, scarves, gloves, pajamas, board games, puzzles, books, toys, art supplies, craft kits, and gift cards for stores such as Target and Walmart. We will deliver these items on Sunday, Dec 18, during our second volunteer opportunity at A Wider Circle from 2-4pm. If you are planning to join us, please let Jackie know (jackie.burman@gmail.com). We would like to have about 10 adults, especially as this is a busy time for the donations center. Kids are welcome!
Join me in Selma over JAN 13-15
Martin Luther King Jr. Weekend
Registration and program details are available here.
This trip is almost SOLD OUT!
YOUTH PROGRAM UPDATE:
December 17
Youth Volunteer Appreciation Kiddush
Honoring adult volunteers who pitched in to lead or plan programs in the youth department in 2016, sponsored by the Weinraubs.
PJ Havdalah with Berman Preschool at 6:30PM.
Please
register here
for the Havdalah so we can plan accordingly.
Dec 24th and Dec 31st
There will be reduced groups due to many folks being away - no 5-6 group.
Carmiya to begin Maternity leave
Carmiya Weinraub plans to begin a 3 month maternity leave when there's a new Weinraub (with the help of God, within the next month, most likely!). Lily Landau will be taking over for many of the youth director roles. However we are still seeking a few replacement teachers for the following classes: K-2, 3-4, Tot Kabbalat, and
Sunday
Funday. Lesson plans have already been written. Please be in touch with Carmiya at
youth@bethjoshua.org
if you can volunteer once a month for 3 months in this capacity.
Shabbat Children's Programs
9:15AM

-
5/6th grade+ meets in cafeteria.
9:30AM

-
Tot room opens for supervised play
10:15AM

-
Groups begin for Tots, K-2nd grade, and 3rd-4th grade.
10:20AM

- Gym time for 5th graders and up
11:00AM

- Gym time for K-4th grade
All children return to the main sanctuary to help lead tefilot at the end of Musaf.
Your feedback is appreciated! RSVP to this email.