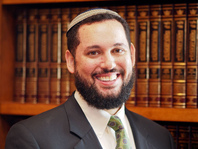 Dear Friends,
Rebbe Nachman of Breslov is well known for his complicated storytelling - tales that have tales within tales, and layers of hidden meaning. One of his most famous, "The Story of the Seven Beggars," contains a tale about a young boy and girl who get lost in the woods, and who are assisted at various points by seven mysterious beggars.
The seven beggars each have a unique disability; one is blind, another deaf, the third stammers, a fourth has a crooked neck, the fifth is a hunch-back, the sixth has no hands, and the final beggar has no feet. Surprisingly, each beggar offers a blessing to the lost children that they should be like him one day.
Some time later, the boy and girl are married, and at their wedding, the seven beggars each reappear, and say, "Previously I only blessed you, that you should be like me, but now I give it to you as a wedding present." The beggars then explain to the children the gifts they have come to appreciate from each of their particular disabilities. (I will dedicate my Shabbat afternoon shiur to exploring the explanations of the beggars, which are too complex for this email. But feel free to read one translation of the story here.)
To offer an example, one beggars explains, "You think that I am unable to speak properly, but that is incorrect, it is just that all the speech of the world, which is not praise of Hashem, is incomplete. I, however, am a fabulous orator, and I can tell over the most wondrous poetry and prose."
On Shabbat morning, another fabulous "orator," who happens to be deaf, will bless us with a Dvar Torah in American Sign Language. An interpreter will stand in the back of the shul to offer voice to his signs. This Dvar Torah, and other special teachings over Shabbat, will help our congregation mark February as Jewish Disability Awareness and Inclusion Month.
Rabbi Akiva teaches that at the giving of the Torah at Sinai, which we read about this Shabbat, the Jewish people "saw what is (normally) heard, and heard what is (normally) seen." He bases this on the odd verse in this week's parsha which reads, "Vichol haAm ro'im et haKolot - And the entire people saw the sounds" (Shemot 20:15).

During the Shabbat morning Dvar Torah this week, we too will "see the sounds," and hopefully be awakened to a broader world of challenges, and gifts, in the people we meet each day.
See you in shul! Shabbat Shalom,
Rabbi Uri
Click here to learn more details about our Yom HaShoah trip to Whitwell, TN!
**********************************************************
Please mark your calendars for the Friends of Beth Joshua Shabbat on
May 12th-13th
. (It coincides with Berman Academy's Grandparents Day on
May 12th
.) We are planning a special Shabbat and would like to extend an invitation to siblings, Grandparents, and other family members and close friends. We will have a deluxe kiddush in your honor, a special afternoon event, and we'll show some real Aspen Hill hospitality!
YOUTH PROGRAM UPDATE:
Regular Shabbat Children's Programs
9:15AM

-
5/6th grade+ meets in cafeteria.
9:30AM

-
Tot room opens for supervised play
10:15AM

-
Groups begin for Tots, K-2nd grade, and 3rd-4th grade.
10:20AM

- Gym time for 5th graders and up
11:00AM

- Gym time for K-4th grade
All children return to the main sanctuary to help lead tefilot at the end of Musaf.
Carmiya is on maternity leave
Carmiya Weinraub is on maternity leave, and in her absence, Lily Landau has taken over many of the youth director roles. You can reach Lily at office@bethjoshua.org
Your feedback is appreciated! RSVP to this email.