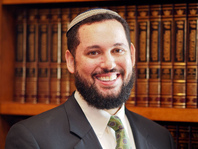 Dear Friends,
The 16th century Protestant Reformer, Martin Luther, was of two minds about the Jews. Early in his teachings, he counseled Christians to treat Jews lovingly so that they would be more welcoming to the possibility of conversion. But decades later, his tone shifted dramatically, and his treatise, On the Jews and their Lies, is one of the most vicious attacks on Jews in print. In it, Luther called on Germans to burn Jewish synagogues and schools, confiscate Jewish land and literature, and strip Jews of their civil rights and liberties.
So it was with some sense of irony, that I joined together yesterday with a dozen rabbis and a couple hundred Lutheran pastors, at an inaugural event marking the 500th anniversary year of the Reformation. The program was a four-hour study session with one of the leading New Testament scholars in the country, who just so happens to be an orthodox Jewish woman from Nashville, TN, named Dr. AJ Levine. Her topic, "Understanding Jesus Means Understanding Judaism," was focused on the notion that the roots of anti-semitism are found in misrepresentations of Jesus and misunderstandings of the New Testament.
The Bishop, who leads the region's 125+ Lutheran churches, welcomed the Jewish guests, and explained the reason for the day's topic of choice. He said, "At the very beginning of our activities surrounding the 500th anniversary of the Reformation to be observed in 2017, we want to address a sad part of our heritage: the occasionally tragic relationship between Lutherans and Jews. And we want to say, what has been said many times before, but not often enough in front of our Jewish friends - that we are sorry for the terrible things Luther said about the Jews. We are not bound by his teachings. And we deplore the things that he said. We wanted to begin, what is a year of celebration for us, by saying how much we regret those teachings and that we are sorry for them."
While it is true that the Lutheran church has been denouncing these ideas for many, many years, it was very powerful to hear them in person from the Bishop, and to experience the sense of brotherhood and sisterhood that our day of learning fostered. It underscored for me the importance of showing up to these types of gatherings. After all, if no rabbis had accepted the invitation, no apology would have been heard, and one less fellowship bridge would have been built. It also made me consider other healthy conversations we could invite by being honest about our own troubling texts and teachings...
Our Talmud writes that it is greater to greet the face of a stranger, than to greet the presence of the Divine. One understanding of this concept might be, that when we take time to meet the other, we come to know that there is Divine within them too.
Shabbat Shalom.
Rabbi Uri
A Wider Circle Holiday Giving
Our shul has partnered with A Wider Circle this year, to help provide for those in need. As the holiday season approaches, a number of special opportunities present themselves to enhance this partnership.
We are providing holiday presents for a local family, the Kuoams. If you are able to assist, please sign up by the present in this document or email jackie.burman@gmail.com. If you would like to contribute but don't have time to get a present, donations can be accepted in order to purchase some of the items. We will be delivering the items on Dec 14, so don't wait to help brighten this family's holiday season! If you are able to purchase a present, please wrap each individually and tag with the recipient's name. If you're purchasing clothing, please include the gift receipt in the package.
We are also collecting new items at the shul, culminating with our Dec 17 PJ Havdalah program, to donate to A Wider Circle, such as: coats, hats, scarves, gloves, pajamas, board games, puzzles, books, toys, art supplies, craft kits, and gift cards for stores such as Target and Walmart. We will deliver these items on Sunday, Dec 18, during our second volunteer opportunity at A Wider Circle from 2-4pm. If you are planning to join us, please let Jackie know (jackie.burman@gmail.com). We would like to have about 10 adults, especially as this is a busy time for the donations center. Kids are welcome!
Join me in Selma over JAN 13-15
Martin Luther King Jr. Weekend
Registration and program details are available here.
This trip is almost SOLD OUT!
YOUTH PROGRAM UPDATE:
December 11 @ 10:30AM
Sunday Funday - Make Your Own B'Samim!
This program is designed for children in grades K-4 with a caregiver. Program will include noshing on light refreshments, discussing why we smell herbs/spices during havdalah, decorating your own bsamim container, and selecting from a variety of fragrant dried herbs that appeal to you. Meet at the home of Michael & Carmiya Weinraub - 13802 Sloan St. This program is free but we would appreciate sponsorships from 5 families at $18 each to cover the cost of materials. Supplies are currently limited to 20 participants - please RSVP so I can know to increase our supplies if necessary.
December 17
Youth Volunteer Appreciation Kiddush.
PJ Havdalah with Berman Preschool at 6:30PM.
Please
register here
for the Havdalah so we can plan accordingly.
Shabbat Children's Programs
9:15AM

-
5/6th grade+ meets in cafeteria.
9:30AM

-
Tot room opens for supervised play
10:15AM

-
Groups begin for Tots, K-2nd grade, and 3rd-4th grade.
10:20AM

- Gym time for 5th graders and up
11:00AM

- Gym time for K-4th grade
All children return to the main sanctuary to help lead tefilot at the end of Musaf.
Your feedback is appreciated! RSVP to this email.