Click here to learn more about the beleaguered Jewish community in Montana, and ways you can offer your support.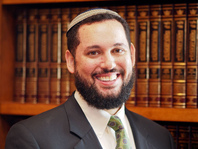 Dear Friends,
Yesterday morning, at the end of our Middle School davening group, I asked the students if they knew why school would be closed on Monday. Their response was, "It's Professional Day for the teachers!"
It was only fifty years ago, that thousands of advocates for civil rights marched behind the Reverend Dr. Martin Luther King Jr., across the Edmund Pettus Bridge on their way out of Selma, Alabama. Many of them would walk for five days and 54 miles, to present their case for equal rights on the capitol steps in Montgomery.
Many forget that the historic campaign of March 21, 1965, was the third such attempt that month. On March 7, a much smaller march was brutally disrupted on the bridge by police. Two days later, the Rev. Dr. King, Jr. aborted a second march, when the police threatened violence once again on the bridge. Organizers regrouped, and with the support of grassroots activists, and certain spiritual and political leaders around the country, Dr. King finally led the historic march we remember over that bridge - out of Selma, two weeks later.
This Shabbat, I will be co-leading a trip of over 100 individuals, to Montgomery and Selma, to remember those moments in time, and to commemorate the national holiday weekend designated to honor the achievements of the Rev. Dr. Martin Luther King Jr.
We will be davening during Shabbat at a 100 year old synagogue - a straight shot, less than two miles, from the foot of the Edmund Pettus Bridge. In our conversations with local residents, religious leaders, and politicians - Jewish and non-Jewish, we will no doubt hear a debate revived about whether the name of the bridge should be changed. Edmund Pettus was at one time, the Grand Dragon of the Alabama Klu Klux Klan. To some, it feels innappropriate that his name be immortalized on that bridge.
But if that name weren't atop the bridge when I stand there this weekend with my sons, then I wonder if one more piece of history would be lost on the next generation. Certainly, I'm not proud of what that bridge once stood for, but I will appreciate showing my children, up close and in detail, how hatred is overcome.

And that message deserves a day off of school, even if they don't walk 54 miles to earn it!
Shabbat Shalom!
Rabbi Uri
Tell your friends to check out the fastest growing community in Washington:
Aspen Hill Prospective Families Shabbaton SAVE THE DATE: April 28-29
YOUTH PROGRAM UPDATE:
Regular Shabbat Children's Programs
9:15AM

-
5/6th grade+ meets in cafeteria.
9:30AM

-
Tot room opens for supervised play
10:15AM

-
Groups begin for Tots, K-2nd grade, and 3rd-4th grade.
10:20AM

- Gym time for 5th graders and up
11:00AM

- Gym time for K-4th grade
All children return to the main sanctuary to help lead tefilot at the end of Musaf.
Carmiya is on maternity leave
Carmiya Weinraub is on maternity leave, and in her absence, Lily Landau has taken over many of the youth director roles. You can reach Lily at office@bethjoshua.org
Your feedback is appreciated! RSVP to this email.