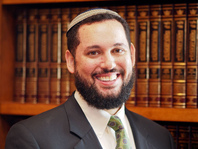 Dear Friends,
"Selma is the birthplace of democracy."
This is how Mayor Darrio Melton described his city to our group of over 125 that had come to Selma, AL, to spend the Shabbat of Martin Luther King Jr. holiday weekend. He was referring to the achievements of civil rights activists in Selma, that spurred, among other things, the adoption of the Voting Rights Act in 1965.
Throughout Shabbat, we were amazed to hear stories from locals who grew up in an era of Jim Crow segregation, and whose passionate, yet non-violent, fight for freedom, gave us the healthier democracy we cherish today. I look forward to sharing many of these stories over Shabbat in Aspen Hill, especially as we welcome to shul this weekend the entire Moshe H. Levinson Upper School of the Berman Hebrew Academy.
This Shabbat, we begin the book of Shemot, and read the story of Moshe at the Burning Bush. Many commentators suggest a metaphoric read of God's choice for this moment of revelation. Some suggest that the Burning Bush was a message to Moshe that while the people are oppressed ("on fire"), they will never be totally consumed; or a comforting sign that Moshe himself will be protected from the "fires" of Egypt, when he returns to rescue the people; or that God is with the people in their lowest state of slavery, just as God can appear even in a lowly bush.
But this Shabbat, I will be thinking about the interpretation of the Reverend Dr. Martin Luther King Jr., who described civil rights activists as themselves a "Burning Bush." In Memphis, the night before he was assassinated, King chided the crowd-control tactics of the police, saying, "Bull Connor would say, 'Turn the firehoses on!' And as I said to you the other night, Bull Connor didn't know history. He knew a kind of physics that somehow didn't relate to the transphysics that we knew about, and that was the fact that there was a certain kind of fire that no water could put out!"

I feel blessed to have been able to bear witness, along with my sons, to the Burning Bush of the South - a place and a people that wouldn't let the fire of freedom go out. And I am thankful to have traveled with my holy colleagues, Rabbi Shmuel Herzfeld and Maharat Ruth Friedman of Ohev Sholom - The National Synagogue, Rabbi Adam Starr of Young Israel of Toco Hills, Atlanta, and Rabbi Yoni Kaiser-Blueth and Rabbi Daniel Epstein of the George Washington University Hillel; not to mention the 100+ holy souls who joined us on this memorable mission.
Shabbat Shalom!
Rabbi Uri
Our 2017

Membership

Form is now up and running!
Please express your support for our community by completing it at your earliest convenience.
Your
membership
at Beth Joshua supports our weekly kiddish and seudat shlisheet, our comprehensive youth program, maintenance of the eruv, and our many programs that provide opportunities to learn, connect, and grow.
Membership
includes high holiday seats and voting rights that enable you to shape the direction of our shul.
Membership

connects you to a positive and warm Jewish community that will rally around you should you need support.
As explained on the form, there are 3 options for paying your dues this year.
(1) Pay by check (*there is a discount for paying by check*)
(3) Pay-by-month (Paypal will charge your card 12 times - once a month; this option is only available if you sign up by
January 31
)
If you are not ready to pay your dues yet, when filling out the form, please select 'payment by check' for now.
Please pay your membership dues by
June 30, 2017
.
Thank you for your support!
**********************************************************
Tell your friends to check out the fastest growing community in Washington:
Aspen Hill Prospective Families Shabbaton SAVE THE DATE: April 28-29
YOUTH PROGRAM UPDATE:
This Saturday night, Jan 21 @ 6PM
Family Learning Night for 3rd-6th graders after Havdalah.
This Sunday, Jan 22 @ 10AM
Family Minyan & Family Fun Day with Berman Preschool. RSVP
Regular Shabbat Children's Programs
9:15AM

-
5/6th grade+ meets in cafeteria. (NOT THIS SHABBAT)
9:30AM

-
Tot room opens for supervised play
10:15AM

-
Groups begin for Tots, K-2nd grade, and 3rd-4th grade.
10:20AM

- Gym time for 5th graders and up
11:00AM

- Gym time for K-4th grade
All children return to the main sanctuary to help lead tefilot at the end of Musaf.
Carmiya is on maternity leave
Carmiya Weinraub is on maternity leave, and in her absence, Lily Landau has taken over many of the youth director roles. You can reach Lily at office@bethjoshua.org
Your feedback is appreciated! RSVP to this email.