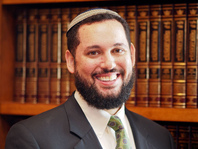 Dear Friends,
I met this week, along with other Jewish leaders, including Rabbi Shmuel Herzfeld (DC) and Rabbi Etan Mintz (Baltimore), with the Apostolic Nuncio (the Vatican's Ambassador to the US), His Excellency, Most Reverend Christophe Pierre. Our meeting was held on Ash Wednesday, and noting the ash on everyone's foreheads in the embassy, we were highly conscious of the Torah's humbling mortal reminder: "from dust to dust." Our meeting opened with mournful reflections on the recent wave of antisemitic threats and the vandalization of Jewish cemeteries.
We had come to build bridges, but also to set in motion a specific request for an audience with the Pope to discuss the removal of the church at Auschwitz II-Birkenau. Our meeting helped to direct a letter to the Vatican, and succeeded in opening the door for us to meet with the United States Council of Catholic Bishops in two weeks. Hopefully, these actions will help to renew this call for action on the church that has been established in what once was the Birkenau commandant's headquarters.
You can read our full letter to the Pope here, but our most basic point is that a church does not belong at what is arguably the single largest Jewish cemetery on Earth. In fact, the presence of the church violates a 1987 agreement signed by European cardinals and Jewish leaders that there would be no permanent Catholic place of worship on the site of the Auschwitz and Birkenau camps. Furthermore, in a 1993 Papal edict, a previous Pope ordered the relocation of a convent of nuns that had established themselves in another building at Auschwitz. A recent New York Times article powerfully captures many of these points as well.
In our tradition, the highest form of kindness we can perform is understood to be the service we provide to our dearly departed loved ones ("chessed shel emet"). In this respect, the recent attacks on our cemeteries, and other affronts to the memory of our dead, represent the opposite, and are a grave violation of our sacred spaces.

This Shabbat, as we begin to learn about the construction of the Mishkan, we should be reminded that sacred spaces are not only reserved for the living, but also for the dead. In the current climate of spiraling antisemitism, I feel that our synagogue mission to Whitwell, TN, the site of the Paperclips documentary, takes on even greater importance. We will travel there over Yom HaShoah, to visit a harrowing Holocaust memorial, and to bear witness to a town that has elevated this principle of "chessed shel emet," inspiring everyone to take seriously the sanctity of memory and loss. Please consider joining us, or help to support our trip.
See you in shul! Shabbat Shalom,
Rabbi Uri
Click here to learn more details about our Yom HaShoah trip to Whitwell, TN!
**********************************************************
Please mark your calendars for the Friends of Beth Joshua Shabbat on
May 12th-13th
. (It coincides with Berman Academy's Grandparents Day on
May 12th
.) We are planning a special Shabbat and would like to extend an invitation to siblings, Grandparents, and other family members and close friends. We will have a deluxe kiddush in your honor, a special afternoon event, and we'll show some real Aspen Hill hospitality!
YOUTH PROGRAM UPDATE:
Regular Shabbat Children's Programs
9:15AM

-
5/6th grade+ meets in cafeteria.
9:30AM

-
Tot room opens for supervised play
10:15AM

-
Groups begin for Tots, K-2nd grade, and 3rd-4th grade.
10:20AM

- Gym time for 5th graders and up
11:00AM

- Gym time for K-4th grade
All children return to the main sanctuary to help lead tefilot at the end of Musaf.
Carmiya is on maternity leave
Carmiya Weinraub is on maternity leave, and in her absence, Lily Landau has taken over many of the youth director roles. You can reach Lily at office@bethjoshua.org
Your feedback is appreciated! RSVP to this email.