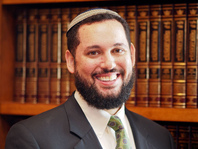 Dear Friends,
My wife has a singing chavruta.
Every week, Dahlia and Maharat Hadas Fruchter meet to sing, and this Saturday night, February 4, they will share a glimpse of their chavruta at a Women's Open Mic Night at our shul. You will be certainly blessed by my wife's holy voice if you attend.
Dahlia has always been passionate about creating opportunities for women to express their God-given talents. When we moved to Aspen Hill, she wanted to begin a Rosh Chodesh program for women - a special space where women could reflect, sing, study, create art, and inspire the soul at the start of each new month. That program, now called Aura Chadasha, has been a huge source of uplift for our community, and attracts women from all around.
In this week's parsha, the mitzvah to establish Rosh Chodesh is given to the Israelite nation. But in the Midrash of Pirkei deRebbe Eliezer (45), women are thought to have been rewarded with a special connection to the New Moon mitzvah, because of their refusal to provide jewelry for worship of the Golden Calf. The new moon's natural cycle became linked with these women, symbols of hope and renewal for the fledgling nation.
The story of the Exodus almost exclusively entails a conversation among the "Big Boys." It's Moshe and Aharon vs. Pharaoh. And God is running the show. But the aforementioned midrash, and the background story that precedes the plagues, is all about the holy women who are the everyday heroes - Bat Pharaoh, Shifra and Puah, Miriam and Yocheved, and all the wives who are credited with the continuity of our nation despite the exhaustion of slavery.

This Shabbat, as we read about the birth of our nation out of Egypt, let us celebrate the spiritual leadership of the holy women who have been leading us the entire way with their inspirational voices, artistic souls, learned convictions, and passionate commitment to our people.
See you in shul! Shabbat Shalom,
Rabbi Uri
Your
membership
at Beth Joshua supports our weekly kiddish and seudat shlisheet, our comprehensive youth program, maintenance of the eruv, and our many programs that provide opportunities to learn, connect, and grow.
Membership
includes high holiday seats and voting rights that enable you to shape the direction of our shul.
Membership

connects you to a positive and warm Jewish community that will rally around you should you need support.
As explained on the form, there are 3 options for paying your dues this year.
(1) Pay by check (*there is a discount for paying by check*)
(3) Pay-by-month (Paypal will charge your card 12 times - once a month; this option is only available if you sign up by
January 31
)
If you are not ready to pay your dues yet, when filling out the form, please select 'payment by check' for now.
Please pay your membership dues by
June 30, 2017
.
Thank you for your support!
**********************************************************
Tell your friends to check out the fastest growing community in Washington:
Aspen Hill Prospective Families Shabbaton SAVE THE DATE: April 28-29
YOUTH PROGRAM UPDATE:
Regular Shabbat Children's Programs
9:15AM

-
5/6th grade+ meets in cafeteria.
9:30AM

-
Tot room opens for supervised play
10:15AM

-
Groups begin for Tots, K-2nd grade, and 3rd-4th grade.
10:20AM

- Gym time for 5th graders and up
11:00AM

- Gym time for K-4th grade
All children return to the main sanctuary to help lead tefilot at the end of Musaf.
Carmiya is on maternity leave
Carmiya Weinraub is on maternity leave, and in her absence, Lily Landau has taken over many of the youth director roles. You can reach Lily at office@bethjoshua.org
Your feedback is appreciated! RSVP to this email.