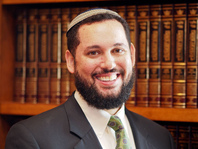 Dear Friends,
This Shabbat has been organized as Yesh Tikvah's Infertility Awareness Shabbat, an annual awareness campaign marking the beginning of our Spring month of Nissan. In our shul, we will pause and create space to acknowledge the medical, emotional, and spiritual challenges facing couples and individuals in the Jewish community who are struggling to have children.
To honor this initiative, this past Wednesday, I joined in a cross-community event entitled, "Focus on Fertility," where Jewish clergy from across the interdenominational spectrum, as well as medical professionals, and various organizations specializing in the fertility/adoption journey, came together for support and guidance. I want to list these organizations here, just in case someone reading this note, looking for the right support, can be connected to the right place. It is also amazing to take note of all of the incredible resources right under our own noses. In addition to the various synagogues involved, the event sponsors were:
Center for Adoption Support and Education
Covington & Hafkin and Associates
ARTparenting & Meryl B. Rosenberg Esq.
Jewish Social Services Agency, Adoption Services Center
The Spectrum Center for Natural Medicine
The Agam Center and Mikvah Chaim
Integrative Therapy of Greater Washington
Montgomery County MD Foster and Adoptive Services
I am deeply grateful to all of these organizations that came out to meet families, learn from each other, and support our community.
In my remarks that evening, I spoke about the loss of our 22 week old son, whom Dahlia had to deliver knowing he would never take a breath beyond her womb. That horrific night connected us to a world of pain, love, and longing that touches 1 out of every 8 Americans.
The Lubavitcher Rebbe famously spoke about the fifth son of the Pesach Seder - the one who never made it to the table to join the four others (known as the wise, wicked, simple, and one who didn't know how to ask). He was speaking about the child lost from their faith, whom we have a responsibility to reach out and touch. But at our Seder, the fifth child is also representative of the child still beyond the reach of fertility and adoption struggles.

May we be blessed to hold each other along these journeys.
Shabbat Shalom,
Rabbi Uri
YOUTH PROGRAM UPDATE:
Regular Shabbat Children's Programs
9:15AM

-
5/6th grade+ meets in cafeteria.
9:30AM

-
Tot room opens for supervised play
10:15AM

-
Groups begin for Tots, K-2nd grade, and 3rd-4th grade.
10:20AM

- Gym time for 5th graders and up
11:00AM

- Gym time for K-4th grade
All children return to the main sanctuary to help lead tefilot at the end of Musaf.
You can reach Carmiya, our Youth Director, at ckasse@yahoo.com
Your feedback is appreciated! RSVP to this email.