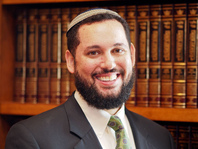 Dear Friends,
Yesterday was the 10th anniversary of the release of the iPhone. (really, it's only been 10 years.)
Just last night, my wife and I were discussing the appropriate age to give a phone to our children (by a phone, I mean a smart phone of course!). For a second, we thought, "How could we not give our almost 13-year-old a phone?! How will he be able to babysit without it?!" Then we smiled, remembering that we managed to do just fine back in the day, when rotary phones were all the rage, in a world that was still in black and white, and where we had to walk to school, barefoot of course, in the snow (all year round), and uphill in both directions. (This is at least what my dad used to say to me.)
Of course, it is 2017, and the reality of our chosen culture is that kids connect on their phones (and occasionally in person). We would probably be the meanest parents ever if we held out.
But, isn't stopping to smell the roses worth it? Don't we know better, having grown up without the technology in the palm of our hands 24-6? Can't he wait until he's older?
The answer is… wait, one second... my wife is texting me that I have to do carpool because she is running late! Thank goodness, she texted the address, so I can just plug it into my WAZE app. Oh, it tells me, it will only take 12 minutes in current traffic, so I have a few more minutes to finish this message. Oh, I also see an alert here that tells me that the Ebay seller accepted my offer for the part I needed to do a home fix! Great, I can just tap, "Buy" and my mobile Paypal account completes the transaction so that I can get it before July 4…
...and the answer can be found in this week's parsha, as we read about the Parah Adumah - the Red Heifer that was used to purify the Kohen. Many of the commentaries note that while a cow is the symbol of our lowest point as a nation worshiping the Golden Calf, here it is used to elevate a Kohen to the highest form of Divine service. These stories remind us of the principle that all things can be used for good, or for bad.
Ten years in, the smartphone has certainly revolutionized our culture in an incredibly short amount of time. But it remains in our hands, literally, to elevate these technological innovations in the service of humanity and Hashem.
Shabbat Shalom!
See you in shul,
Rabbi Uri

Mikvah update: Appointments to use the Mikvah on or after July 1 can be scheduled by emailing rockcreekmikvah@gmail.com. Please email at least 48 hours before your desired appointment. Ladies who are interested in being trained to be Mikvah attendants or otherwise involved in the Mikvah committee are invited to email rockcreekmikvah@gmail.com expressing their interest.
YOUTH PROGRAM UPDATE:
Regular Shabbat Children's Programs
9:30AM

-
Tot room opens for supervised play
10:15AM

-
Groups begin for Tots, K-2nd grade, and 3rd-4th grade.
10:20AM

- Gym time for 5th graders and up
11:00AM

- Gym time for K-4th grade
All children return to the main sanctuary to help lead tefilot at the end of Musaf.
Lily Landau is serving as our interim Youth Director. You can contact her at office@bethjoshua.org
Your feedback is appreciated! RSVP to this email.