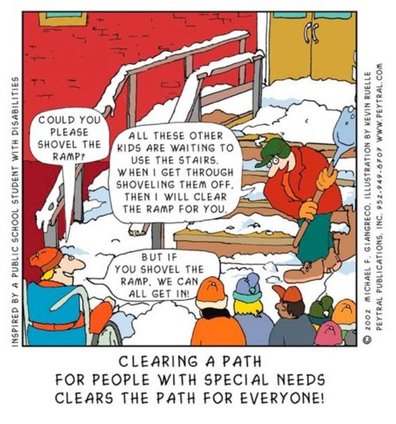 Dear Friends,
Yesterday, I listened to a moving presentation by the Sulam program at the Berman Hebrew Academy which included the cartoon graphic above.
Sulam is the only Jewish school in the area for students with learning differences. They are hosted by Berman, and the two programs work collaboratively to ensure every child's right to meaningful participation within our community.
The presentation I heard was about Universal Design for Learning, which is a set of principles for curriculum design with the goal of providing all learners with equal opportunities to learn. It is based on the original architectural concept of Universal Design, which sought to incorporate certain accessibility requirements into building designs in a way that was better for everyone. For example, automatic doors are utilized not just by those in a wheelchair, but are seen as a convenient and modern application for any professional building. Flat screen announcement boards are sleek and hip, but were originally about providing announcement information that couldn't be heard over an intercom system by the deaf or those with a hearing loss. Or, as seen in the cartoon above, ramps, elevators, and moving walkways are now convenient, appreciated, and "good design" – not just for the purpose of being ADA compliant.
The point being: "Clearing a path for people with special needs clears a path for everyone."
This past weekend, our family visited New Orleans, in part to visit with old friends and our community of six years prior to moving to Maryland, but also to join in the anniversary commemorations of Hurricane Katrina, whose catastrophic landfall occurred 10 years ago tomorrow. I sat in shul on Shabbat, appreciating with fresh eyes the new sacred space we had built to replace the old flooded synagogue. I found myself noticing lots of little details in the building, remembering whose decisions and actions resulted in the beautiful finishing touches all around me.
One of those decisions related to the Bimah – the Torah reading table, and the place where most of the Divrei Torah and Tefillah rang forth. The Bimah was actually a reconstruction of the one that had been with the congregation for over 75 years. But the original was on a raised platform.
We wanted our new Bimah to be fully accessible to wheelchairs, walkers, creaky knees, and crawling babies. But the engineers taught us that it also made good design sense to construct the Bimah without a step up platform. It made it easier to take apart, move, and store. This allowed the sanctuary space to become multiple-purpose, and opened up square-footage for other important needs like a nursing room, a memorial space, and children's areas.
What a wonderful lesson to incorporate into so many parts of our lives: Clearing a path for people with special needs clears a path for everyone.
Shabbat Shalom! See you in shul,
Rabbi Uri
YOUTH PROGRAM UPDATE: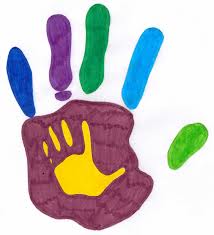 Our youth department is seeking donations of certain books, toys, crafts, and other supplies. Click here to view a detailed list.
New fall groups begin

THIS SHABBAT

!
Thanks to countless volunteers for signing up to lead classes, oversee gym time, and babysit the kids!
Shabbat Morning Schedule
Groups meet weekly on Shabbat. Yom Tov schedules vary.
All groups include time in the main sanctuary in age-appropriate ways.
Groups include a snack at
10:30
.
Grade 5-6: Dunk n' Daven
Meets in Cafeteria, and includes davening in the main sanctuary.
11:00-11:35

Free play in big gym
Babies – PreSchoolers: Tot Shabbat
**Children must always be supervised by an adult.**
9:30am-10:15am

Playroom is open in Bandroom 1
10:15am - 11:00am

Tot Shabbat Program in Bandroom 1.
11:00am

- apx

11:45am

Freeplay in Kindergym or Playground
Kindergarten – 2nd grade
10:15am - 11:00am

in Bandroom 2
11:00am

- apx

11:35am

(end of Musaf) Freeplay in Little Gym (ages 5-8)
3rd – 4th grade
10:15am - 11:00am

in Library
11:00am

– apx

11:35am

(end of Musaf) Free play in Little Gym (ages 5-8)
11:00am

– apx

11:35

(end of Musaf) Free play in Big Gym (ages 9+)
Your feedback is appreciated! RSVP to this email.