Click here to learn more about the beleaguered Jewish community in Montana, and ways you can offer your support.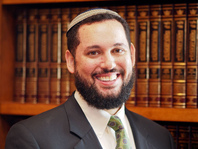 Dear Friends,
In Israel yesterday, a young, 19 year old Elor Azaria, was convicted of manslaughter. From the perspective of the videographer who captured the scene, the incident was fairly straightforward. This past March, two palestinian terrorists with knives attacked a group of IDF soldiers in Hebron, injuring one of them. One terrorist was killed and the other injured. The latter, Abed al-Fattah al-Sharif, a 21-year-old Palestinian, lay wounded on the ground for about 15 minutes until IDF combat medic, Azaria, arrived on the scene. Azaria observed the situation and, without being commanded to do so, shot the terrorist once in the head, killing him. He is guilty.
But this story has intensely divided the Israeli public.
Many see Elor as their own son, who they imagine one day might be faced with a similar encounter with a terrorist that has just killed or injured their comrade. They empathize with Azaria's actions, even if they don't fully condone the result. "This is war," they argue, implying that there is justification when the enemy dies.
Others say that yesterday's ruling emerges properly out of the principle of Tohar HaNeshek - "Purity of Arms." This is part of the IDF's ethical doctrine, that requires respect for human dignity, and restraint of force. Lt. Col. Nadav Weissman, a military prosecutor, said this was "not a happy day for Israel," but he asserted that justice needed to be served for the severe offense that was committed.

Now, the sentencing and appeals phase will begin, but in the meantime, we can appreciate that we have an army in our homeland which has systems for self-evaluation in place. No doubt that many will be unhappy with whatever verdict is ultimately reached, but we must also shudder to imagine what country we could become if there was no process for holy introspection.
Shabbat Shalom.
See you in shul,
Rabbi Uri
Tell your friends to check out the fastest growing community in Washington:
Aspen Hill Prospective Families Shabbaton SAVE THE DATE: April 28-29
YOUTH PROGRAM UPDATE:
Jan 6 - Youth Kabbalat Shabbat
Jan 7 - Nosh n Drash with Jackie for grades 7+
Jan 8 - Sunday Funday
We are connecting our

Sunday

Funday event, for grades K-4 with a parent, to our synagogue's year-long relationship with A Wider Circle. On

Sunday January 8

, at

10:30am

, meet at the first floor of Target (5700 Bou Avenue in Montrose Crossing shopping center) by the front registers. We will pair up into teams and go on a scavenger hunt. You will need to bring:
camera w/ phone
and
$18 IN CASH
per family to purchase items for A Wider Circle.
Carmiya is on maternity leave
Carmiya Weinraub is on maternity leave, and in her absence, Lily Landau has taken over many of the youth director roles. You can reach Lily at office@bethjoshua.org
Regular Shabbat Children's Programs
9:15AM

-
5/6th grade+ meets in cafeteria.
9:30AM

-
Tot room opens for supervised play
10:15AM

-
Groups begin for Tots, K-2nd grade, and 3rd-4th grade.
10:20AM

- Gym time for 5th graders and up
11:00AM

- Gym time for K-4th grade
All children return to the main sanctuary to help lead tefilot at the end of Musaf.
Your feedback is appreciated! RSVP to this email.