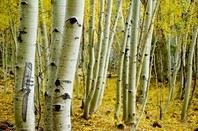 Dear Friends,
This past Sunday, members of our shul volunteered at A Wider Circle, a nonprofit providing basic needs for those challenged by extreme poverty. Together with our children, we organized and sorted clothing, furniture, toys, and housewares. These efforts were part of our Chessed Committee's year-long partnership with A Wider Circle, which we kicked off with a presentation over the summer by the organization's founder, Dr. Mark Bergel.
Dr. Bergel's vision is detailed on a beautiful poster hanging in the reception room of their distribution warehouse, with the image pictured here as the graphic backdrop. He writes, "If you were to look at an aspen grove, you would see trees of different sizes standing near one another. Separate trees – at first glance. However, if you were to go beneath the topsoil – to dig deeper than the surface – you would see that the root system of all the trees is the same. Each tree is connected to the other, an interconnectedness serving as the perfect metaphor for how we exist as human beings. We may think we stand alone, but we are as interconnected as the aspen trees. What affects one of us affects us all, regardless of whether or not we feel it on a conscious level. Understanding this interconnectedness reinforces the need to widen our circle of compassion."
Dr. Bergel's aspen tree metaphor has added resonance for our community, as residents of the Rockville neighborhood called Aspen Hill.
Through A Wider Circle, our congregation also adopted a family for the holidays, providing gifts for their eight member household. I was honored to deliver the van-load of wrapped, individually marked gifts to their home. When I arrived, the mom, Caroline, met me outside, and asked me to quickly load the gifts into her car so that her children would not see me. She told me that this would be their first holiday with presents, and she did not want her children to see it as a charity, but simply as a holiday miracle. I don't know if I've ever moved so fast in my life.

As we prepare to light the Shabbat candles, and soon the Chanukiyot, we are reminded of the Divine light within all people. May we be blessed to widen our circles to include many more lights, in fulfillment of the words in Zecharya, "Not by might, nor by power, but by My Spirit, says the Lord."
Shabbat Shalom. See you in shul!
Rabbi Uri
Join me in Selma over JAN 13-15
Martin Luther King Jr. Weekend
Registration and program details are available here.
This trip is almost SOLD OUT!
YOUTH PROGRAM UPDATE:
Dec 24th and Dec 31st
There will be reduced groups due to many folks being away - no 5-6 group.
Carmiya to begin maternity leave
Carmiya Weinraub plans to begin a 3 month maternity leave when there's a new Weinraub (with the help of God, within the next month, most likely!). Lily Landau will be taking over for many of the youth director roles. However we are still seeking a few replacement teachers for the following classes: K-2, 3-4, Tot Kabbalat, and
Sunday
Funday. Lesson plans have already been written. Please be in touch with Carmiya at
youth@bethjoshua.org
if you can volunteer once a month for 3 months in this capacity.
Regular Shabbat Children's Programs
9:15AM

-
5/6th grade+ meets in cafeteria.
9:30AM

-
Tot room opens for supervised play
10:15AM

-
Groups begin for Tots, K-2nd grade, and 3rd-4th grade.
10:20AM

- Gym time for 5th graders and up
11:00AM

- Gym time for K-4th grade
All children return to the main sanctuary to help lead tefilot at the end of Musaf.
Your feedback is appreciated! RSVP to this email.