**MATCHING GRANT CHALLENGE**

An anonymous donor will match $5,000 in new gifts before the end of the year to help fund our youth program! WE'RE AT 85%!!
Click here to support our youth!
Dear Friends,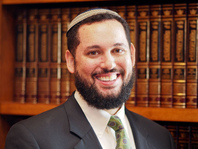 We have reached a cliffhanger!
On this last Shabbat of the year, who can say that they don't have any unfinished 2017 business?!
Sefer Bereishit also leaves us hanging this week. There is unfinished business in Egypt. We have to bring Yosef's bones home. And we have to wake up to our exile.
The Rabbis say that it would take hundreds of years for the Israelites to finally recognize the totality of their predicament and believe in a different future (see commentary to Shemot 2:23). They had missed the early warning signs - one of which, according to Rabbi Shlomo Riskin, comes in this week's parsha, when Yosef seems to awkwardly ask for permission to bury his father Yaakov in Canaan (Bereishit 50:4). This was the first time that Yosef had to admit that his real roots were in Canaan, not in Egypt. It was also an awakening for Pharaoh, that Yosef was forever a Jew, an outsider, and that he and his family would have to be watched more carefully.
Our sefer's story ends on a cliffhanger, with a difficult next chapter ahead. It is a reminder to pay closer attention to the cliffhanging moments in our lives. To watch for the signs urging us to turn in one direction or another. To not get stuck in a rut, just because it is easier.
In fact, our whole Torah is a cliffhanger, ending with Moshe on an actual cliff looking out into the Promised Land. It is an invitation to all of us to write the next chapter with total intentionality and a sense of life-fulfilling purpose.
May it be a geshmack 2018!
Shabbat Shalom!
See you in shul,
Rabbi Uri
YOUTH PROGRAM UPDATE:
9:00AM - Early Bird Book Worm Club
9:30AM

-
Tot room opens for supervised play
10:15AM Davening in groups.
Tot Shabbat in Bandroom 1
Pre K-K in Bandroom 2
Grades 1-3 in front of Auditorium

Grades 4+ independent Davening in Shul Office
Lily Landau is our Youth Director. You can contact her at office@bethjoshua.org
Your feedback is appreciated! RSVP to this email.