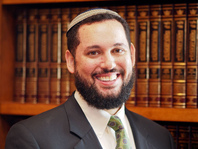 Dear Friends,
I was tasked this year to develop the beginnings of a "spiritual curriculum" for our high school students, offering core texts that would inspire their religious development. This week, I taught a favorite selection from the Talmud, that also relates to the new month of Shevat beginning this Shabbat.
On the last folio of the Talmud Yerushalmi in Kiddushin, we learn an opinion that it may be forbidden to reside in a city that has no doctor, no bathhouse, no courthouse, and no vegetable garden. Explaining the latter point, Rabbi Chizkiya says in the name of Rav, "In the future, a person will face judgement over everything that his eye saw, but he did not eat."
I once suggested to my brother, who works for a resort company selling timeshare in worldwide locations, that he share this Talmud with his sales team. It is the Torah's version of a timeshare pitch - upgrade your portfolio before it's too late, so that when you meet your Maker, you can attest to all the native foods you've eaten from countries around the world!
But, since I can't afford my brother's sale's pitch, I took the next best route, and visited our international market, picking up cantaloupe from Guatemala, avocado from Mexico, manzano bananas from Columbia, pineapple from Costa Rica, blueberries from Chile, pummelo from Florida, mango from Peru, canary melon from Brazil, duck pear from China, Jackfruit from India, clementines from Spain, Kiwi from Italy, dragonfruit from Vietnam, grapes from Peru, rambutin from Malaysia, and Hawaiian Papaya!
I taught my students the text above in its full form, along with some other sources, and then we made our blessings (including a shehechiyanu!), and feasted from the fruits of the world in fulfillment of our Talmudic dictum. I also reminded the students that they were fulfilling a mitzvah in the Torah - to eat! In fact, this command, which is recorded in Genesis 2:16, is the very first time the word mitzvah is found in the Torah, and is associated with a rather permissive dining culture. Hopefully, their loving, heavenly judgment, at its right time, has been even further sweetened!
So as we welcome the month of Shevat, and soon the tree holiday of Tu Bishvat (which some opinions argue was meant to be celebrated on the first of Shevat), we can strive to sweeten our own judgment by indulging in nature's finest edible offerings.
Shabbat Shalom!
Rabbi Uri
P.S. Today, Jan 27, is designated as International Holocaust Remembrance Day, which coincides with the Russian liberation of Auschwitz-Birkenau in 1945. Introduced by the State of Israel and sponsored by the United States, the resolution for this remembrance day passed unanimously in the UN General Assembly in 2005.
Our 2017

Membership

Form is now up and running!
Please express your support for our community by completing it at your earliest convenience.
Your
membership
at Beth Joshua supports our weekly kiddish and seudat shlisheet, our comprehensive youth program, maintenance of the eruv, and our many programs that provide opportunities to learn, connect, and grow.
Membership
includes high holiday seats and voting rights that enable you to shape the direction of our shul.
Membership

connects you to a positive and warm Jewish community that will rally around you should you need support.
As explained on the form, there are 3 options for paying your dues this year.
(1) Pay by check (*there is a discount for paying by check*)
(3) Pay-by-month (Paypal will charge your card 12 times - once a month; this option is only available if you sign up by
January 31
)
If you are not ready to pay your dues yet, when filling out the form, please select 'payment by check' for now.
Please pay your membership dues by
June 30, 2017
.
Thank you for your support!
**********************************************************
Tell your friends to check out the fastest growing community in Washington:
Aspen Hill Prospective Families Shabbaton SAVE THE DATE: April 28-29
YOUTH PROGRAM UPDATE:
Regular Shabbat Children's Programs
9:15AM

-
5/6th grade+ meets in cafeteria.
9:30AM

-
Tot room opens for supervised play
10:15AM

-
Groups begin for Tots, K-2nd grade, and 3rd-4th grade.
10:20AM

- Gym time for 5th graders and up
11:00AM

- Gym time for K-4th grade
All children return to the main sanctuary to help lead tefilot at the end of Musaf.
Carmiya is on maternity leave
Carmiya Weinraub is on maternity leave, and in her absence, Lily Landau has taken over many of the youth director roles. You can reach Lily at office@bethjoshua.org
Your feedback is appreciated! RSVP to this email.